Sky Bet providing odds on the PTO 2020 Championship
A British double for Lawrence and Brownlee…?
Unless you've been under a rock, if you are a fan of triathlon, you can't have missed that there's significant excitement in the sport for the debut of the PTO 2020 Championship, taking place tomorrow (Sunday) at Challenge Daytona, in Florida.
Stacked fields from the world's of draft-legal, middle and long distances, a prize purse of over $1million and live coverage – in a year in which we have all been starved of top level racing action – should provide compelling viewing.
We've already provided our thoughts on the potential winners – Female | Male – details on how to watch it live, a wider preview of some of the names that could surprise and more, so hopefully you are up to speed for Sunday's excitement.
What does the money say?!
While we all like to pick our favourites and look good getting it right / daft getting it wildly wrong, the real-world bookmakers is a clearer picture of who people actually think will win.
Outside of the Olympic Games and Kona, there aren't too many races that generate the interest and real-world betting in our sport, but the PTO Championship appears to have done that, with Sky Bet (HERE) providing odds and taking bets, should you fancy a flutter.
With all of the disclaimers of bet responsibly / don't bet with money that you can't afford to lose… here's what the odds currently suggest.**
(** Note, these odds are as at time of writing, midday on Saturday 5th December, and so will move fluidly depending on bets placed).
Women's highlights
Holly Lawrence is the narrow race favourite.
At 7/2, that indicates – as I indicated in my favourites piece – that the bookmakers also consider the race quite open.
Katrina Matthews is the joint second favourite alongside Anne Haug. Possibly (?) impacted by a primarily UK-based market, nonetheless, the impressive progress of the BMC-Vifit Pro Triathlon Team athlete has been highly regarded. Can she end the season undefeated?
Nicola Spirig is also in the bookies top-5. I don't think she has ever not finished on the podium in a middle distance race…
Other Brit names quoted are Jodie Stimpson (9/1), Emma Pallant (20/1), India Lee (25/1) and Lucy Hall (50/1)
(LATEST WOMEN'S ODDS CAN BE FOUND HERE)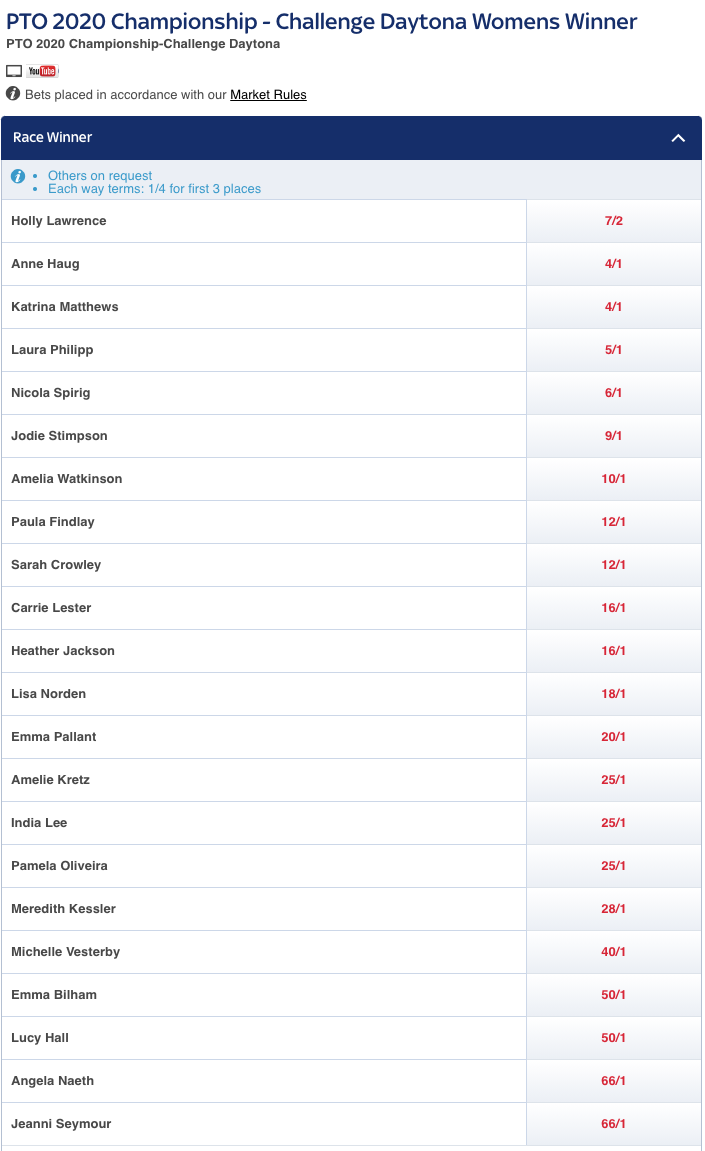 Men's Highlights
Alistair Brownlee (9/4) is the narrow favourite
With Gustav Iden (11/4) and Vincent Luis (4/1), the current odds indicate a far clearer picture than the women's race, that these three athletes are expected to be those challenging for the podium. Lionel Sanders, the fourth favourite is – relatively – a long way behind with odds of 7/1 currently available.
5 of the 6 names I selected (HERE) fill the top five positions in the bookmakers odds.
Currently only 10th in the odds, the betting indicates far less confidence in the prospects of Rudy Von Berg, than I do!
Other Brits quoted are Jonathan Brownlee (12/1), George Goodwin (22/1) and Adam Bowden (50/1).
(LATEST MEN'S ODDS CAN BE FOUND HERE)