Mark Buckingham predicted that strong swims would win the day in Munich, and that's how it played out, with a little help from the rain for Georgia Taylor-Brown and a poker face from Matt Hauser.
'Bucko' and Lucy Buckingham gave us their insights after the dust had settled…
Women's race – GTB dominant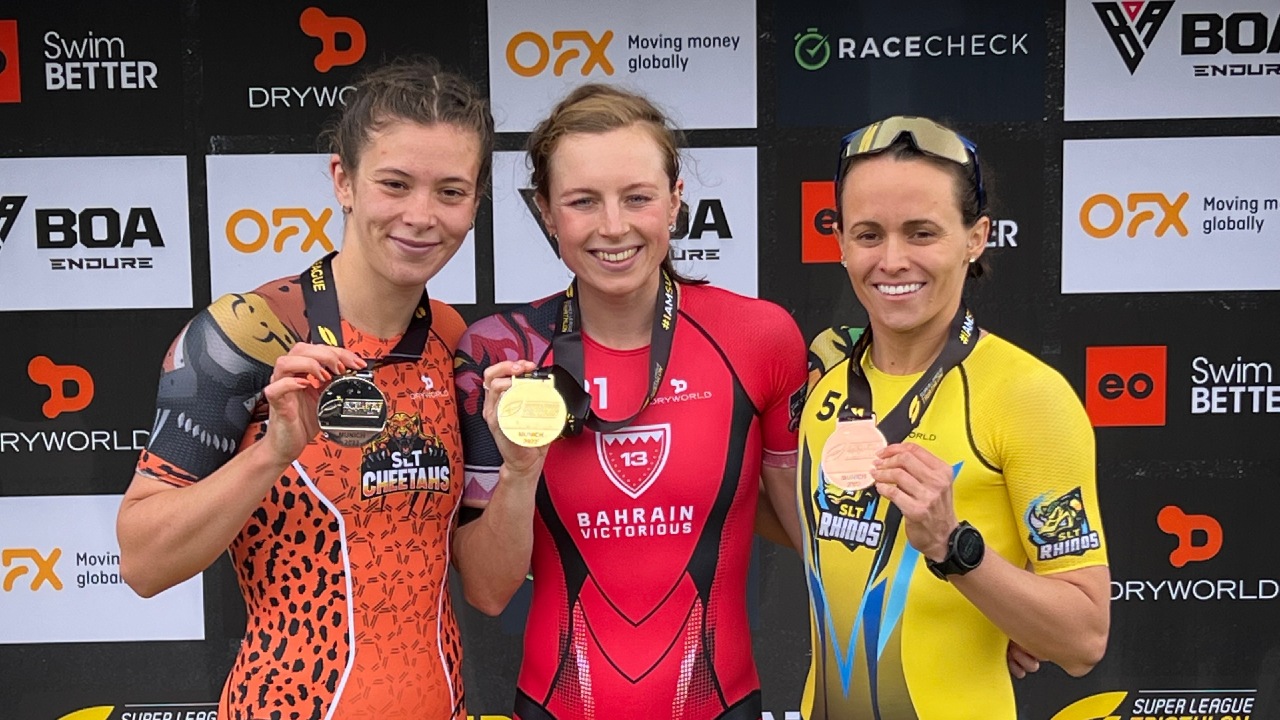 Both Mark and Lucy were full of praise for the dominant performance by Taylor-Brown. The Leeds-esque weather played its part in helping to eliminate the threat from Cassandra Beaugrand.
Mark said: "GTB is just so good in the wet, technically she doesn't falter. She obviously won an Olympic medal in those kind of conditions so it was never in doubt really.
"Beaugrand struggled having crashed (in the practice ride) the day before. She lost a lot of confidence. She's arguably one good bike coach away from an individual Olympic medal so I don't doubt that she'll be back on a podium soon."
Lucy added: "As expected, GTB absolutely dominated. She pretty much did a solo effort, which was impressive, but what was going on behind her was the battle for second and third.
"I think Sophie Coldwell did a brilliant job of keeping Taylor Spivey at bay, but I have to say this is the second time that both me and Bucko have overlooked Taylor Spivey for a podium, and I have learned my lesson, I won't be doing that again!"
Men's race – Hauser brings it home
"Men's race, how good was that!" said Mark. "That strong swim just got him (Hauser) back into the race. I thought he was down and out at one point, so fair play Matty for bringing yourself back in and he just had a different gear on the run at the end."
Lucy had also written him off. "I thought he looked tired and fatigued. However, it just turned out he's got a good poker face. It wasn't until that last mile that he really put the hammer down and won the race."
Both identified several athletes that changed the race, including Vasco Vilaca and Kenji Nener, plus the importance of team work to win the short chute bonuses.
Mark said: "Vasco Vilaca, I think brilliant performance, probably stand out performance of the day. He's got a really strong swim, which kept in him the race, but I thought he had a really impressive race start to finish.
"I was quite surprised he did the whole of that last bike on the front and I thought he might have tried saving his legs, but obviously his team mate helped him out with the short chute, that made a big difference to the race.
"I think Jonny Brownlee missed out on the podium by two and a half seconds to Hayden and Hayden got the short chute courtesy of Tayler Reid in swim number one."
Lucy was impressed with Nener as well as Vilaca: "It didn't really start to split up until the second swim-bike-run and that was led by Kenji Nener. He was a massive game changer in the whole race, he really asserted himself into that top four or five that got away and I think if it wasn't for him, it wouldn't have whittled down to those that were away."