Back-to-back wins Lucy Charles-Barclay
Career-best victory for George Goodwin in Staffordshire
There were two new names added to the winners listings at the fifth edition of IRONMAN 70.3 Staffordshire on Sunday.
PRO WOMEN
Lucy Charles-Barclay showed few after-effects from her big win last weekend at The Championship, with a typical gun-to-tape performance on Sunday at IRONMAN 70.3 Staffordshire. With victory earlier in the year at IRONMAN South Africa, that also ensures that she has met all of her qualification requirements with regards to the World Championships over both distances later this year. She will certainly be in Kona, with an appearance in Nice to be determined nearer the time.
Lucy was first through the opening 1.9km swim in 23:46 (which was a few seconds quicker than the Pro men), with a lead of just over a minute on Chloe Cook and almost four minutes ahead of defending champion, Emma Pallant.
That lead was extended to almost four minutes as she entered T2, with Cook still maintaining second place, a minute ahead of Pallant who was now five minutes in arrears, as Charles-Barclay also set the quickest bike split.
.@LucyAnneCharles first into T2 and onto the run. 4 minutes ahead of @chloeecook in 2nd. #IM703Staffs pic.twitter.com/i4NEcxg7Iz

— IRONMAN 70.3 STAFFS (@IM703STAFFS) June 9, 2019
A strong run of 1:22:59 left her with a winning margin at the finish of three and a half minutes over Emma Pallant, who clawed back just over a minute with the fastest run split of 1:21:40. Cook was unable to hold on for a podium slot as Katrina Rye, in her first Pro race, ran through with a 1:23:42 for the Bronze.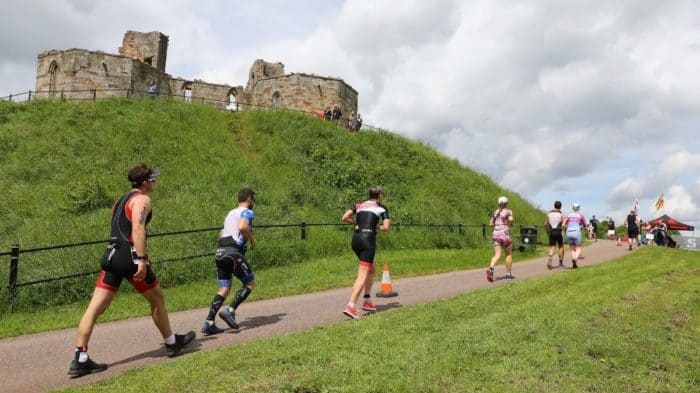 "I'm over the moon, I don't often get to race in the UK so to actually come here and win is fantastic. I think I've probably only raced twice as a pro in the UK so it's really nice to come here and feel at home with a nice crowd backing you," said Charles-Barclay.
PRO MEN
After also racing last weekend in Samorin, Thomas Davis headed the men out of the swim in 23:52, and he had defending champion Elliot Smales, James Teagle, Will Clarke and Yvan Jarridge (FRA), just seconds behind him. They had gained an advantage of one minute over Harry Palmer, Yohan Le Berre (FRA), George Goodwin and Chris Standidge.
After recently winning the Outlaw Half Nottingham and finishing second at IRONMAN Brazil, Will Clarke was stretching his fitness out to another race and along with George Goodwin, they had built a lead of three minutes at T2 over Smales and Jarrige, with Thomas Davis arriving a further 50 seconds later.
Goodwin would prove to the the fastest runner of the day too (1:13:21), steadily pulling away from Clarke to take the win, but will was never threatened for second placed and was more than satisfied with his recent block of racing and results.
Mad month of racing capped off with a 2nd at Staffs 70.3! Chuffed with that post Ironman! 👍 https://t.co/kHfQxESND4

— Will Clarke (@Theclarke) June 9, 2019
Goodwin is one of a significant crop of young Brits racing well over the 70.3 distance. He finished third this year at IRONMAN 70.3 Barcelona (running quicker than Bart Aernouts and David McNamee).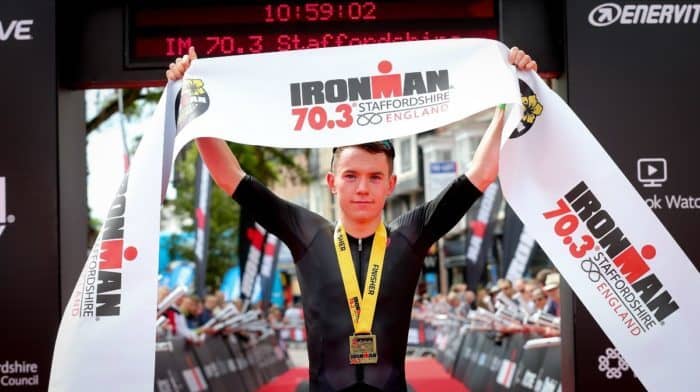 "I'm delighted to be first on the podium. I was second here last year, and I knew I had a tough battle with the depth of the field here today," said Goodwin.
IRONMAN 70.3 Staffordshire, Sunday 9th June 2019
1.9km / 90km / 21.1km
PRO MEN
1st – George Goodwin (GBR) – 3:57:26
2nd – Will Clarke (GBR) – 4:01:16
3rd – Elliot Smales (GBR) – 4:04:53
4th – Thomas Davis (GBR) – 4:06:37
5th – Yvan Jarrige (GBR) – 4:08:33
6th – Chris Standidge (GBR) – 4:09:23
7th – Robert Brundish (GBR) – 4:12:33
8th – Yohan Le Berre (FRA) – 4:14:34
9th – Harry Palmer (GBR) – 4:15:57
10th – Bartosz Banach (POL) – 4:18:14
#IM703Staffs Men's Top 3

1.) @teamGoodwinTri
2.) @Theclarke
3.) @elliot_smales pic.twitter.com/bvPSWHQ2q3

— IRONMAN 70.3 STAFFS (@IM703STAFFS) June 9, 2019
PRO WOMEN
1st – Lucy Charles-Barclay (GBR) – 4:22:30
2nd – Emma Pallant (GBR) – 4:26:04
3rd – Katrina Rye (GBR) – 4:29:20
4th – Chloe Cook (GBR) – 4:30:20
5th – Magda Nieuwoudt (RSA) – 4:39:27
6th – Kelly Fillnow (GER) – 4:51:10
7th – Naomi Wahsizi (JPN) – 4:54:48
First Pro WIN on home soil @IM703STAFFS 🎉🏆🇬🇧 #ironman703staffs Photo: @JamesMitchell5 📸 #WinnerWinnerChickenDinner pic.twitter.com/Rcr3o6H8ec

— Lucy Charles-Barclay (@LucyAnneCharles) June 9, 2019