It may not have been the way she wanted to notch a first podium place since 2020, but third place at the World Triathlon Cup Vina del Mar on Sunday was a significant stepping stone for Olympic medallist and former World Champion Vicky Holland.
It was just a fourth race back for the Brit after giving birth to her first child nine months ago and writing in detail on social media, she gave her reaction to the dramatic events which unfolded as Katie Zaferes and three others – the leading quartet at the time – were disqualfied for taking a wrong turn midway through the run.
The DQs didn't come until after the race but they meant that third-over-the-line Gwen Jorgensen was awarded the win, while Gina Sereno in sixth and Holland in seventh joined her on the podium.
'I guess rules are rules'
Holland said on Instagram: "Where to start. Probably at the end, because context is everything. I was seventh across the line but four of the girls in front of me were disqualified for cutting the course, so I was promoted to third.
"Truthfully it was a minor infringement that maybe gained them a couple of seconds. I fully believe it was unintentional and I really feel bad for those girls, but I guess rules are rules. It's a weird way to win a medal and honestly, doesn't feel good. Podiums are absolutely what I shoot for, but getting them under these circumstances feels weird and definitely doesn't bring joy. There are just no winners in today's scenario."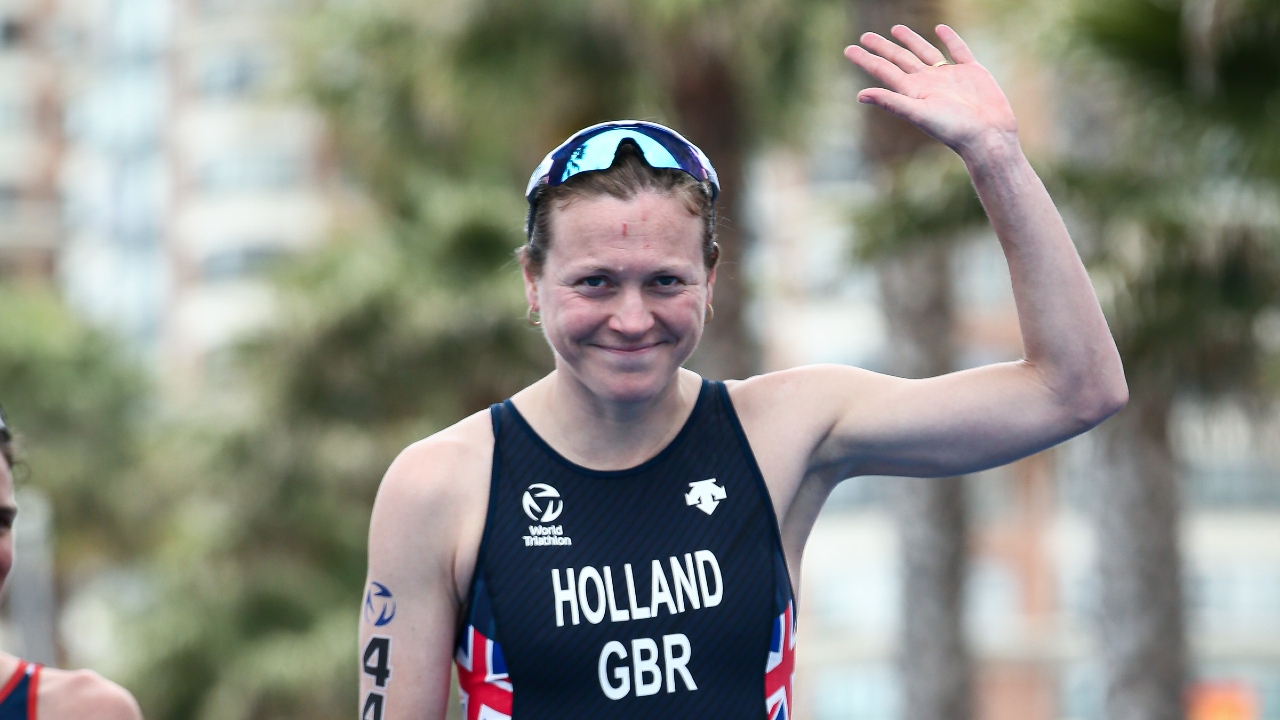 Holland had performed superbly in difficult circumstances during the race, explaining: "With that said, there's lot to say about my race. After swimming anything between poorly and terribly the first three races, today I led the swim. LED. THE. SWIM 🤯 I can't overstate how happy I am with that! I swam alongside @djenyferarnold and was second up the beach as we headed to transition."
Transition challenges
But it was at that point that the 37-year-old faced a significant additional challenge.
She explained: "This is where my problems began. I have Raynauds so I lose feeling in my fingers and toes in cold conditions. Sometimes it doesn't even have to be cold and I lose feeling. The water temperature here was 14C and I just couldn't get my wetsuit off. I barely managed my swim cap, eventually getting it off with the heels of my hands!
I wasted so much time stood in transition watching everyone blow by me as I tried not to panic and find some sort of dexterity in my hands.
"Finally I was on my way and having lost the front pack, did everything I could to try to minimise the damage. T2 was also poor – this time because I couldn't feel my feet so trying to get them into shoes took a couple of goes. I ran ok, nothing amazing, crossing the line seventh.
"Overall I'm delighted with my swim today, gutted that something I can't control cost me the front pack and I'm a bit flat and empty with the podium result. I guess I'll take some time to process it all but perhaps most positively, I got a cuddly toy to take back to my baby girl 🩷
"2023 has been a short but fun season. 4 races, 4 continents, a big variation in results, but the fire is burning. Let's see what 2024 brings!"