Brazil's Manoel Messias produced a devastating run to round off his season in perfect style as he won the World Triathlon Cup Vina del Mar in Chile.
He overcame a tardy T2 to animate the 5km run in the sprint-distance event, his first kick whittling down a huge front group before he then settled it by outsprinting compatriot Miguel Hidalgo approaching the blue carpet, with Mexico's Aram Peñaflor taking third.
Swim – Crociani sets the pace
As we saw in the controversial women's race earlier, things quickly spread out in the chilly and choppy conditions during the 750m swim in the Pacific Ocean.
Leading the way out of the water was Alessio Crociani (ITA) and those close behind knew there was a decent chance of a breakaway as there was clear daylight to the main pack, which included pre-race favourite Hidalgo in the #1 bib.
Strong swimmer Henri Schoeman (RSA), who was third at the Noosa Triathlon in Australia the week before, was again right in the mix as was Britain's Dan Dixon.
Bike – All together into T2
Early on the bike a front group of nine quickly put distance between themselves and the rest – with American duo Seth Rider and Chase McQueen, plus home favourite and last year's runner-up Diego Moya among them.
But things changed on lap two of three as Sam Dickinson (GBR) bridged the gap to them and he was swiftly followed by the main chase group, meaning we suddenly had a 25+ pack, which included Hidalgo.
And that was how it stayed until T2, with Alberto Gonzalez (ESP), Dixon and Dickinson the one-two-three heading out onto the run.
Run – Messias sees off rivals
All to play for then on the flat and fast 5km run along the El Sol beach but things threatened to become farcical when two dogs joined in with the leaders in the early stages.
Thankfully they soon lost interest and the first big injection of pace came from Messias, which burnt off Dixon and Dickinson among others.
Heading onto the second of two laps and Messias, Hidalgo and Peñaflor had now moved clear.
Three soon became two as the Mexican couldn't stick with the pace, prompting another kick from Messias and it proved decisive as he powered to a clear-cut victory as he led home a Brazilian one-two.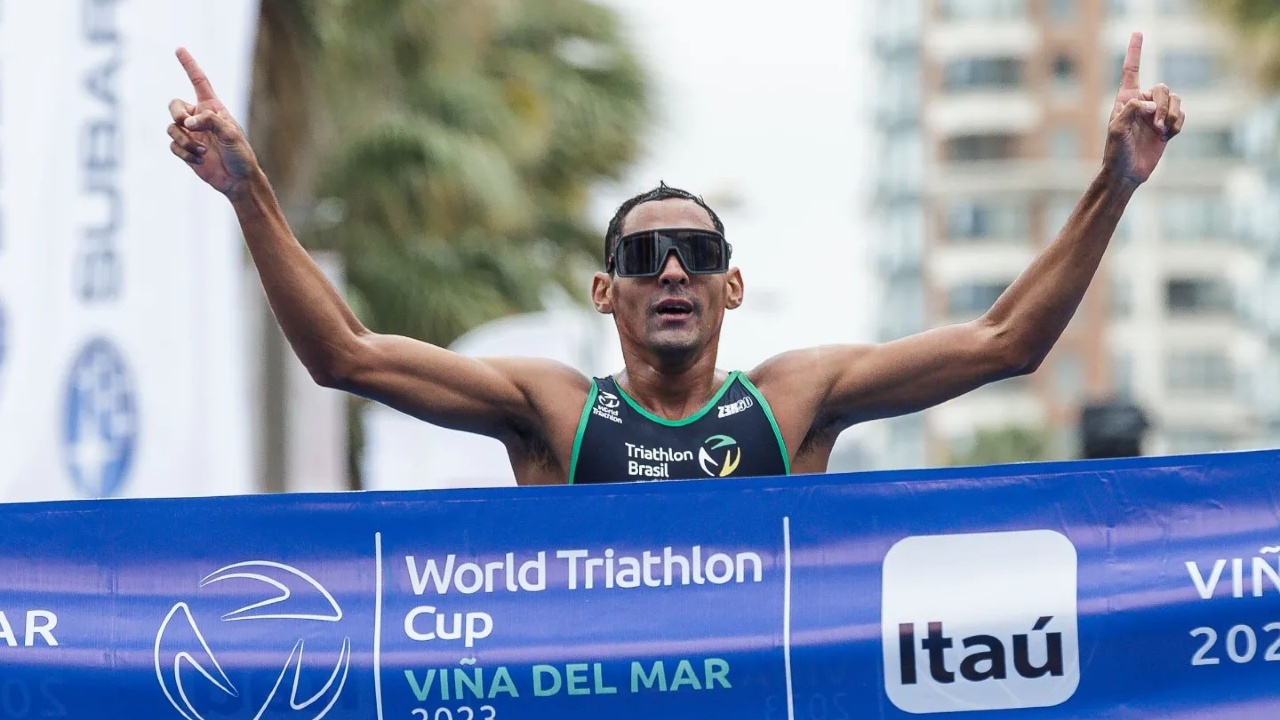 Peñaflor held on for third and Gonzalez won the bunch sprint for fourth.
World Triathlon Cup Vina del Mar results
Sunday November 12, 2023 – 750m / 18km / 5km
Elite Men
1. Manoel Messias (BRA) – 50:48
2. Miguel Hidalgo (BRA) – 50:52
3. Aram Peñaflor (MEX) – 50:59
4. Alberto Gonzalez (ESP) – 51:09
5. Martin Sobey (CAN) – 51:09