World Triathlon on Monday announced sanctions against the Russian Triathlon Federation, "due to the significant number of doping cases in Russia".
If we rewind just a few months, those cases which contributed towards this action – not specifically mentioned in Monday's announcement – would include the following sanctions, all issued during 2020:
Igor Polyanskiy – The Tokyo 2020 Olympian tested positive for EPO, waiving his right to a B sample test, and was served a three-year suspension.
Alexander Bryukhankov – The three-time Olympian was also issued with a three-year suspension after testing positive for EPO at the 2020 European Championships in Kitzbuhel,
Vladimir Turbayevskiy – The former Russian National Champion was sanctioned for "abnormalities in the haematological module of the Athlete Biological Passport (ABP) based on abnormalities detected in blood samples collected in June and July 2014 and in August 2020 all of which indicate blood manipulation".
In December 2020, the Court of Arbitration for Sport backed the World Anti-Doping Agency (WADA) declaration that the Russian Anti-Doping Agency (RUSADA) was non-compliant with the WADA code for a period of two years. Given that history, it's not immediately clear how reaching an agreement with RUSADA to test Russian athletes will provide confidence internationally.
What the sanctions mean
There are further requirements; no Russian World Triathlon or European Triathlon events in 2022, enforced resignations from any World Triathlon or European Triathlon bodies for a year plus sanctions against coaches and officials involved with doping violations. That final one, perhaps, is the key one – doping will rarely, if ever, originate solely from the athlete.
These changes will fall at the feet of the Russian Triathlon Federation President, Ksenia Shoigu, who has been in post for 12 months. She is the daughter of Russia's Defence Minister.
Time will tell if an already announced link-up with RUSADA in October 2021 represents a fresh start or empty promises.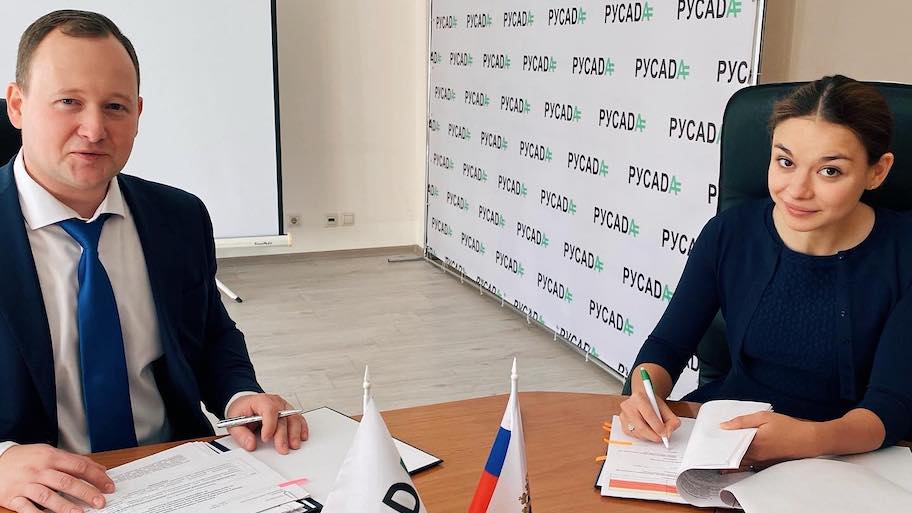 World Triathlon announcement
The full statement from World Triathlon, released on Monday, is as follows:
"World Triathlon's Executive Board has decided to sanction the Russian Triathlon Federation due to the significant number of doping cases in Russia. The sanction will be effective for one year, and World Triathlon will review quarterly that these measures are being followed.
The sanctions approved by the Executive Board, consists of the following:
The Russian Triathlon Federation will reach an agreement with RUSADA to test all Russian athletes, especially all those athletes who will be competing internationally.
The Russian Triathlon Federation will, together with World Triathlon, create an education plan for Russian athletes and coaches in regard to doping issues.
The Russian Triathlon Federation will compensate and refund the prize monies previously awarded to the Russian triathletes sanctioned with doping offences.
Russian Triathlon Federation officials must resign from any World Triathlon and European bodies for the period of one year.
The Russian Triathlon Federation cannot organise any World or European Triathlon events for one year (until the end of 2022).
The Russian National Federation is to reimburse World Triathlon for all costs (including but not limited to laboratory fees, hearing expenses and travel) related to any of the violations of the Anti-Doping Rules committed by their athletes and coaches.
Sanctions must be taken inside the Russian National Triathlon Federation for any coach or official that is involved in any doping violation, and collaboration must be made with World Triathlon disciplinary bodies.
World Triathlon is fully committed with the fight against any form of doping in the sport. As an unequivocal confirmation of its commitment to eradicating the use of prohibited substances and methods in triathlon, World Triathlon continues to commit time, effort, energy and a substantial budget to its anti-doping mission."