With a home Olympic Games looming next summer, the French men's team once again pulled out all the stops at the last WTCS event of the year as Dorian Coninx claimed his first world title and a fourth for France since 2019.
Such was the dominant display of Les Bleus in Pontevedra, three of their four men finished in the top four, with Coninx followed by Pierre Le Corre in third and last year's world champion Léo Bergere in fourth, as the last of the quartet Tom Richard also put together a great race for 12th.
With two-time world champion Vincent Luis currently sidelined, the French selection committee must select just three men for the Paris 2024 Olympic Games next year out of a group of five men who are all at the top of their game.
Expect the unexpected – Coninx
Coninx, who had no expectations whatsoever of finishing the day as world champion, seemed as surprised as he was overjoyed after overhauling Alex Yee, Hayden Wilde, Vasco Vilaca and Bergere in the series rankings to take the title.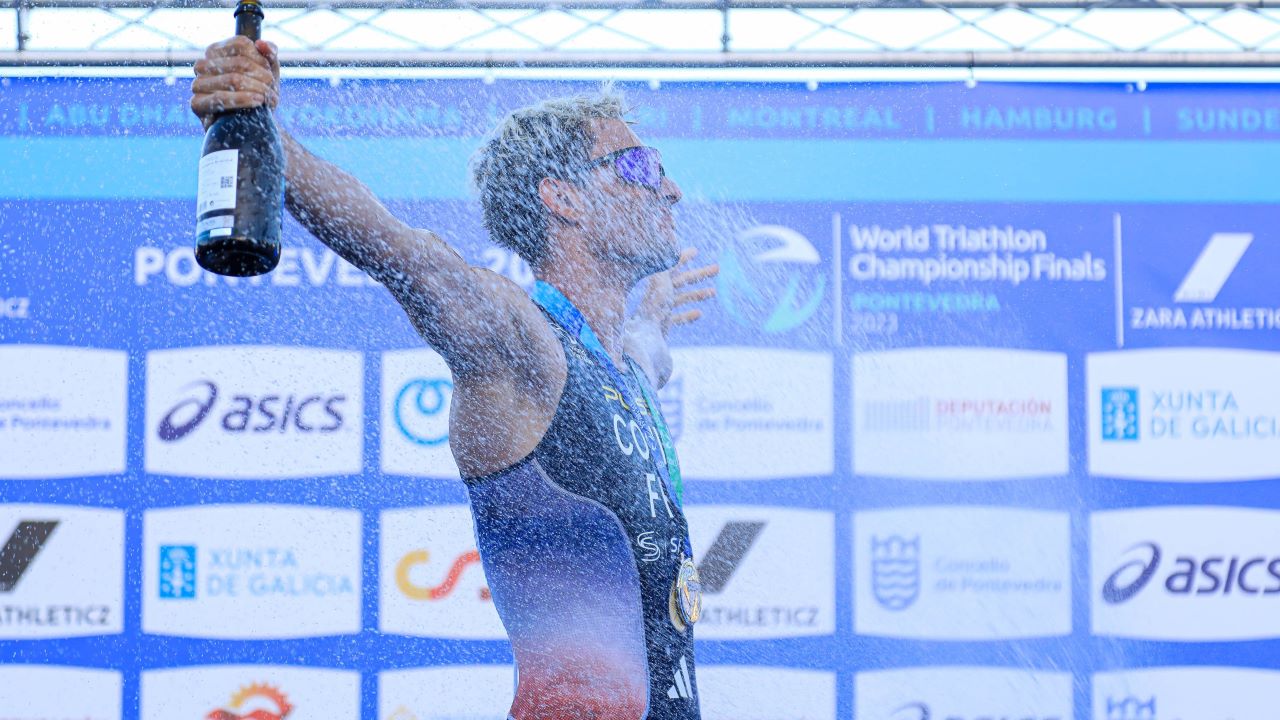 "I had no idea, I thought it was impossible. I just wanted to focus on my race and put in a good performance to finish a nice season, but things went way better than I expected. Hayden and Alex have really dominated this season. I knew I could have a good race, but I wasn't expecting to win. I just pushed as hard as I could and the result is crazy."
Asked if he knew how far behind Yee and Wilde were throughout the race, as the two pre-race favourites struggled following a poor swim, the Frenchman shared that he and his teammates stuck to their guns and focused fully on controlling only their own performances.
"In the water, honestly no, because you can't see anything. But on the bike, we really wanted to push things as this season they [Hayden Wilde and Alex Yee] are running faster than us and it has been the same thing every time this season, so we just wanted to try something different as a team and I think it worked pretty well."
Allez Les Bleus as teamwork pays off
For Le Corre and Bergere, Coninx's success was also their success, with the pair sharing that teamwork on the bike enabled all three to enter transition in pole position and capitalise on their hard-fought advantage.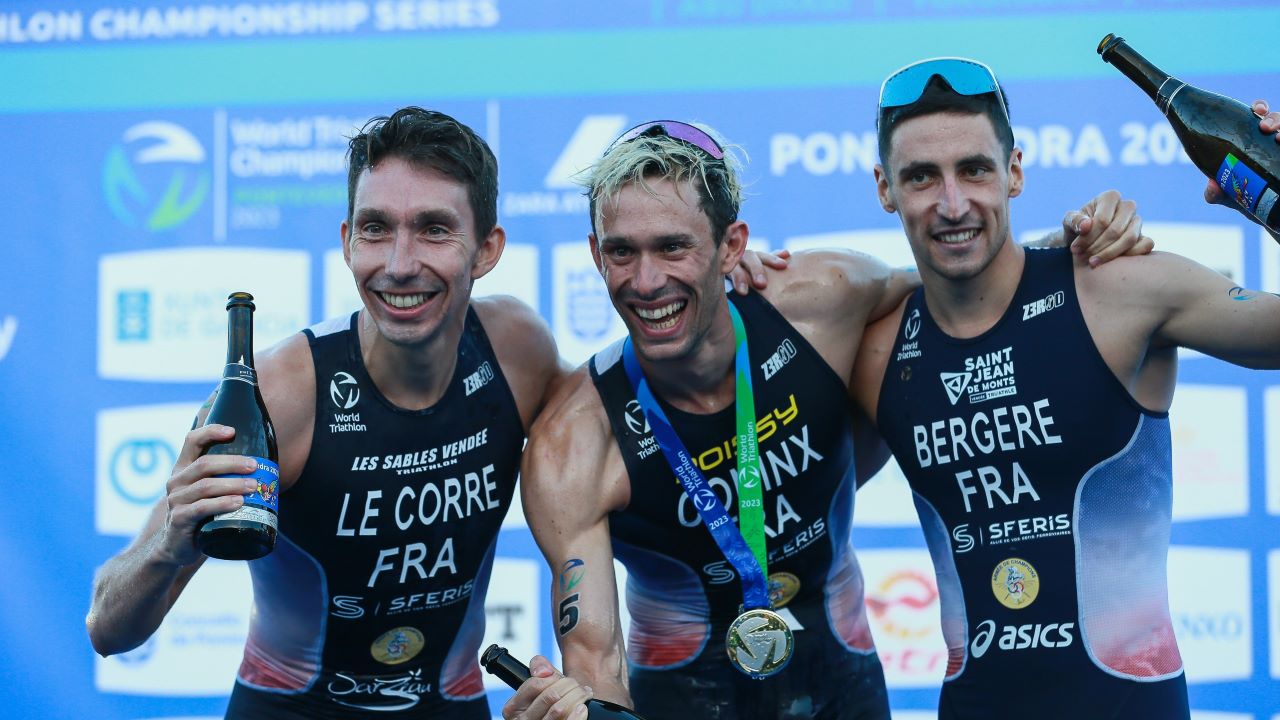 "I am proud of my team-mates and having another world title to add to the French collection. I am very proud of the way we worked together and I think we can achieve even more in the future" said Bergere.
"I believed in my chances over the last lap, but I just couldn't go any further. It was a tough year for me personally, so I am happy with how it went and I will see you next year after a good winter!"
For Le Corre, a second podium on the WTCS circuit after getting a maiden win at WTCS Sunderland was a major confidence booster, and will have gone a long way to securing this slot on the French Olympic team next year.
"I tried to win today, but it was not possible with Dorian and Tim [Hellwig], but I am really happy. We knew that Alex and Hayden were behind us, but I was not too focused on the rankings, as I just wanted to get on the podium today, so I was just trying to help my team-mates get the breakaway.
"The whole season was good, it started with a top five and then with fourth at the Test Event which was alright, but I missed the qualification for Paris, but now I think I have got it."