Laura Lindemann anchored Germany to a superb World Mixed Relay Championship success at WTCS Hamburg, booking their Olympics spot in the process.
The home team were in the mix throughout, with Tim Hellwig getting them off to a fine start before Annika Koch and Simon Henseleit continued the good work.
But Lindemann made the decisive move when she overtook and then put clear water between herself and New Zealand's Nicole Van Der Kaay at the start of Leg Four.
She gradually extended that advantage on the bike and run, with Van Der Kaay holding off a charging Cathia Schär (Switzerland) for the silver.
Leg One – Aussie rules
Matt Hauser had been to the fore throughout the men's individual races and he again led out the swim for Australia.
Youngster Connor Bentley was second out of the water for Great Britain but would soon start to struggle on the bike.
Up front there was soon a four-man group with Hauser joined by Vasco Vilaca (Portugal), Tim Hellwig (Germany) and Marten Van Riel (Belgium).
They would soon open up a 13 seconds buffer on the rest which Hayden Wilde (New Zealand) tried to close down single-handedly but with limited success.
Moving onto the run and Van Riel dropped back slightly as he swapped places with Wilde but a late dig from Hauser meant he was able to handover in front to Natalie Van Coevorden.
Vilaca and Hellwig were just behind, with Wilde and New Zealand in fourth and 17 seconds off the lead.
But Great Britain were over a minute off the pace and 20th of the 22 teams.
Leg Two – Germany move to the front
The front three remained as they were after the swim but Annika Koch had moved Germany into a narrow lead over Van Coevorden (Australia) and Melanie Santos (Portugal).
But there were two notable movers in behind – a fantastic swim from Vittoria Lopes vaulted Brazil up from eighth to fourth while Taylor Spivey began to move through the field for the USA.
It settled down a little on the bike with the front three having a 14 seconds gap over a five-person chase group of Switzerland (Julie Derron), USA, Brazil, New Zealand (Ainsley Thorpe) and Hungary (Zsanett Bragmayer).
But Derron was driving the chasers and they'd halved the deficit by the next split. It continued to fall rapidly and by T2 they'd virtually caught them.
Onto the run and to the delight of the home crowd it was Koch who kicked a few seconds clear from what was now a chase group of six, led by Spivey, with Brazil now distanced slightly in eighth.
And that was how it remained heading to the handover.
Leg Three – All to play for
Simon Henseleit was first into the water for Germany and not far behind was 17-year-old João Nuno Batista who had received a late call up from Portugal having won the junior title here on Thursday.
But emerging first after the swim were New Zealand thanks to a fantastic leg from Tayler Reid. Germany were second, with Switzerland (Sylvain Fridelance), Hungary (Márk Dévay) and Portugal all in close proximity.
Perhaps not surprisingly five became four as the Portuguese youngster dropped back and was joined by the USA's (Matthew McElroy).
Meanwhile those front four were working well together and by the end of the first of two laps they'd extended their advantage to 23 seconds over Batista and McElroy.
It was beyond the half-minute mark at T2, with one notable move in behind coming from Casper Stornes who had dragged Norway up to sixth.
Dévay got the jump on his three rivals as he opened up a small gap at the start of the run, followed by Henseleit and Reid as Fridelance started to struggle slightly for the Swiss.
To the delight of the huge Hamburg crowd, Henseleit and Reid now nudged back to the front, with the German tagging in Laura Lindemann – fresh from her third place in the women's individual final 24 hours earlier – while Nicole Van Der Kaay was anchoring New Zealand.
Leg Four – Lindemann delivers in style
There was less than a minute between the top nine teams starting the final leg so plenty still to play for – though not for Great Britain who were at +2:36 when Beth Potter dived into the water.
Up front Lindemann had put daylight between herself and Van Der Kaay and starting the bike she had an advantage of 13 seconds, with Hungary (Márta Kropkó) having joined New Zealand.
The United States were up to fourth in the shape of Summer Rappaport, a further 19 seconds back.
Cheered around the bike course throughout it was one versus two for Lindemann, with Van Der Kaay and Kropkó swapping turns in the chase but despite their numerical advantage the gap was out to 18 seconds at the first split.
But there was a significant surge in behind from Switzerland's Cathia Schär who rode brilliantly to put her country right in the mix for at least the silver medal.
Starting the run Lindemann had 13 seconds to spare over Schär, with Van Der Kaay and Kropkó just behind.
The 13 seconds had grown to 19 seconds at the end of the first of two 800m run laps, with New Zealand now up to second.
And Lindemann was able to let the adulation sink in – and collect a German flag – as she took them to a brilliant gold medal to land the World Championship and seal a guaranteed spot at the Olympics.
Van Der Kaay bagged the silver for New Zealand, 19 seconds back, with Schär's efforts rewarded with a bronze for Switzerland.
The USA were fourth, followed by Hungary, Australia and Norway while Potter moved Great Britain up a few spots to 14th.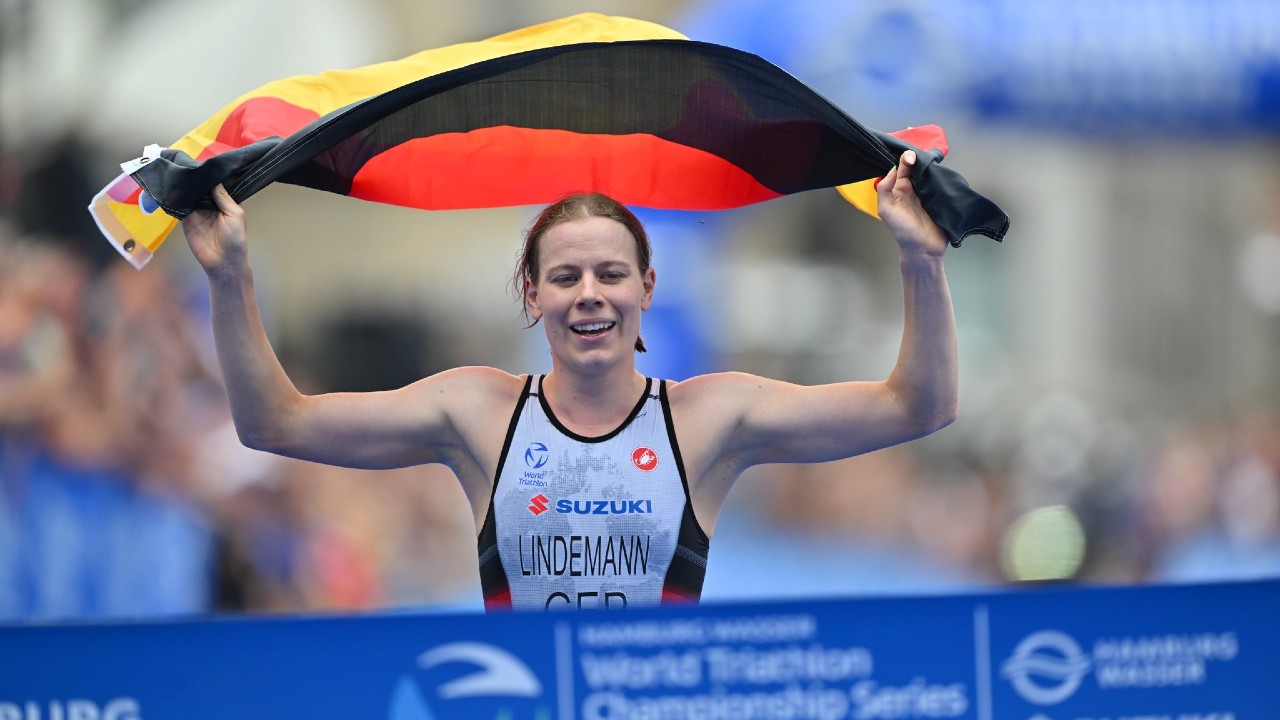 Sunday July 16 2023 – MIXED RELAY (Male-Female-Male-Female)
Each leg 300m / 7km / 1.6km
1. Germany – 1:22:08
2. New Zealand – 1:22:27
3. Switzerland – 1:22:35
4. United States – 1:22:55
5. Hungary – 1:23:05
6. Australia – 1:23:15
7. Norway – 1:23:27
8. Brazil – 1:23:36
9. Italy – 1:23:41
10. Spain – 1:23:44