The Oulton Park Spring Duathlon took place last Sunday 5th March, under challenging and wintery weather conditions, welcoming plenty of elite, amateur and novice racers to one of the first races of the season at an iconic venue.
(All images are by ©Tim Waterworth Photography).
Taking place at the famous Oulton Park motor racing circuit in Cheshire, the draft-legal Oulton Park Spring Duathlon was an ITU World Championship Sprint Diistance qualifier and ITU World Championship Standard Distance qualifier for the 2017 Penticton ITU Multisport World Championships in Penticton, Canada, in August 2017.
The race saw some outstanding performances from all levels of athlete as they kick-started their season at one of the country's finest motor racing circuits. With the promise of a traffic-free race track, super smooth tarmac, transition in the pits and a banked hairpin, the potential was always there for some awesome racing, and the competitors didn't disappoint, with some fierce battles amongst the top placed athletes. Spectators in the stands had a fantastic view of both races and contributed to a thrilling overall atmosphere on the day.
Race Distances
The sprint distance race comprised a 4.3 km run (1 lap), followed by a 21.6 km cycle (5 laps) and a final run lap of 4.3 km, covering a total distance of 30.1 km.
The standard distance race comprised a 8.6 km run (2 laps) followed by an exhilarating 38.76 km cycle (9 laps) and a final run lap of 4.3 km, totalling 51.6 km.
Sprint Distance 
The sprint distance race in the morning saw Lewis Timmins of Muckle CC Tri Team take the men's title with almost two minutes' lead, in a time of 01:01:43. Neck-and-neck with Phil Wylie after the first lap's run, Timmins gained his lead during the cycle stage and with a slightly faster transition, leaving Wylie in second place and Luke Pollard in third.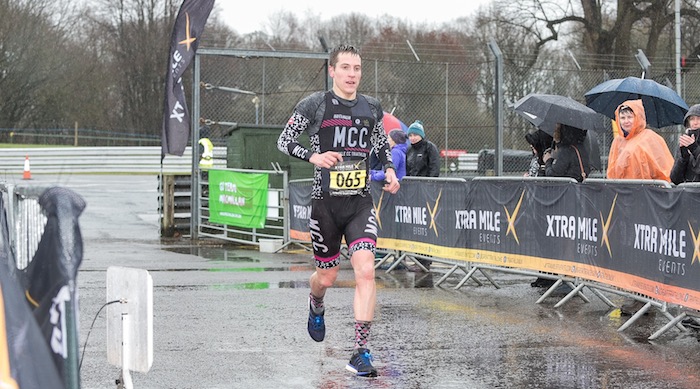 Ellie Campbell of Mersey Tri Club claimed the women's sprint title for the second year running with a time of 01:11:10, beating her 2016 time by one second. She had gained a comfortable lead of over three and a half minutes, leaving Laura Smith and Erica Booth to battle it out over second and third place. Smith eventually claimed second place six seconds ahead of Booth.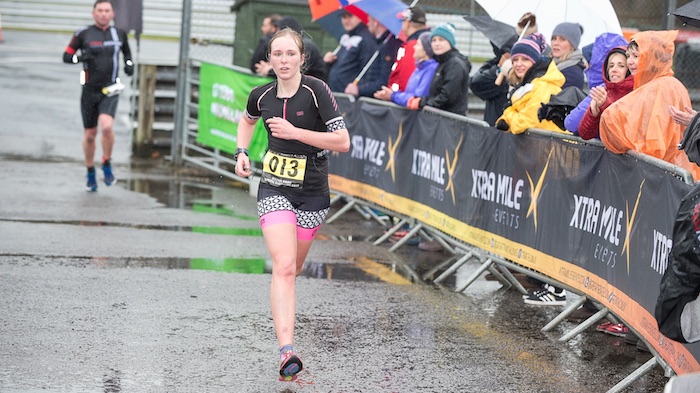 Standard Distance
The standard distance race set off at 1pm and was a close-fought battle for the top spots. With a formidable effort on the bike, Beau Smith of Racepace claimed the men's title with a time of 01:43:25, despite second placed Richard Anderson clocking slightly faster run times. Just seven seconds then separated Anderson from third placed Paul Hawkins.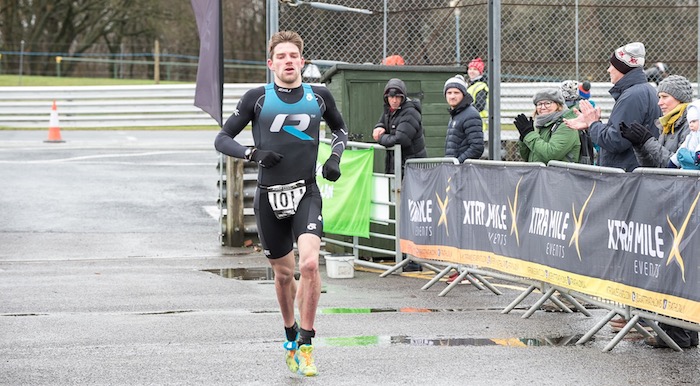 In the women's field, Naomi Keira White of Manchester Tri Club claimed the women's title with a time of 2:01:52, just over a minute ahead of Michelle Carson, who came in second.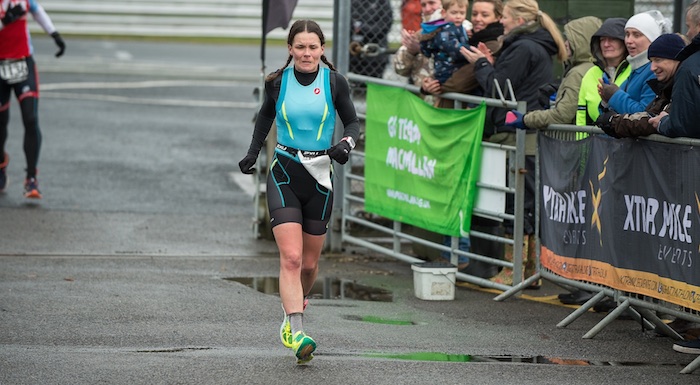 Results
Oulton Park Spring Duathlon: Sprint Distance
MEN
Lewis Timmins (Muckle CC Tri Team), 01:01:43
Phil Wylie, 01:03:30
Luke Pollard (RAF Tri Club), 01:04:29
WOMEN
Ellie Campbell (Mersey Tri Club), 01:11:10
Laura Smith (University of Birmingham Tri Club), 01:14:49
Erica Booth (Tri Rivington), 01:14:55
Oulton Park Spring Duathlon: Standard Distance
MEN
Beau Smith (Racepace), 01:43:25
Richard Anderson (Redvenom.co.uk), 01:44:36
Paul Hawkins (Peaks-Perfomance.com), 01:44:43
WOMEN
Naomi Keira White (Manchester Tri Club), 2:01:52
Michelle Carson, 02:03:10
Rachel Wiseman, 02:05:50
The full results are available online at http://www.xtramileevents.com/results/2017/.
Race Director Simon Hill commented: "The Oulton Park Spring Duathlon was a great success and we would like to congratulate every single competitor who crossed the finish line. The atmosphere was fantastic, especially with the races being ITU World Championships qualifiers, and it was wonderful to see so many competitors achieve their targets and enjoy a brilliant day of running and cycling at such an iconic venue.
"We would also like to thank everyone who participated to raise money for Macmillan Cancer Support. The money raised will make a big difference in supporting people affected by cancer."
Macmillan Cancer Support was the Official Charity Partner for the Oulton Park Spring Duathlon.
The Oulton Park Spring Duathlon is organised by Xtra Mile Events and the team behind the ASICS Greater Manchester Marathon on 2nd April, for which places are still available. The Oulton Park Autumn Duathlon takes place on Sunday 8th October 2017, offering competitors who enter both the Spring and Autumn duathlons a great opportunity to measure their improvement over the season.
Go to www.xtramileevents.com for further details about the 2017 Xtra Mile events calendar. You can also like the Facebook page https://www.facebook.com/TriathlonUK and follow @GreatTriathlons on Twitter and xtra_mile_events on Instagram.