2019 British, English, Scottish, Welsh Champs and Qualifiers announced
Just as you were thinking you haven't finished your 2018 racing season, it is time to start planning for next year.
This is the annual 'big' announcement from British Triathlon of the Age-Group Major Events Calendar, which includes the 'Championships' and ITU/ETU Qualification events (which take place in 2019, for the respective ITU/ETU events held in 2020)
---
British Triathlon and Triathlon England Major Events Calendar announced for 2019
British Triathlon have unveiled their 2019 Major Events Calendar, announcing where athletes will be racing for Championship and Age-Group Qualification success over the coming 12 months.
The calendar also features the Triathlon England, Welsh Triathlon and Triathlon Scotland Championship listing, allowing British Triathlon Home Nation members the ability to plan ahead for an exciting upcoming season.
Off the back of Britain's most successful ITU World Championships to date, where the team collated an impressive 37-strong medal haul, the triathlon community will have the opportunity to go for gold at both well-loved and established locations, plus the chance to test out new events that have been awarded Championship or qualifier status.
Those aiming for British Championship success with be offered their first opportunity at Bedford Autodrome Duathlon on Sunday 7 April. Organised by Nice Tri Events, the event has become a firm date on the triathlon calendar, having hosted the British Standard Distance Duathlon Championships on three consecutive occasions already.
Fast-forward two months and June will feature both the British Standard and Sprint Distance Triathlon Championships. The former will return to the AJ Bell World Triathlon Leeds on Sunday 9 June, whilst sprinters will gather at the Accenture World Triathlon Mixed Relay Nottingham the following weekend on Saturday 15 June. Both events are organised by British Triathlon. The drafting status for the British Triathlon Sprint Distance Triathlon Championships will be confirmed as soon as possible.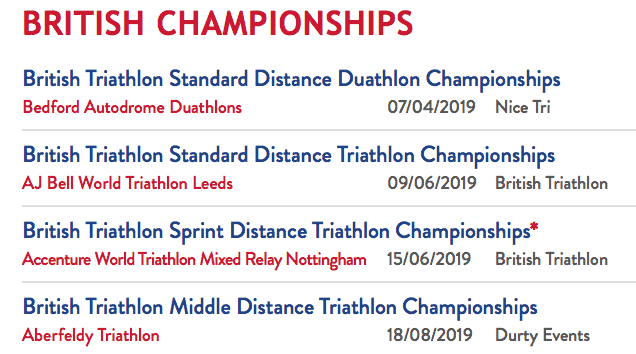 The final chance to take a British title will come in the form of Aberfeldy Triathlon which will play host to the British Triathlon Middle Distance Triathlon Championships on Sunday 18 August.
In addition, Triathlon England members have the prospect of six opportunities to stand on the podium throughout 2019, beginning on Saturday 26 January at Ashridge Duathlon. The event, organised by Active Training World, will kick off the competitive season by crowning the Triathlon England National Standard Distance Duathlon Champions.
Southport Triathlon, organised by Epic Events will be the next chance to go for gold, hosting the Triathlon England National Standard Distance Triathlon Championships on Sunday 19 May.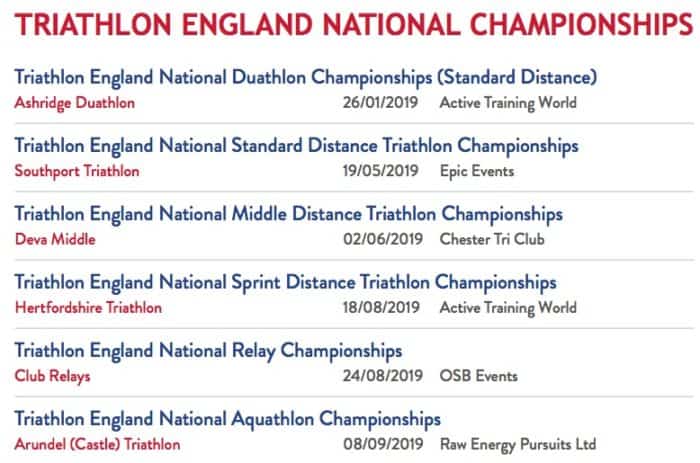 Chester Tri Club's Deva Middle successfully won its bid to stage the Triathlon England National Middle Distance Triathlon Championships on Sunday 2 June, whilst Triathlon England National Sprint Distance Triathlon Champions will be awarded at the Hertfordshire Triathlon, organised by Active Training World, on Sunday 18 August.
A much anticipated date on the calendar, the Triathlon England National Relay Championships will follow on 24 August in the form of the Club Relays, organised by OSB Events. Arundel Castle Triathlon, organised by Raw Energy Pursuits Ltd, will then attract top aquathletes looking to bag a Triathlon England National Aquathlon Championship title on Sunday 8 September; the final medals on offer.
Five events were given the nod to stage Welsh Triathlon Championships in 2019, with the Welsh Triathlon National Duathlon Championships to be confirmed shortly.
Jumping to May, both the Welsh Triathlon National Standard and Sprint Distance Championships take place in quick succession, with TATA Steelman, organised by Port Talbot Harriers winning their bid to host the longer distance on Sunday 19 May. Sprint Champions will be crowned on Sunday 26 May SWYD Sprint Triathlon, organised by All or Nothing Events.
Next up, the weekend of 20-21 July will feature a double dose of Championship action, with the Welsh Triathlon National Aquathlon Championships being hosted by Port Talbot Harriers' Aberavon Aquathlon first. 24 hours later it will be time for the Sospan Sizzler, organised by Healthy Life Activities, having been awarded the Welsh Triathlon National Middle Distance Triathlon Championships.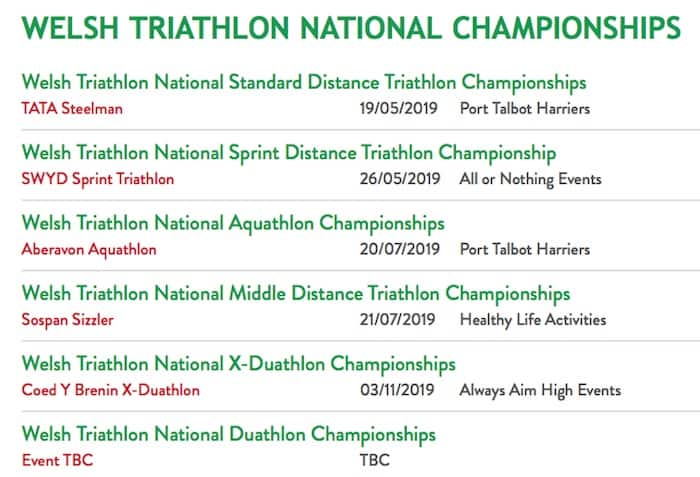 Closing the season on Sunday 3 November will be the Coed Y Brenin X-Duathlon, crowning the 2019 Welsh Triathlon National Cross Duathlon Champions following a successful bid by Always Aim High Events.
In Scotland the 2018 Championship events will also play host to the 2019 Championship events, with organisers awarded Championship status for two years in a new trial format.  The first of the nine Championships is at the home of Triathlon Scotland, Stirling University, for the National Duathlon Championships, organised by Stirling Triathlon Club.
The Scottish Schools Championships will follow in April, at a new Glasgow venue on Friday 26 April and the popular Scottish Youth Triathlon Championships will return to Bellahouston Park on Saturday 15 June, organised by Fusion Triathlon Club.
Next up is the M3 Triathlon Festival, organised by Monifieth Triathlon Club.  The festival will play host to the Scottish Mixed Team Relay National Championships, and the National Sprint Championships over two days on the 13-14 July.  Also in July is the Scottish National Aquathlon Championships hosted by Lomond Swimming and Triathlon Club at Loch Lomond.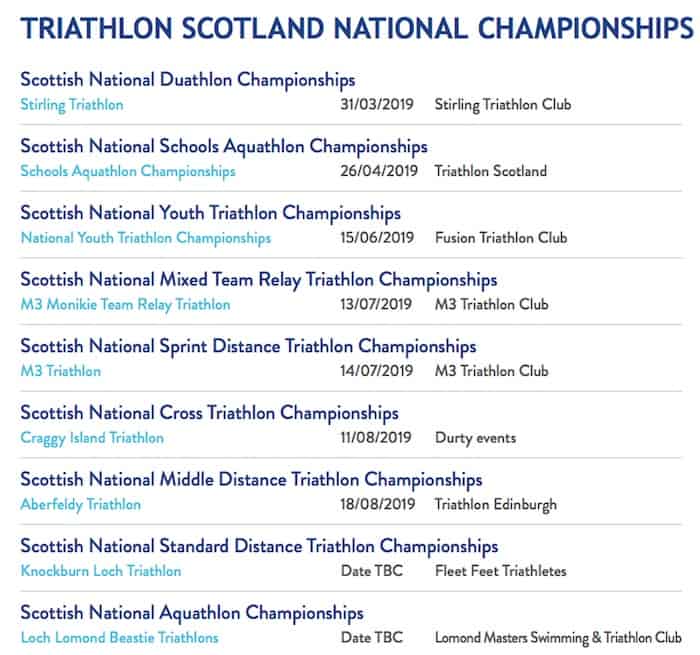 The Scottish National Cross Triathlon Championships, organised by Durty Events will take place on Sunday 11 August in Aviemore, and the week after, The Aberfeldy Triathlon Festival, organised by Triathlon Edinburgh will return with the Scottish National Middle Distance Championships on Sunday 18 August.
The final event will be the Scottish National Standard Distance Championships in September, hosted by Fleet Feet Triathletes at Knockburn Sports Loch, Banchory. The date of this event will be confirmed shortly.
Also announced today were a comprehensive list of opportunities to race for a Great Britain Tri Suit. 24 Great Britain Age-Group Team qualifiers have been selected, with locations spanning Dundee to Brighton, Cardiff to St Neots and everything in between.
Andy Salmon, British Triathlon CEO, said: "On behalf of British Triathlon and the Home Nation associations, I'd like to thank all event organisers for the level of interest they've shown in gaining Championship of Qualifier status. With 105 individual event bids across 29 organisers, we've had some tough decisions to make, but believe we have created a Major Event calendar which will inspire amateur triathletes to set their targets high and make the most of the fantastic opportunities on offer in 2019."
To view the full 2019 British Triathlon Major Events Calendar, visit https://www.britishtriathlon.org/events/championships-and-qualifiers/british-championships
For more information on how to become a British Triathlon member and be eligible to race for British and National Championship titles, plus have the opportunity to qualify for the Great Britain Age-Group Team, visit https://www.britishtriathlon.org/membership