I reported recently (details HERE), on the launch of the Castle to Coast sportive triathlon, a new addition to the UK event landscape taking place for the first time on Saturday 10th August this year.
It's an interesting concept, one I'll openly admit I was a little sceptical about when I was first told it was in the planning stage. When I saw the full detail however, and watched the excellent short video about the event – check it out below – it all made a lot more sense. So much so, "I'm in" for the debut edition.
Here, event founder Lee Brown has put together an extensive list of tips to make the most of your day.
---
Top tips to get the most from Castle to Coast, the UK's only sportive triathlon
Windsor to Brighton sportive triathlon is the only one of its kind in the UK
Triathlon tips from Lee Brown, Castle to Coast founder and triathlon coach
Challenging route with over 4,000ft of elevation through the Surrey Hills and South Downs
Inaugural Castle to Coast starts at 8am on Saturday 10th August
Castle to Coast (www.fullste.am), the UK's only sportive triathlon, will take place between Windsor and Brighton on Saturday 10th August and Lee Brown, event founder and triathlon coach, has provided a series of tips to help you have a great day out and get the most from this unique event.
The innovative, non-competitive format is designed to break away from the obsession with time and racing, instead providing a relaxed, inclusive event that focuses on the adventure of the swim, bike and run.
The Castle to Coast challenge, limited to 500 for the inaugural event, includes a 1.2 mile swim at Eton Dorney followed by a 67 mile open road ride through the picturesque but testing Surrey Hills and a 13.2 mile run up Ditchling Beacon and over the South Downs.
Lee Brown, Director and Founder of Fullsteam says: "Most tips are common sense but as a race director, athlete and coach I've seen these mistakes repeated time and time again through the years."

Race Preparation
Don't leave everything to the last minute.
Life is busy and although Amazon do deliver the next day, getting your bike serviced 24 hours before an event isn't a smart move and won't help pre event nerves. Take the time before the race to check over your bike and get if serviced if needed. Aim to do this in the weeks before the event, not the days before. Allow enough time for testing the bike out with a few rides.
Stop messing about with your kit!
Check it, pack it, then leave it alone. The amount of times I've seen athletes losing stuff because they have changed everything around in their bag half a dozen times is incredible.
Skipping the briefing or not reading the event information because you've done enough triathlons before and they are all near enough the same never ends well. Fail to prepare, prepare to fail.
Review the course in advance
You must get the route straight in your head before the day of the triathlon but if you have any questions then ask the event (race) director after the briefing and they will be happy to answer.
Warm up properly before you start
Going off like a rocket without warming up will leave you gasping for air and flailing around in the water like you've not swam since you were four years old. Warming up also makes you go faster, if that is important to you, and can help avoid cramping in the swim.
Dehydrated athletes at the start line makes sits at the top list of pet hates on event day. It can be quite a wait between dumping your bags and race start, keep a bottle with you up until you're about to start then hand it off to a friend or hand it to a marshal. Equally if you've got a long day ahead don't skip breakfast, now is not the time to suddenly see how far you can go on air alone.
Think about your nutrition
How are you going to fuel your ride, where are you going to get your calories from and how are you going to carry it? General advice is to aim take on 45-60g of carbohydrate per hour throughout the bike and run along with adequate fluids/electrolytes.
The Event
Delays can happen due to weather, safety or simply things over running slightly. Try to stay calm as getting worked up isn't going to help. Use the time to relax and focus on the task at hand. If it's a significant delay get some layers on and go back to warming up, it will only improve your condition relative to the rest of the field when things do get moving and they've all been sat around getting cold.
In endurance events wild cards happen more often than you might think. In my time organising events I've had to escort blind people through run courses and stop a race due to a swan going ballistic and attacking the swimmers. In the event of an event stop, pause or diversion please give the events team a minute to make sure everyone is safe and compose themselves before you start bombarding them with questions.
Swim/Bike/Run with friends or in a group
Remember the main aim of Castle to Coast is participation and completion of the challenge. Make sure to stick with friends or make new ones along the way, why not wait and regroup at transitions. Help others on the day if they are struggling and make it a memorable experience for all.
Take your time on the swim
We've got an open start with the Castle to Coast swim which means you can plan to start with the first group at 8am or enter after they have gone and when you're ready.
Don't rush your transitions
Remember the Castle to Coast is NOT a race, there is no prize for the first to make it to the finish onto Brighton seafront. Make sure you've got everything you need before you leave, get hydrated after the swim and the bike, put on some comfortable clothes and go for a wee if you need to!
Take in your surroundings
Soak in the incredible views throughout the route as you head towards Brighton. Shortly into the ride you will pass through historic Eton and continue through picturesque scenery in the Surrey Hills. After transition you'll be rewarded by the spectacular views of the South Downs as you reach the top of Ditchling Beacon.
When you're working hard it's easy to settle into challenge ahead and focus purely on the task at hand. This isn't great when you start to ignore course signs, the highway code and marshals' instructions. On more than one occasion I've had athletes complain about course marking only to walk them back to a barrage of signs, cones and tape which they will swear wasn't there earlier!
It's a long day out with some tough climbing on the run, so pace yourself and think about how you're going to take on the hills. The Fullsteam marshals will do their best to cheer you on of course.
Make sure your support team know where they are going and the best places to see you well in advance. They will be able to check your progress online as you pass through feed stops and transitions so you should be able to time their appearances to cheer you on. We will put out a spectator guide ahead of the main event.
We've got a reasonable use policy when it comes to TT bars. Please avoid using around junctions or groups, but when you're riding solo out on a bit of clear straight road feel free to get down and go!
If you want to continue taking part in Fullsteam triathlons, then don't drop litter on the course! Hedges are for birds not gel wrappers and if you drop a bottle go back and pick it up.
All athletes have bad days and you may not have achieved quite what you want to but getting negative about it won't help. Try to write down three positives from any event or training session in your log and one thing to work on for next time. It's important for your sanity to have more positives behind you then negatives.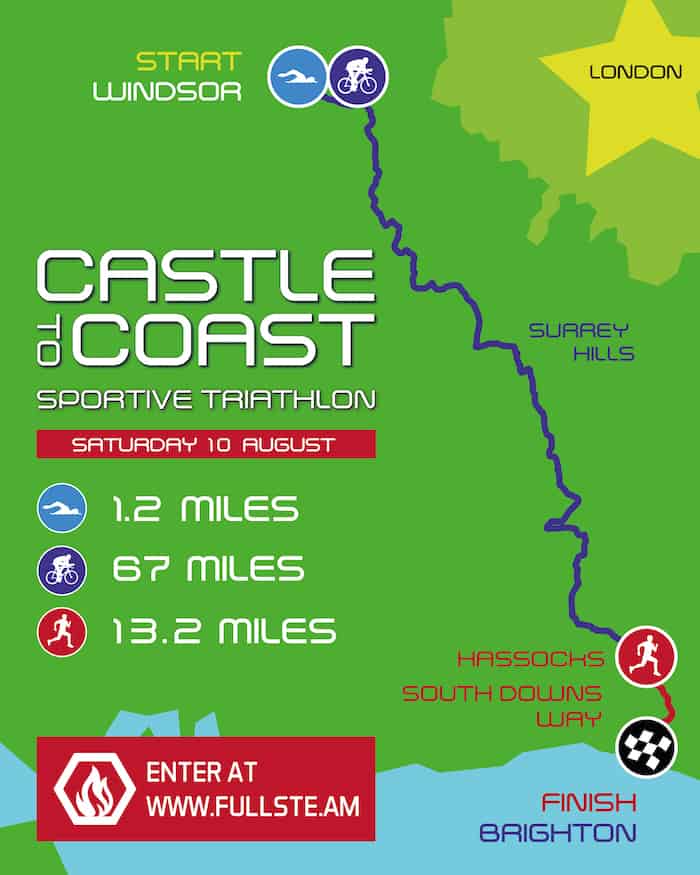 CASTLE TO COAST: THE ROUTE
SWIM
The start of the swim is just a short walk from the event village and transition area at Eton Dorney. At 8am on Saturday 10th August swimmers will start in the water, in waves, and complete a 1.2 mile continuous lap, exiting at the far end of the lake for transition. In an effort to reduce stress entrants will be allowed to start at any time within a ten minute start window.
BIKE
The 67 mile ride is fully supported with a feed station, toilet facilities, mechanical assistance and marshals at key locations. Over 3,400ft of climbing awaits as the route takes riders through historic Eton town centre before taking in the Surrey Hills, an area of outstanding natural beauty and challenging climbs.
On completion of the bike stage, in the village of Hassocks, entrants will hand over their bike to the transport team who will transport it to the finish line in Brighton or back to the start in Windsor. Run bags and changing facilities will be waiting inside Hassocks Sports Centre before entrants head out onto the South Downs towards Brighton.
RUN
The 13.2 mile run section, along over 90% of fully marked trails, has a challenging start by taking entrants onto the South Downs Way and to the top of Ditchling Beacon. From Ditchling Beacon the route slowly descends through the countryside to Brighton.
FINISH
A finish line party awaits on Brighton seafront where all finishers will receive their medal, finishers t-shirt and samples of Fullsteam's new Recoverystak rapid post workout recovery drink. Free photography will be available via Fullsteam's Facebook page in the week after the event.
Kit bags and bikes will be ready to collect for all those departing directly from Brighton. For all those heading back to Windsor the Fullsteam support staff will be on hand to take entrants to the organised transport.
For more information visit on the Castle to Coast event visit www.fullste.am