Something new from Fullsteam events: Castle to Coast
When you've been around the sport for as long as I have, event launches are nothing new. But I have to admit, at first glance, I quite like the idea of this one.
The Castle to Coast (WEBSITE) from Fullsteam Events is a middle distance (and a bit), sportive style, point-to-point triathlon being held on 10th August 2019.
Starting with a 1.2 mile swim at the Olympic rowing lake of Eton Dorney, the Windsor to Brighton event includes 67 mile ride with plenty of climbing courtesy of the Surrey Hills, before switching to running shoes and a challenging half marathon – 90% on trails – on the South Downs way, up Ditchling Beacon and then descending into the finish by the sea in Brighton.
While the format won't necessarily appeal to the all-out 'racer' seeking only performance and positions, I can see this being attractive to plenty of people who are fit, active and mix up their racing across trail running, triathlon, sportive and the like. In recent weeks I've done plenty of road riding, trail running, swimming (well, perhaps not 'plenty' of that…), road running and indoor training – without any major performance or race targets. I'm pretty sure I'm not alone on that front, which perhaps suggests there could well be a ready market for this one. Take a look and see if you agree with me.
Here are the full details of the event, along with a short video which gives a good insight into the format and course
---
Fullsteam launches Castle to Coast, the UK's only sportive triathlon
Windsor to Brighton sportive triathlon is the only one of its kind in the UK
Challenging route with over 4,000ft of elevation through the Surrey Hills and South Downs
Inaugural Castle to Coast starts at 8am on Saturday 10th August
Return transport options available to bring entrants and their bike back to Windsor
Free swim, bike, run training sessions in May and June available to all those taking part
Video detailing the Castle to Coast route available
Endurance events company, Fullsteam has launched Castle to Coast, the UK's only sportive triathlon that will take place between Windsor and Brighton on Saturday 10th August.
The innovative, non-competitive format is designed to break away from the obsession with time and racing, instead providing a relaxed, inclusive event that focuses on the adventure of the swim, bike and run.
The Castle to Coast challenge, limited to 500 for the inaugural event, includes a 1.2 mile swim at Eton Dorney followed by a 67 mile open road ride through the picturesque but testing Surrey Hills and a 13.2 mile run up Ditchling Beacon and over the South Downs.
Lee Brown, Director and Founder of Fullsteam says: "In 2019 we wanted to create something new in the world of triathlon. Castle to Coast's sportive format will appeal to those looking to step up to a middle-distance triathlon without the pressures of racing and beating the clock."
Triathletes can enter from £140 via www.fullste.am  and will receive a finisher's medal, tech event t-shirt and free race photography.  A team option is also available from £180 for three team members. Each member will tackle one leg and your own transport will be required to complete the partly self-supported challenge to Brighton.
The point to point nature of the event means that Fullsteam will be providing the opportunity for all entrants and their kit to be transported back to Windsor at the end of their challenge. Alternatively, bike and kit will be waiting at the finish line for all those departing directly from Brighton.
CASTLE TO COAST: THE ROUTE 
SWIM
The start of the swim is just a short walk from the event village and transition area at Eton Dorney. At 8am on Saturday 10th August swimmers will start in the water, in waves, and complete a 1.2 mile continuous lap, exiting at the far end of the lake for transition. In an effort to reduce stress entrants will be allowed to start at any time within a ten minute start window.
BIKE
The 67 mile ride is fully supported with a feed station, toilet facilities, mechanical assistance and marshals at key locations. Over 3,400ft of climbing awaits as the route takes riders through historic Eton town centre before taking in the Surrey Hills, an area of outstanding natural beauty and challenging climbs.
On completion of the bike stage, in the village of Hassocks, entrants will hand over their bike to the transport team who will transport it to the finish line in Brighton or back to the start in Windsor. Run bags and changing facilities will be waiting inside Hassocks Sports Centre before entrants head out onto the South Downs towards Brighton.
RUN
The 13.2 mile run section, along over 90% of fully marked trails, has a challenging start by taking entrants onto the South Downs Way and to the top of Ditchling Beacon. From Ditchling Beacon the route slowly descends through the countryside to Brighton.
FINISH
A finish line party awaits on Brighton seafront where all finishers will receive their medal, finishers t-shirt and samples of Fullsteam's new Recoverystak rapid post workout recovery drink. Free photography will be available via Fullsteam's Facebook page in the week after the event.
Kit bags and bikes will be ready to collect for all those departing directly from Brighton. For all those heading back to Windsor the Fullsteam support staff will be on hand to take entrants to the organised transport.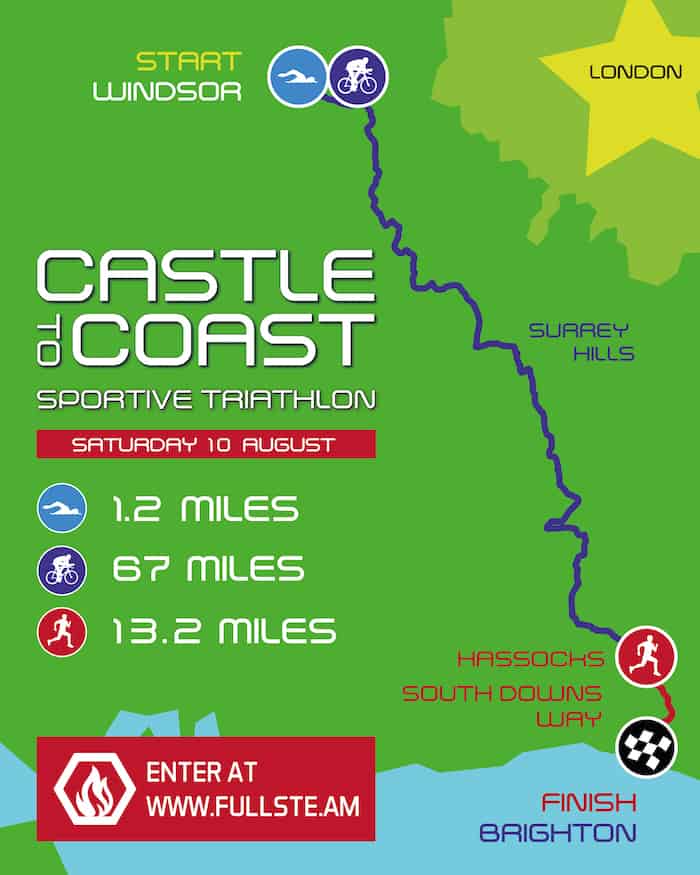 FREE TRAINING SESSIONS
Free training sessions are available to all Castle to Coast entrants:
Ride Meet Up with Saddledrunk
When? Saturday 25 May (8am-12pm)
Where? Cinnamon Café, The Old Booking Hall, Windsor, Berkshire, SL41 1PJ
Guided Run Meet Up with Run Surrey Hills
When?   Saturday 01 June (9am)
Where?  Freedom Leisure Gym, Hassocks, Sports Centre, BN6 8LP
Swim Meet up with Active Open
When?   To be confirmed
Where?  To be confirmed
PRICING*
Solo Entrant: Bike/Kit delivered to Brighton – £140
Solo Entrant: Including return transport to Eton – £155
Team Relay: All three finish in Brighton – £180 – (x1 swimmer, x1 cyclist & x1 runner)
* Prices are fixed until 31st May. Castle to Coast pricing increases by £10 on the 1st of each month
For further information on the inaugural Castle to Coast sportive triathlon visit www.fullste.am