Castle Virtual Series Race 6 is fast approaching
Castle Virtual Series are launching more virtual events, now with Triathlons, Aqua and Swim only races
As mass gathering cancellations sweep through the 2020 race season, Castle Series is responding by hosting a virtual event for every physical event they have to cancel.
With the cancellations of their Cholmondeley Castle and Festival of Endurance at Hever Castle events, Castle Series are announcing their next virtual event:
Race 6: The Kentish Horse – 3 – 5 July 2020
For this race Castle Series will be adding the following event formats for you to choose from:
Triathlon
Duathlon
Aquabike
Aquathlon
Swim only
Cycle only
Run only
Their races will continue to raise funds for their national charity partner by donating 20% of each Race Entry. They are also committed to help raise money for local charities for each region and are proud to announce this will be Jigsaw South East in Kent. Competitors will be able to make additional donations when they sign up or via JustGiving fundraising.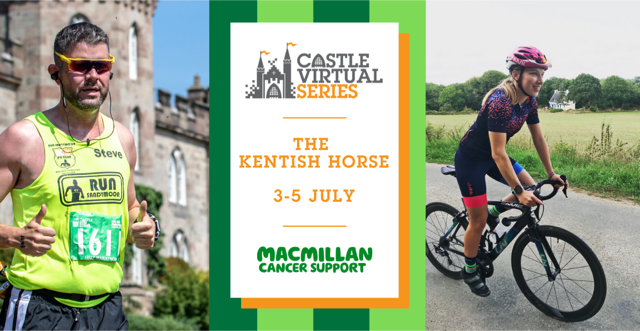 Prizes
Posted surprises for gender winners in each age and distance categories
35% off race entry for Castle Series 2021 for Club Championship Winners
35% off race entry for Castle Series 2021 for Company Championship Winners
Podium places for gender, age and distance categories
Special mentions for best dressed and most inventive course
Brian Adcock, Race Director, Castle Virtual Series:
"Determined not to let the pandemic and its consequences get us down, we were nimble enough to bring forward plans for a winter virtual series and the Spring Virtual Series of races was born. A few weeks later we have successfully put on 5 virtual races, had just over 3,000 participants, engaged with thousands more and raised a staggering £30,010 for Macmillan. Who knew, when we first set out, there was such a market for virtual racing? Conscious of our responsibilities towards our sponsors and charity partners and still unsure when the real race season will get the green light we have decided to keep going and are delighted to bring you the next race in the Series."
You can find out more about their events here.