THREE MORE SPORTING GREATS TAKE ON THE TITANIC SUPERHERO TRI:
DAVID 'WEIRWOLF', GORDON REID & GEORGINA HERMITAGE
The hottest challenge of the year just got even hotter! Three true giants of the sporting world will be donning mask and cape and competing against more than 20 Paralympians and TV personalities who will be teaming up with members of the public for the Celebrity Superhero Tri at Dorney Lake on 19 August.
The Celebrity Superhero Tri is one of many unique challenges at the debut event in the Superhero Series, the only sports series dedicated to the 'Everyday Superhero' – the UK's 12 million people with disabilities and long-term injuries.
Fresh from his seventh record-breaking win at the London Marathon this weekend, the six-time Paralympic champion will be bestowing his mythical 'Weirwolf' magic on series Super Sponsor #TeamBarclays, as Team Captain. Tennis Titan Gordon Reid will be heading up rival #TeamGatwick and Paralympic champion and 400m world record holder Georgina Hermitage is waving the flag for #TeamStonegate.
They'll be joined by a whole host of Paralympians and TV personalities, from Hannah Cockcroft and Kadeena Cox to Adam Hills and JJ Chalmers. The celebrities are taking part to show their support for a series that throws out restrictive rules and regulations that can prevent or deter many people with disabilities entering mass-participation events.
The unique challenges are designed to encourage the 'Everyday Superhero' to fly solo or team up with family and friends to do as much or as little as they wish, with as much or as little support as they need. The Celebrity Team Captains will unite with two competition winners on the day to complete a stage each of the Celebrity Superhero Tri relay (150m swim, 3k bike, 1k push/rush).
Team Captain David Weir said: "I can't wait to let off steam and take on a challenge just for fun for a change. That said, my team will still win of course!"
Paralympian and series founder Sophia Warner said: "It's amazing that so many big names are taking on this challenge to help highlight the need for more gutsy events that give 'Everyday Superheroes' the opportunity to take on an inspirational goal. What an epic race it's going to be!"
Members of the public can still join this titanic clash. Paralympic champion Susie Rodgers and international surfer Chris Jones are looking for teammates to join them. For a chance to to win a place on #TeamSusie and #TeamChris visit superheroseries.co.uk/team-captains-1/. Competition deadline 31 May 2017. For a chance to join David Weir's team visit barc.ly/2oDcZYE. Competition deadline 30 April 2017.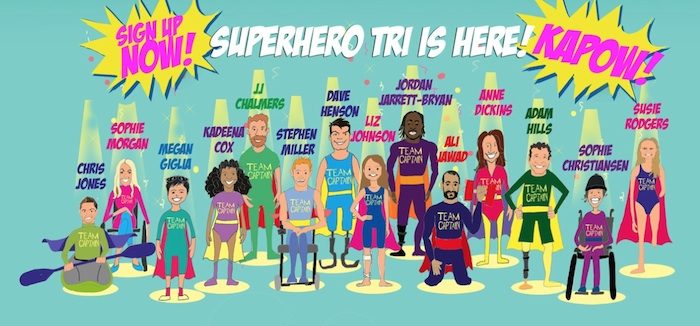 About the Team Captains for Celebrity Superhero Tri
David Weir, Six-time Paralympic champion and seven-time London Marathon champion (#TeamBarclays)
Gordon Reid, Paralympic gold medallist and two-time singles Grand Slam champion (#TeamGatwick)
Hannah Cockcroft, The five-time Paralympic champion (#TeamIrwinMitchell)
Sophie Christiansen OBE, eight-time Paralympic Gold Medallist, Paraequestrian (also a Superhero Series Ambassador)
Georgina Hermitage, Paralympic champion and 400m world record holder (#TeamStonegate)
JJ Chalmers, former Royal Marine and Channel 4 Rio 2016 Paralympics Presenter
Sophie Morgan, TV Presenter, artist and model, and part of Channel 4 Rio 2016 Paralympics presenting team
Kare Adenegan, Paralympic silver and bronze medallist (#TeamOttobock)
Sammi Kinghorn, European champion (#TeamOttobock)
Anne Dickins, Paralympic Gold Medallist, Paracanoeing
Megan Giglia, won Britain's first Gold Medal in Rio 2016, in C1-3 3,000m cycling race
Kadeena Cox, Paralympic Gold Medallist in Rio 2016 in C4-5 cycling time trial and T38 400m sprint
David Henson MBE, Rio 2016 bronze medallist in 200m sprint and inaugural Invictus Games team captain
Adam Hills, comedian and TV presenter for 2008 and 2012 Paralympics.
Ali Jawad, Paralympic powerlifter competing in the -59kg class. He competed in the 2012 London Paralympics and became World Champion at the 2014 IPC Powerlifting World Championships.
Stephen Miller MBE, Paralympic discus thrower, winner of silver medal at 2008 Beijing Paralympics.
Liz Johnson, Paralympic swimmer in S6 class. One of the select few to have won gold medals in the Paralympics, World Championships and European Championships.
Jordan Jarrett-Bryan, Channel 4 News sports reporter. Jordan played wheelchair basketball at national level for 15 years and was two-time European champion with the GB Junior team.
Susie Rodgers MBE, competes in S7 swimming classification. Won gold medal at the 2016 Summer Paralympics and three bronze medals at the 2012 Summer Paralympics
Chris Jones, bronze medal winner at world surfing championships