24-hour indoor cycling relay class in Richmond
How about a club 'event' for the off-season – while being part of a Guinness World Record attempt? Digme Fitness (www.digmefitness.com) in Richmond are hosting a 24-hour indoor cycling class (relay – you don't have to do all 24 hours!), from Friday 15th to Saturday 16th December, to raise money for their official charity partner, Dallaglio RugbyWorks, the charity set up by England Rugby World Cup winner, Lawrence Dallaglio.
You can take part by booking your place on a one-hour slot – or how about getting lots of your friends and club-mates together to hire one of the bikes for the full 24 hours between you? With 50 bikes in the studio, they are going to need your support across the 24 hours. Here are the full details.
---
Digme Fitness to attempt Guinness World Record in aid of Dallaglio RugbyWorks
Former England rugby captain Lawrence Dallaglio OBE will officially kick off Digme Fitness' Guinness World Record attempt next month when a marathon 24-hour indoor cycling class begins in Richmond.
Dallaglio RugbyWorks, is the official charity partner of Digme Fitness. The partnership will start with a bang at 5.30pm on Friday 15th December, when the boutique fitness company attempts to set a Guinness World Record for the most participants in a static cycling relay in 24 hours.
Each of the 50 bikes in the stadium-style studio will be sold on an hourly basis, with all proceeds going to Dallaglio RugbyWorks. Bikes can be booked for a single hour, multiple hours or even for the entire event, and there are options to block book sections of the studio for teams, groups of friends or colleagues to add some team-building to festive celebrations.
Dallaglio, a keen cyclist and a Digme regular, will be in attendance to launch the event at 5.30pm. Participants will then pedal through until the same time on Saturday 16th December.
In conjunction with the ride, there will be a raffle and an auction on Saturday afternoon to supplement the fundraising, and there will also be satellite events in the Oxford and City studios so the wider Digme Fitness community can get involved. A supply of food and drink will fuel everyone's efforts.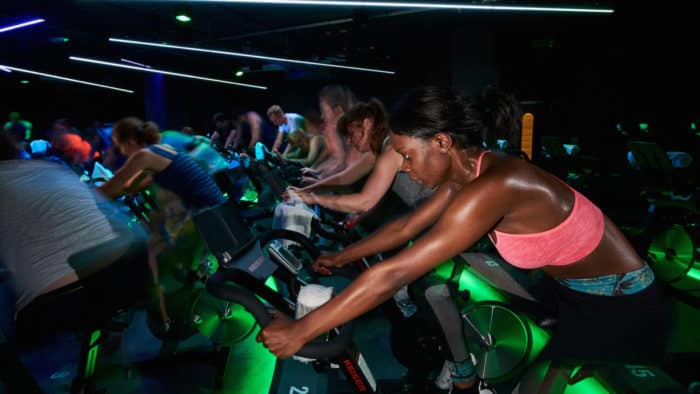 Caoimhe Bamber, Founder of Digme Fitness, said: "The number we are aiming for is 500 participants. The Digme Fitness community is wonderfully collaborative and supportive, and we know they will rise to this challenge and give generously with their time and money to a great cause."
Geoff Bamber, Digme Fitness CEO, said: "We're delighted to be partners of Dallaglio RugbyWorks and supporting next year's Cycle Slam, and we're excited about kicking off the partnership with a bang and targeting a new Guinness World Record.
"Lawrence is an incredibly supportive member of the Digme Richmond community and RugbyWorks is a brilliant initiative doing great work. We couldn't be prouder to be helping advance their efforts."
The partnership will continue to develop as Digme Fitness supports the 2018 edition of the Dallaglio RugbyWorks Cycle Slam – a 1,800km, three-week bike ride from Chamonix to Split – with training sessions and fundraising events. To find out more about the 2018 Dallaglio RugbyWorks Cycle Slam, please visit www.dallagliocycleslam.com.
Lawrence Dallaglio, Founder of Dallaglio RugbyWorks, said: "I am delighted that Digme Fitness are involved with the next Dallaglio Cycle Slam and I'm very excited that they are kicking off our partnership with this Guinness World Record attempt. I'll be the first person on the bike and encourage you to bring down your family, friends and work colleagues and let's try to smash the record!"
Tickets for the Guinness World Record attempt are on sale now, available from www.digmefitness.com. For block bookings and corporate enquiries, please contact Chris Powell on [email protected].