As an Age-Group triathlete you need to have a good sense of forward-planning to make sure you can get to the races that you want.
In 2021, the ITU World Triathlon Grand Final will be hosted in Bermuda, and if you want to race there in the Age-Group Sprint World Championship, then your first opportunity to do that will be on May 2020 at the Eton Sprint Weekend, hosted by Human Race Events.
---
ETON SPRINTS WEEKEND INCLUDES ITU AGE GROUP QUALIFICATION EVENT FOR 2021 WORLD CHAMPIONSHIPS
Human Race are delighted to announce that the Eton Sprints Weekend taking place on 16-17 May 2020 will include a British Triathlon ITU Qualifier as part of Sunday's edition, giving participants the opportunity to qualify for the Age Group team for the 2021 Sprint Distance World Triathlon Championships.
Returning to the 2012 Olympic venue, Dorney Lake, Eton Sprints Weekend promises a flat and fast course with calm lake waters. In 2019, the event included the ETU Qualifiers, but this year has stepped up to host the ITU Qualifiers for the 2021 Sprint Distance World Triathlon Championships. The course provides an excellent opportunity to secure an early season PB as well as a chance to see the top UK triathletes compete for a ticket to the 2021 Sprint Distance World Championships.
The Sprint Age Group team consists of athletes aged from 16 all the way to 80+. They will compete in five-year age bands, separated by gender. The qualifying event sees a mix of abilities, from top athletes striving to stand on the podium, and others going for the thrill of competing on an international stage.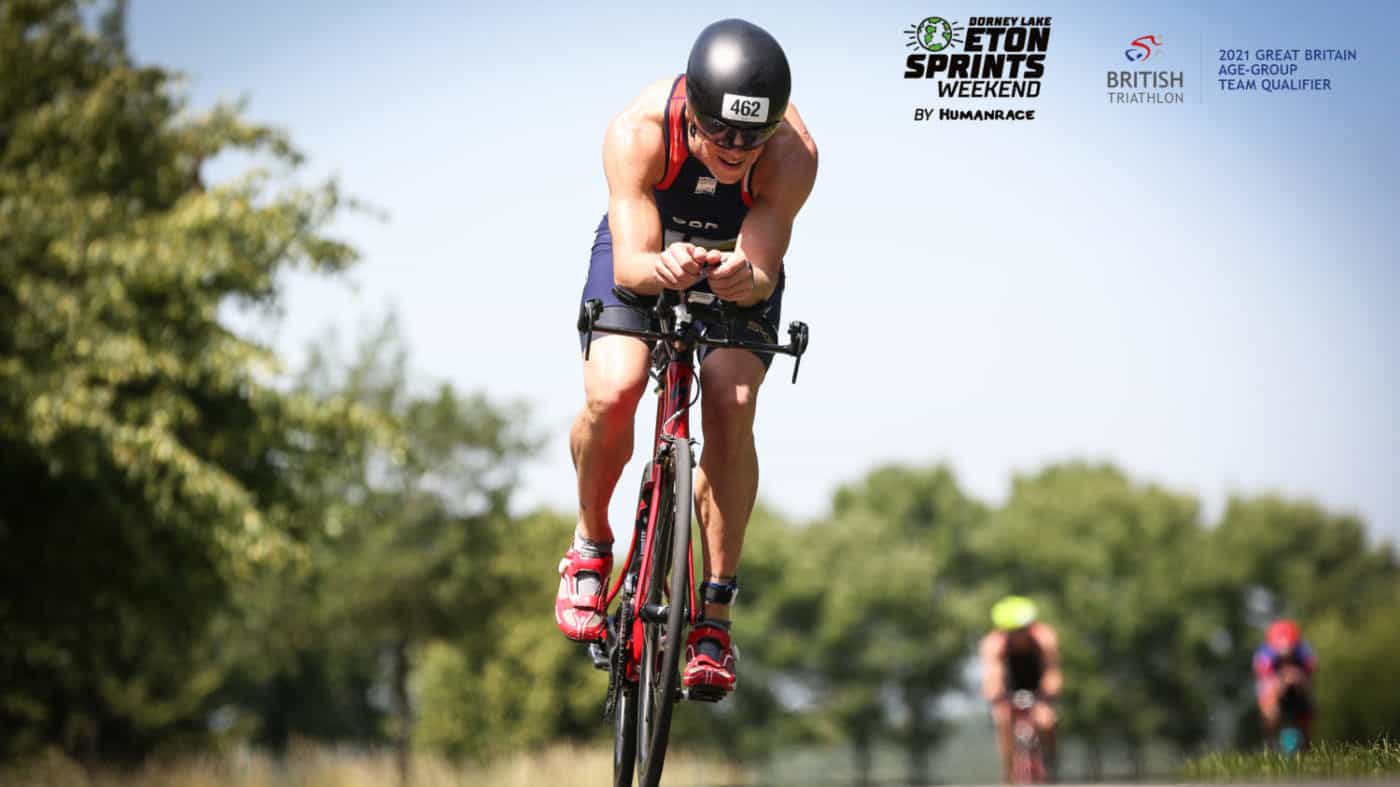 "We are pleased to be hosting an Age-Group qualifying event again at Dorney Lake as part of our Eton Sprints Weekend triathlon, it really highlights just how good the venue is and the standard of our events" comments Nick Rusling, CEO, Human Race, "the ITU Qualifiers increase the level of competition, providing some excellent racing as aspiring team members compete to earn the right to wear the Great Britain trisuit."
The event is renowned for its electric atmosphere for both participants and spectators alike, as it provides a fantastic opportunity to see some of the elite names in triathlon. Spectators have several opportunities to catch their friends and family in action across all disciplines due to the circuit-style course.
Eton Sprints Weekend is known as the official start to the triathlon season. With Sprint (750m swim, 21.2km bike, 5km run) and Super Sprint (400m swim, 21.2km bike, 5km run) distances available, it is the perfect season opener to secure an early PB.
To be part of the event, and have the opportunity to get your place on the Age Group team, sign up now by heading to the website – http://humanrace.co.uk/event/itu-sprint-distance-triathlon-world-championships-qualifier/