The Festival Of Endurance returns to Hever Castle for the 4th Year, with the biggest celebration of going long ever
Over a thousand legendary athletes took part in Sunday's (9th July) Festival of Endurance at Hever Castle, competing in the full iron Bastion race, The Gauntlet half Iron race, the first ever Hever Castle Marathon and Half marathon and a range of Aquabike, Aquathlon and Swim only events.
Jordanian Olympian Lawrence Fanous broke The Gauntlet course record, set by Andrew Greenleaf in 2016, whilst Matthew Leeman, a regular racer at Castle Triathlon Series events emerged victorious in The Bastion with a 41 minute lead over James Easson. Over fifty competitors took part in the Festival of Endurance to raise vital funds for Macmillan Cancer Support.
Conquering The Bastion
Matthew Leeman, a firm fixture in the Castle Triathlon Series after winning The Gauntlet at Castle Howard in 2014, stormed to victory in The Bastion despite competing in the July heat, finishing in 10:21:38 with a 41 minute lead over James Easson, who was racing his second Bastion race and tenth Full Iron distance overall. On finishing his first full iron race at Hever Castle, Leeman commented, "It was a tough day out but it was great to compete in the countryside rather than the city. I love the Castle Triathlon Series, I used to visit Hever Castle as a child and it's great to return for a triathlon."
Lucy Biddlestone, The Bastion's defending women's champion returned to Hever Castle on Sunday to come first on the podium in 12:12:41. Throughout the cycle leg Czech triathlete Hana Kolarova fought hard, with Biddlestone, eventually taking the lead on the third and final cycle lap. Kolarova recently won The Olympic Distance race at Lough Cutra Castle Triathlon and was competing in her first ever Full Iron distance race. After the race, Biddlestone commented that the Festival of Endurance was "an amazing day, the best race in the world."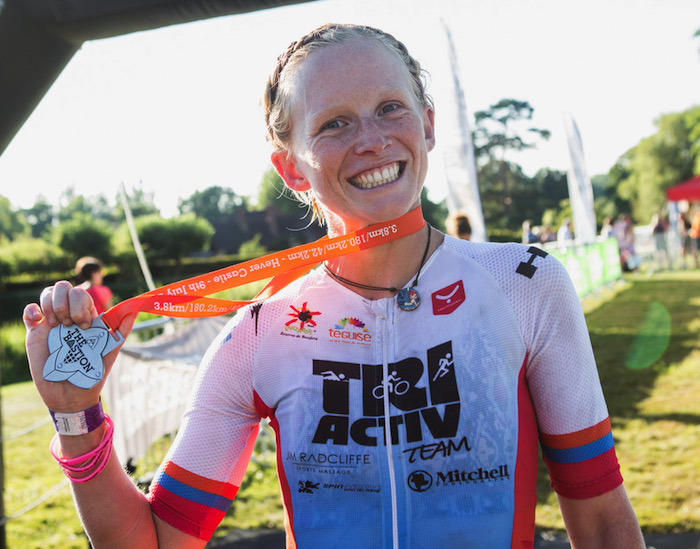 Also on the men's podium was Matthew Dowle, who returned to Hever Castle to race his third Bastion Race, whilst Anthony Gerundi raced once again at Hever to take part in his 131st Full Iron distance race.
The Bastion Men's Podium
Matt Leeman – 10:21:38
James Easson – 11:02:05
Matthew Dowle – 11:25:07
The Bastion Women's Podium
Lucy Biddlestone – 12:12:41
Hana Kolarova – 12:53:43
Lauren Hull – 14:56:18
The Gauntlet
 This year's half iron distance Gauntlet race saw a new course record of 04:34:52 set by Jordanian Olympian, Lawrence Fanous. Fanous, who competed in the Rio 2016 Olympics and intends to race in the Tokyo 2020 Olympics, was joined on the podium by James Phillips and Sam Proctor. After finishing the half iron distance race Phillips said, "The course was great, the weather was very hot but there was great competition on the field. I'm back at Hever after competing in three Olympic distance races here, and it's been fantastic to race alongside Lawrence Fanous and Catherine Jameson, people who have inspired me on my triathlon journey." Catherine Jameson, a Team GB triathlete and regular Castle Triathlon Series winner, led the women on the Gauntlet race, completing the race in 05:12:48, ahead of Ruth Hutton and Lindy-Lee Folscher.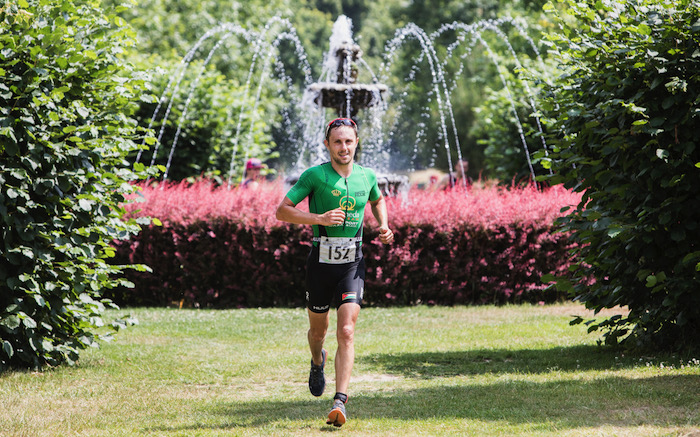 Alongside Lawrence Fanous and Catherine Jameson on The Gauntlet course was Tom Higgins, a member of the Team Freespeed squad and a British Age Group Champion. Upon finishing at the stunning Hever Castle, Higgins commented,"Today's race went really well, the course is notoriously tough with lots of climbing and when you get off the bike it continues onto the run. It's a great atmosphere, Castle Triathlon always puts on a great, well organised event with fantastic marshals and great support on the course. I'm racing with Wheelscience race wheels this season which are superb, I've been hitting some great splits, and I can't wait to continue racing with them throughout the season."
The Gauntlet Men's Podium
Lawrence Fanous – 04:34:53
James Phillips – 04:35:18
Sam Proctor – 04:39:29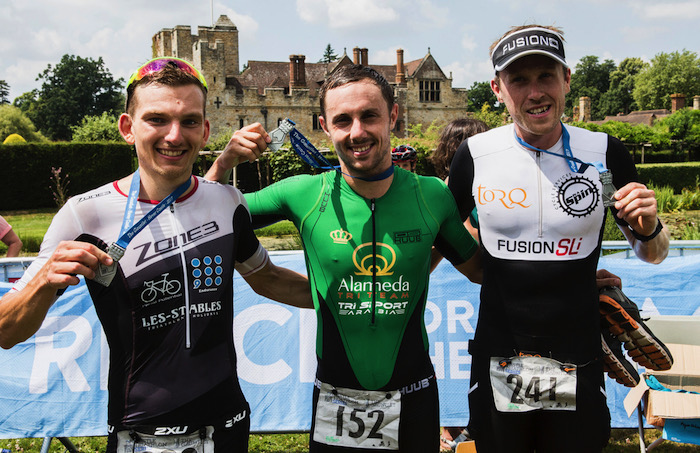 The Gauntlet Women's Podium
Catherine Jameson – 05:12:48
Ruth Hutton – 05:30:56
Lindy-Lee Folscher – 05:52:25
New Marathon and Half-Marathon flies at the Festival of Endurance
 The Festival of Endurance welcomed Marathon and Half Marathon runners for the first time this year, with 320 people taking part in the race. The stunning off road route of Kentish countryside takes in both Hever Castle and Chiddingstone Castle, two lakes, quaint Kentish villages with hundreds of spectators cheering on the participants. The first Hever Castle Marathon winners were Ben Draper, who finished four laps of the 10.5K course in 03:33:11 and Ekaterina Sheremet who recorded a time of 03:49:35. 
Marathon Men's Podium
Ben Draper -03:22:11
Evgeny Tulubenskiy – 03:49:35
Steve Evenden – 03:50:47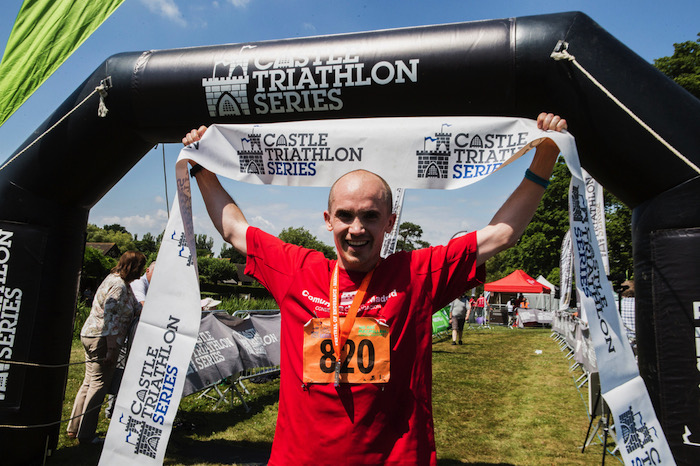 Marathon Women's Podium
Ekaterina Sheremet – 03:49:35
Sally Norris – 0350:14
Katie Samuelson – 03:56:39
Half- Marathon Men's Podium
Jamie Parkinson – 01:15:22
Michael Morris – 01:29:53
Iain Love – 01:33:52
Half- Marathon Women's Podium
Mhairi Hall – 01:42:08
Catherine Linney – 01:42:45
Caro Harper – -1:43:06
The July event at Hever Castle has fast expanded from full iron distance, to include half iron distance, long swims on the unique river loop, marathon and various combinations. The day lives up to its name of a festival as it combines the stunning venue, courses and live music to create an atmospheric celebration of sport.
Fundraising Bragging Rights 
Over Fifty competitors at the Festival of Endurance were fundraising for Macmillan Cancer Support, the Castle Triathlon Series national charity, raising vital funds to provide people living with cancer essential medical, practical and emotional support. So far this season Castle Triathlon athletes have raised nearly £20,000 for Macmillan Cancer Support, as donations on the Castle Triathlon Just Giving page continue to rise.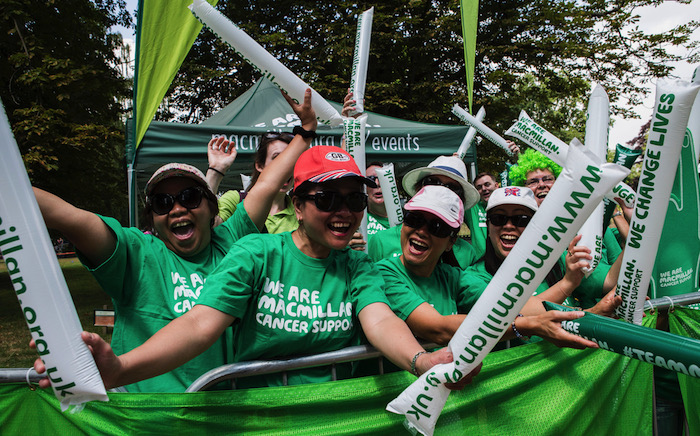 Sign up to the Festival of Endurance on 8th July 2018 and get 30% discount – ends Wednesday at midnight on 10th July.