31:55 for the Olympic Triathlon Champion at Stanford Invitational
Ahead of Gwen Jorgensen's race on Friday night at the Stanford Invitational in Palo Alto, I put together a preview and predictions on what might happen. Well, I can't claim that forecast (31:20 to 31:30) proved to be especially accurate – but my comments around "racing to win may become a priority over going all out for a time", did seem to have some truth to them, reflected in her post race comments in the video above.
Passing through the 5,000m just outside 16 minutes, it became a race of three, and with a final 400m of 71.4 seconds, Jorgensen had the speed to take the win from Carrie Dimoff and NCAA Champion, Karissa Schweizer. Gwen's finish time was 31:55.68.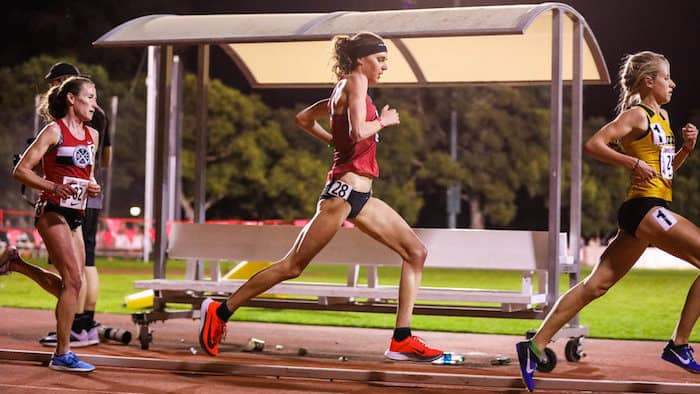 Objectively, 31:55 for 10,000m is not as impressive as the 15:15 she did in her first race back at the Husky Classic over 5,000m (the equivalent time would be circa 31:45), and so it is difficult to read too much into Gwen's future prospects from this performance. That said, time isn't everything – though is clearly an important part of the progression equation when you have set your target so high. Post-race Gwen did say, "Today was about racing for the win and not necessarily going out for a fast time." At that race in Seattle Gwen had the benefit of following the pace of the far more experienced Emily Infeld.
The road to Tokyo 2020 and Marathon success will require several significant steps up in speed to be achieved – and nobody will be more aware of this than Gwen and her team. Still very early into her 'running' career, I've no doubt that we will see significant progress made over the next 12 months, with Jorgensen indicating that she hopes to run a Half Marathon next.
Exactly what that progress will be and how quickly it can be made is what will continue to make this switch compelling viewing.
Stanford Invitational, Palo Alto, California – Friday 30th March 2018
Women's 10,000m
1st – Gwen Jorgensen (Nike – Bowerman TC) – 31:55.68
2nd – Carrie Dimoff (Bowerman TC) – 31:57.85
3rd – Karissa Schweizer (Missouri) – 32:00.55
All Images / Video are published (with permission of Gwen Jorgensen Media), courtesy of Talbot Cox (www.talbotcox.com).
You can follow Gwen's YouTube channel HERE, and also follow Talbot on these social media links for more great content: