The Triathlon Relays – but different. That's the plan at least, that event organisers hope will enable the long-standing HUUB Triathlon Relays to take place, on Saturday 29 August.
As already announced by British Triathlon, with no British, English, Scottish or Welsh Championship races in 2020, any event would not carry the Triathlon England National Championships status.
Event organisers, like the rest of the the economy, are having to be creative and adapt to the 'new normal' created by COVID-19, and Tri Society have outlined some of the major changes which would be implemented to enable the popular event to take place at Holme Pierrepont, Nottingham.
---
HUUB Triathlon Relays Revamp – New event plans for 2020
Organisers of HUUB Triathlon Relays, Tri Society, are hopeful of the event going ahead on 29 August. Event Director, Iain Hamilton, is working very closely with the National Water Sports Centre and British Triathlon to agree an altered format.
Each athlete in a team of four will complete a super-sprint triathlon before their teammate takes over – a lot like the elite ITU Mixed Relay format. Each team member will swim 500m, bike 15km and run 5km. There won't be any tagging; a big screen in the swim start area will tell athletes when their teammate has finished, and they are able to start.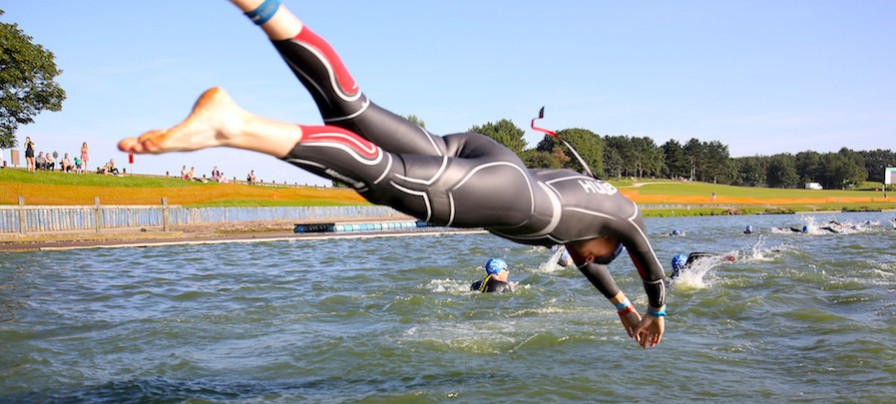 Other plans include rolling starts throughout the day with clubs grouped together so athletes from the same club will be on the course at the same time. There will be designated club areas spread around the venue, each with refreshment and toilet facilities.
Hamilton said: "This will be our 30th Triathlon Relays event. Perhaps it's fitting that an anniversary year should see a new format. Ultimately, health and safety of athletes and volunteers is our number one priority, as well as making sure that the day is fun!
"The event will look different, but hopefully not feel too much different. It's still about teams of four coming together and supporting each other, and there's always going to be some element of organised chaos, even if it is a little bit more managed this year.
"We are waiting for further clarification from government around outdoor sports participation events. At the moment we are reliant on further relaxation from government before we can say for certain that the event is on, but it's still more than two months away and I think it's important to remain positive and have something to look forwards to."
Should the event not go ahead, entries will defer to 2021. For more information, visit https://www.trisociety.co.uk.