South Africa's only extreme triathlon enters its third year
Saturday 21st November 2020 – Knysna Extreme Triathlon
As a break from most recent event news (postponed / cancelled) and indoor training… here's a quick look at a race which, hopefully, will take place this year, and that hasn't featured on the pages of TRI247 before.
With a tagline on the website which reads "No Sugar Coating | No Hand Holding | No Fanfare – Brutal in its purest form", I think we can assume that the Knysna Extreme Triathlon (www.knysnaxtreme.co.za) is not aimed at those seeking a simple, entry level event that a couple of hours training a week will be more than enough for.
The Knysna Extreme is a challenging Point-To-Point, self-supported race that takes place along South Africa's scenic Garden Route. The course starts with a 5 km swim in the Knysna Estuary, followed by a 174 km cycle through coastal, mountain and semi-desert scenery. This is then followed by a 50 km run through plantations and the Knysna forest. It is a gruelling, yet scenic route that takes triathletes back to the purest form of the sport.

While still a small part of the overall multisport portfolio, such challenges are however gaining increased interest from those who are seeking something outside of the mainstream offerings.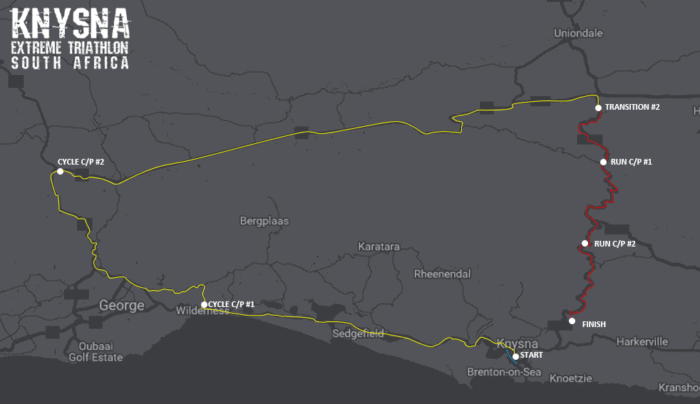 The Knysna event does offer two distance options, with the 'Knysna Extreme 0.5′, still a significant challenge in its own right (2.5km / 100km / 30km), perhaps offering something for those who are not – quite – ready to go "full extreme".

Here's an insight into the 2019 edition:
Date
21st November, 2020
Distances
Knysna Extreme: 5km Swim | 174km Cycle | 50km Run
Knysna Extreme 0.5: 2.5km Swim | 100km Cycle | 30km Run