Outlaw Triathlon advice from three men who know the course well
It takes months of preparation and lifestyle changes to successfully complete a long-distance triathlon. Finishing such a race is a feat of human endurance. So, can you imagine completing one and then going back to the same race nine years in a row, AND doing two half distance races a year as well?
Three men have done exactly that at the Outlaw Triathlon. They were at the launch edition in 2010 and have been back every year since. They've done every Outlaw Half Nottingham and have done all three Outlaw Half Holkham events. To achieve this, they've each had to overcome significant hurdles, and now it's a case of not giving in whilst the others keep going. There are a further four men who have also done every round of the full Outlaw, and there's a huge camaraderie between them.
With Outlaw 2018 approaching on 29 July, here's what they have to say about lifestyle, training, family and the Outlaw Triathlon:
Gary Goacher, 56, North Nottinghamshire
Gary is a retired police detective, who has found the form of his life in the 55-59 age group. He finished in 10hrs 42mins last year, his best time by over half an hour. As a qualified chiropractor, his thoughts on longevity are interesting:
"The course is fast and interesting with different challenges along the way. The organisation is spot on and the support is amazing. Aid stations are well positioned and well stocked. The venue at Home Pierrepont is perfect.
"Every athlete at the Outlaw is an individual, not just a number. The race is not about the elites; it is about the ordinary average person striving to achieve their goal, whatever that is. The person who will get the most applause will be the one who comes last. The guys on the mic are amazing. They get the crowds laughing and crying with the athletes' stories.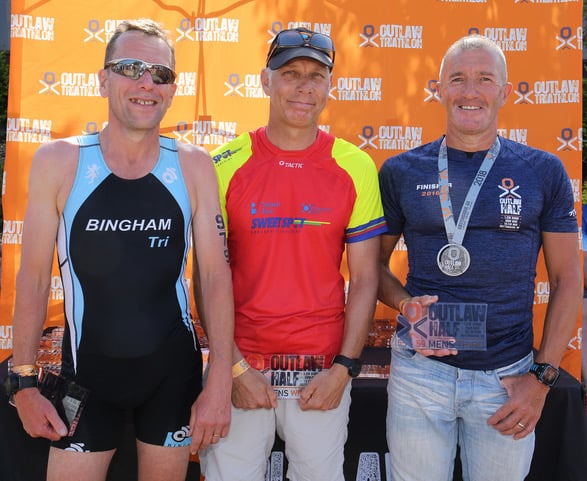 "I have done 15 or so long distance races since my late 30s, during which time I have sustained some debilitating injuries. To be getting PBs in my mid 50s is immensely satisfying.
"If you are determined to make improvements, then having a coach certainly pays dividends. Listen to the body! If you don't feel up to a particular session, then don't do it. Be flexible with the training and be prepared to reschedule things. Accept that during the course of the year you are likely to have a cold or minor injury. Recover properly before picking up the training again."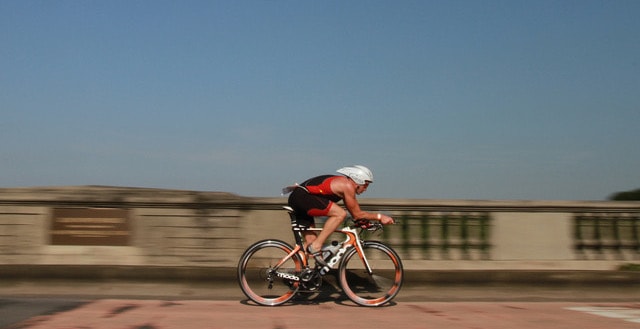 David Manning-Ohren, 49, Keyworth (near Nottingham)
Also local, David has the benefit of training on the course. He's had a host of injuries but keeps coming back. Here's how he does it:
"My favourite thing about the Outlaw personally is that it's local, I train on the course, my friends and family can easily come and watch as well as my tri club, 4Life, running the feed station at the top of the lake.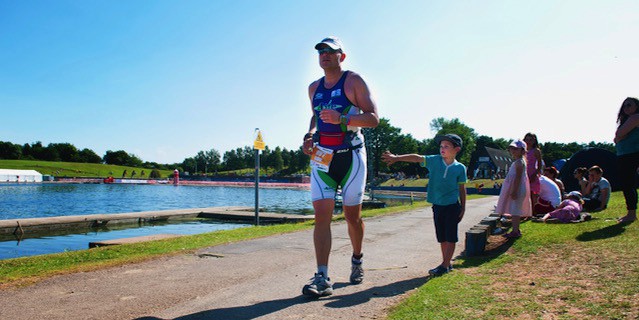 "The course is fast, so cut-offs become less of an issue. OSB are triathletes and hence it is very athlete centric. They know that some are there to compete, and some to complete, and hence they respond appropriately, enabling all to have their best day.
Got another photo to do in four weeks pic.twitter.com/hpu9n4gxjQ

— David Manning-Ohren (@DavidOhren) July 3, 2018
"I appear to be getting better with age. I took a few risks last year and they paid off; first year doing it with a TT bike and ran without a watch on the run. Following several finishes just over the 12hour mark, I was close to 11hrs 40mins. I'm looking for more gains this year to get closer to 11hours. I am 50 just before the race so I know the quicker times will stop someday.
"My wife is also a multi-sporter so that helps with the balance along with support from the 4Lifers. I think like most triathletes you do not avoid injuries, but you manage them. I have had calf tears, stress fractures, back spasms, flu, sinusitis, plantar fasciitis, runner's knee, bursars…etc. The biggest factor on staying injury-free and healthy is to build from where you are now and do not rush your training.
"If Gary and Graham are there when I am 70, then so will I. It would be good to be the last man standing."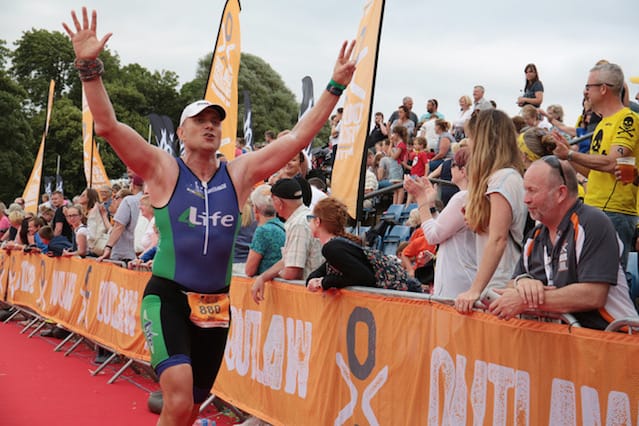 Graham Yare, 43, Knaresborough
Graham broke his leg in February, but still got around the Outlaw Half Nottingham in May, he's overcome a lot but sets different targets and challenges each year, and makes it a family affair:
"Ever since the start it has been family friendly. From the camping being just over the road and Future Outlaw on the Saturday morning for my son to try. Although it is now much bigger, everyone feels involved and welcomed around the event weekend. My kids love running down the red carpet with me at the end.
"The simple, shallow swim should ease what for most is their biggest concern when starting out. I always wait 20 secs after the start to set off and have a mostly clear swim the whole way round which sets me up well for the rest of the day.
3rd @OutlawTriathlon Holkham finished in 6:28:00. Slightly faster than last year. Outlaw event 17 with 18 in 4 weeks – the small matter of the full!!

— Graham Yare (@UltraOutlaw) July 1, 2018
"The bike is straightforward and the lap around the lake allows you to sort yourself out before getting onto the main roads. The rest of the route is slightly rolling in a few places but otherwise not technical. The aid stations are well placed and staffed by enthusiastic volunteers who'll help in any way they can. The run is flat and accurate which allows for it to be easily paced.
"My best performance was 11hrs 57mins in the very first Outlaw in 2010. I've come close to this a couple of times but everything just seemed to go really well that day.
"I know, regardless of how well my training has gone, that I can complete the race. There is always a challenge – whether it be a particular time, enjoyment of the race, battling against the elements, meaning that every year there is something to aim for on the day.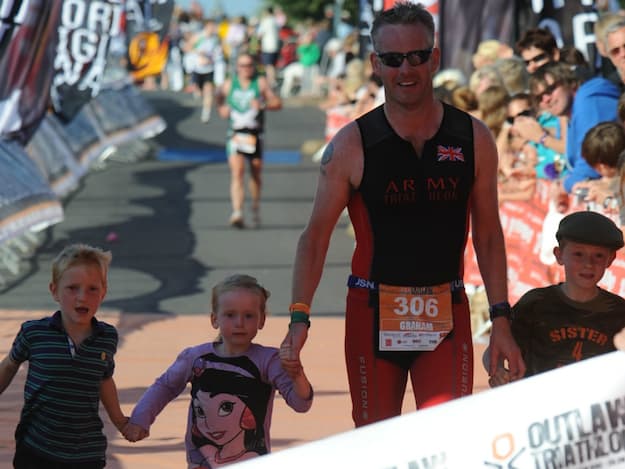 "I haven't been able to avoid medical issues since the first Outlaw. I was diagnosed with a blood clot (DVT) in early 2013 which impacted on my training. I then had another diagnosed just days before the Outlaw Half in 2017. With the blood clots, and other issues over the years, I have just appreciated being able to train when I can and complete the races to the best of my ability at the time. The enforced lay-offs have probably helped avoid burn-out.
"As long as my body is capable I see no reason why I would stop. I love this race, and so do my family. Hopefully one or two of my kids may join me in the future, but they'll take a lot of convincing!"
Outlaw 2018 takes place on 29 July covering a 2.4mile swim, 112mile bike and 26.2mile run. For more information see www.osbevents.com.