The LCW Wales Swim 2020: New Title Partner Announced
Innovative and pioneering wetsuit brand, Yonda, have been announced as the brand-new title sponsor of The Wales Swim, signing an exciting 3-year deal to partner with one of the largest open water swim events in Europe. This new deal comes on the back of Yonda's successful involvement in the first ever Wales SwimRun in 2019. The Yonda Team, headed up by experienced swimmer and triathlete Angus Greenwood, will be utilising the partnership to unleash their distinctive range to the world, whilst holding regular clinics, demo days and exclusive product launches both in the pre-season and in the lead up to the event.
Founder and CEO Angus had the following to say about the partnership at the recent launch:
"It's rare to find a premium events brand which has such a high retention rate of athletes returning year after year. LCW is now a respected and loved event and continues to shine out in a highly competitive arena. It's, therefore, a no brainer for me to want to partner with them and I can only be proud and excited, and to look forward to working alongside these guys.
"We hope to bring our own 'Yonda' vibe to the swim event and to help make it a fun, memorable time for all, whilst showing everyone just why we believe we are the very best in what we do "
You can get to know a little more about Angus and the brand through a recent interview which can be found HERE.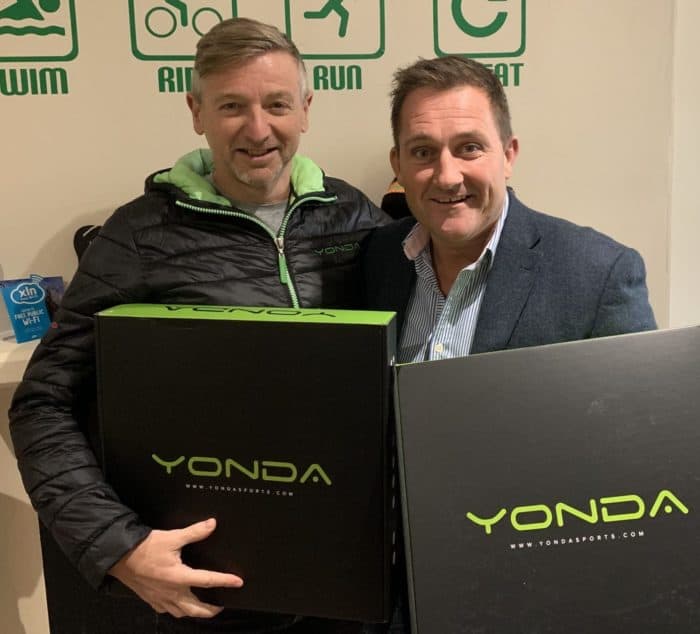 CEO of Long Course Weekend, Matthew Evans, was accompanied recently by LCW Global Relationship Manager, Oliver Duckett, who travelled North to Yonda HQ and the stunning town of Holmsfirth to meet with Angus and his team. Oliver was in equally high spirits as news of the partnership broke:
"We have been searching for a like-minded, innovative and forward-thinking brand to become title partner for quite some time and Yonda certainly fits that bill. Angus' love and experience of the sport, coupled with his product knowledge, is unrivalled, resulting in cutting edge technologies encompassing every one of their products on offer. We are extremely excited to be making this announcement and look forward to being able to offer all of our athletes the world's best wetsuits, swim accessories and performance/tri clothing."

The Yonda Wales Swim takes place on the Friday of LCW Wales and attracts 2,500 athletes to the award-winning beaches of Tenby, Pembrokeshire. Now in its 11th year and incorporating 1.2 and 2.4 mile distances the event acts as the curtain raiser to the Long Course Weekend Wales. A unique concept started in 2009 and now recognised as the largest multi-sport festival in Europe, captivating over 11,000 athletes across three days of swimming, cycling and running.
Dates: 3-5 July 2020
More Details: