Loch Ness to Richmond via seven days of swim, bike, run
Two perspectives on the 2018 Monster Triathlon
Swim 5km in Loch Ness. Five days of endurance cycling (totalling around 950km) to Windsor. Finish off with a 50km Ultra-Marathon to Richmond. That is the Monster Triathlon (www.monstertriathlon.org) in numbers, but this is a seven day long experience that is far more than simply distances, times and results.
The 2019 edition will take place from 23rd to 29th June, but, what is the experience like and who is it aimed at?
I asked two athletes who took part this year for their thoughts. First up, Jacqui Burke, a member of Hillingdon Triathletes. Jacqui is an experienced endurance athlete and has completed many ultra and multi-day challenges in the U.K. and abroad, but would not describe herself as someone chasing podiums. "I'm not the fastest, but I'm mentally tough and keep going."
By contrast, Hywel Davies is likely to be a name familiar to many in the U.K. triathlon community. He has won races at every distance from Sprint to Double Iron, has run a 2:30 marathon, been a European Age-Group Champion (overall), and been able to turn his athletic talents to a wide range of sports, typically with race winning and/or record breaking success.
The Monster Triathlon proved to be a week that was enjoyed by athletes from all backgrounds. Here are their stories.
---
Jacqui Burke
My Triathlon history started almost 20 years ago. I started with the shorter Sprint and Olympic distances before building to Half and Full Ironman competitions. I then started to look for other endurance events that I could take part in and really challenge myself. Despite there being some fantastic events available in the U.K., I thought this would be a great excuse to travel, at the same time as competing in some of the toughest races around the world.
My first adventure took me to South Africa to take part in the Comrades Marathon; this is an 89km ultra marathon between Durban and Pietermaritzburg and is the world's largest and oldest ultra. The North Pole Marathon, which is recognised as the northernmost marathon on Earth, and with temperatures of -32 degrees was next followed by The Everest Marathon. This is the world's highest marathon starting at Everest Base camp at 17,600ft, where there is 50% less oxygen.
While these events were tough, after completing them I wanted to challenge myself that little bit more which lead me in to multistage endurance events. My first was the Marathon Des Sables, this is a self-sufficient, five-day 250km run across the Sahara Desert with temperatures of up to 58 degrees and rationed water all while carrying all your own food and kit. Next up was a race that was only three weeks prior to the Monster Triathlon, this was another self-sufficient race taking me 230km through the Amazon Jungle as part of the Beyond the Ultimate race series.
When I heard about the week-long Monster Tri, covering a 5km swim in the iconic Loch Ness, 950km cycling over five days from Scotland to London, and finishing off with a 50km run along the Thames, I was hooked.
Logistically, it was easy getting my bike to Scotland. I only needed a one way flight from Luton to Inverness, so I decided to use a cardboard box bike. My local bike shop helped in dismantling and boxing up the bike, in one of their unwanted boxes. The majority of competitors did bring hard bike cases, which were then transported to the finish line.
My swimming training was mainly pool based and I carried on building my distance once the local lakes opened in April. The swim in Loch Ness was a relaxed affair; the water temperature was 15 degrees, which is unusually high for that time of year. We were told to do 10 laps around two buoys placed 250m apart. However, at the end of the swim there were array of difference distances between the competitors and I managed to clock up 6500m instead of the 5000m. Some people got out when their Garmin hit 5000m, including the guy who was only doing the swim and had to go catch a plane. Others stayed and did the full ten laps, but everyone enjoyed it. After the swim we all jumped in to taxis and headed to the hotel in Fort William to collect our bikes and kit and prepare for our first day of cycling.
As we congregated in the hotel car park, all ready to start our first day of cycling through the Scottish Highlands, you could see that there were some serious pieces of kit being ridden. My bike was relatively basic and was one of my local bike shop's own brand bikes. Again, it was a relaxed start. After the first 10 miles, we split into smaller groups of the same ability and took turns in leading, chatting and supporting each other to get to the end every day. You get given the bike route which you can download on to your own devices and if additional help was required, the support team were just at the end of the phone.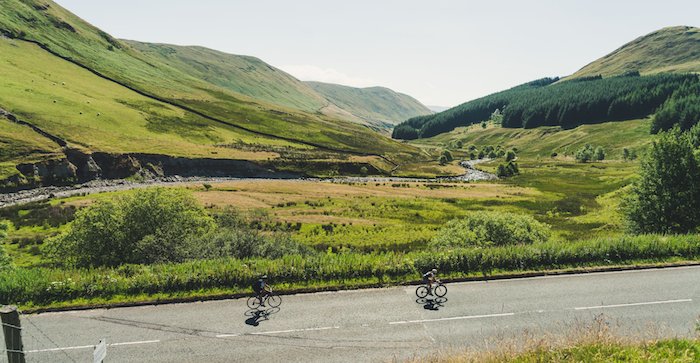 I averaged 120 miles and spent on average 9½ hours, cycling every day. We had some tough hills to climb and with the weather hitting 30 degrees, at times it felt that you were never going to finish. As well as having to be physically fit, you need to have the mental ability to keep going. I still enjoyed every day of cycling and always came in with a smile on my face.
The bike checkpoints were a real bonus, all the food and drinks you needed for the day were provided including gels, electrolytes, brownie, crisps and fruits. We even made a special request and managed to get one of the checkpoints in a pub beer garden, with pints of ice cold Coke and cheese and pickle sandwiches. That sent us happily on our way to the finish line!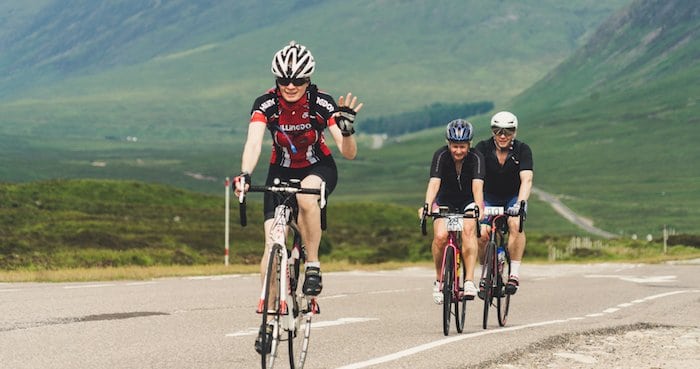 The scenery whilst on the bike was breathtaking. Stunning country villages, with lots of places to stop for the occasional ice-cream. Some of the road surfaces were challenging, especially going in to and out of Glasgow. There were several points where you could see the Tarmac melting beneath your wheels.
All the hotels and food were included in the entry fee, together with transporting all of our luggage. All we had to do was rock up to the hotel, get assigned our rooms, shower and gather for dinner and briefings, then normally bed by 9pm. It was a pleasure having everything done for you. On previous events, I've been self-sufficient and provided my own food, no showers and same clothing for a week, sleeping in tents or hammocks. It was luxury to be able to have a hot shower, hot food and a comfortable bed to sleep in. Well worth the entry fee.
After five days of cycling, it was a great feeling to pack the bike away and concentrate on the following day's 50km run. In view of the hot weather, the start time was changed to 6am but you could set off as and when you were ready any time after that. I didn't know how my legs would feel after cycling 950km. I'm used to running 5 or 6 marathons day after day but not cycling that far; I was happy to say though they felt great. We headed down to Windsor and then joined the Thames tow path from there. The run was well signed with us having to cross over the Thames several times to allow us to stay on the path, again the checkpoint supporters were out cheering us on all the way. Once you came into the grounds where the finish line was, all the competitors and support team were there to cheer every runner in.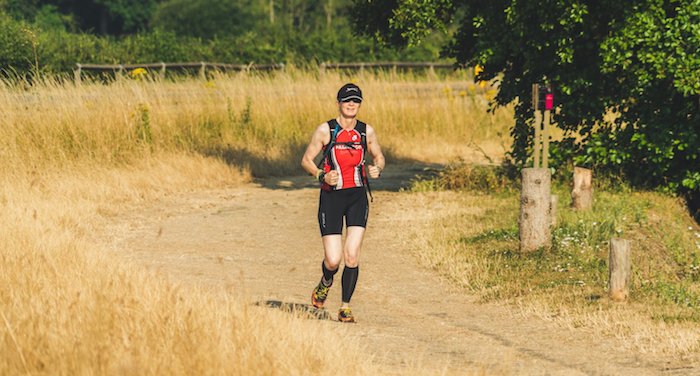 The support team and organisers were brilliant, they couldn't do enough for you. We had a paramedic travelling with us and he patched up cuts and grazes, sprained ankles and saddle-sore issues. In addition, a member of the support team was out on the road riding with us, if you had a mechanical issue, got lost or you were just at the back of the group, he was there and always brought the last rider in every day. They also arranged for some of the competitors to have a massage/Physio treatment, which helped a lot of people finish the event and get their medals.
If you are thinking of going solo or with friends, I would highly recommend this event to anyone looking to challenge themselves. It's a great way to meet like-minded people and to do a sport they love.
Hywel Davies
I've done 23 Ironman races, Adventure Races, Double Ironman, Ultra marathons and multi-day cycling. I've got endurance world records, five sub-9 ironman finishes and I am fit enough and experienced enough to be able to take on an event like this. Although I have seen all shapes and sizes of people finish an Ironman, the people that ploughed through this week and finished this event are pretty remarkable to have done it on very little experience or fitness, but just got on with it, had fun along the way and completed the journey.
The prospect of swimming in Loch Ness is an iconic challenge. Very dark, cold, currents and in Scotland. Training for this involved lots of pool time but also taking on Neptune Steps in the winter in Glasgow, in 3° water, Swimming through the winter at Stoney Cove in 4° water, testing out cold gear gloves, boots, hats, increasing body fat to try and keep warm and carrying a whisky flask for emergency mid swim.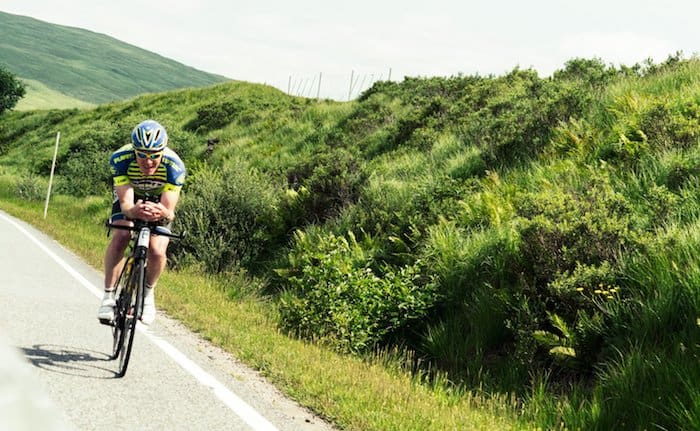 Spending two weeks cycling 60-80 miles a day in the alps, swimming 4-5k a day and doing a 50k run I felt I was prepared however, taking my TT bike along and riding hard on hilly terrain, quiet roads, bumpy roads, fast roads for six hours a day was not easy. Not easy when riding for six hours so imagine how hard it was for those taking ten hours – but you get to ride as hard as you want, without risk of running out of fuel – but trying to maintain pace for 120 miles a day whilst navigating is a worthy challenge and excellent training.
You can use this event how you want. Ride hard, ride social, time trial, sportive or any other format but having your kit transported and a support crew gives it that long journey feel rather than your local 100 mile route.  The bike days are hard and long, but if you decide to leave a bit later than the main groups, you never feel like you are riding alone.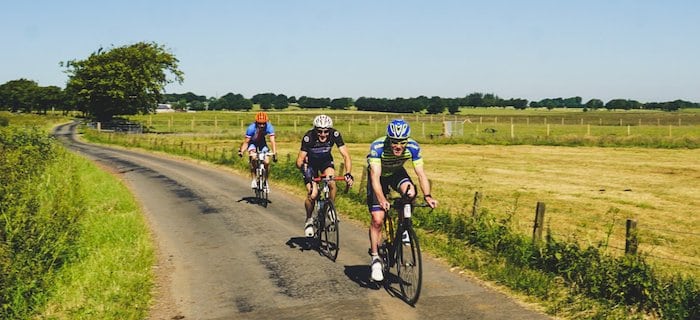 A 50k run is hard no matter what speed but again, run at your own pace, with or without fuel and knowing you have feed stations, others to run with and easy navigation really helps to keep it interesting.
This is a challenge, not a race but you can have your own races within the event. Have a rivalry, ride as a group time trial, attack Strava segments or just ride as long training sessions. For £1,499 it seems expensive but with six hotel nights, all the food you could want, kit transport and feed stations, you can do an overseas Ironman event and not get much change from that for something far less memorable and epic.
Monster Triathlon on Facebook: https://www.facebook.com/monstertriathlon/
Monster Triathlon on Twitter: https://twitter.com/monstertriuk
Monster Triathlon on Instagram: https://www.instagram.com/monstertriathlon/