Lock Gates Open Up to 600 Adventure Racers
On Saturday 10th March 2018, Glasgow is set to welcome the return of the world's toughest open-water adventure race.
The icy waters of the Forth & Clyde canal will see up to 600 open-water swimmers once again take on the adventure race like no other, swimming through 420 metres of cold water and climbing 18 metres over eight canal lock gates. Entries open on Tuesday 24 October at 10am.
In March this year, Glasgow played host to more than 300 brave competitors, traveling from as far afield as Canada, Switzerland and Lebanon to swim, climb and conquer Red Bull Neptune Steps. Now the 2018 event is aiming to double participation, as the world's only uphill swimming race continues to grow taking to the canal waters for this it's fourth edition.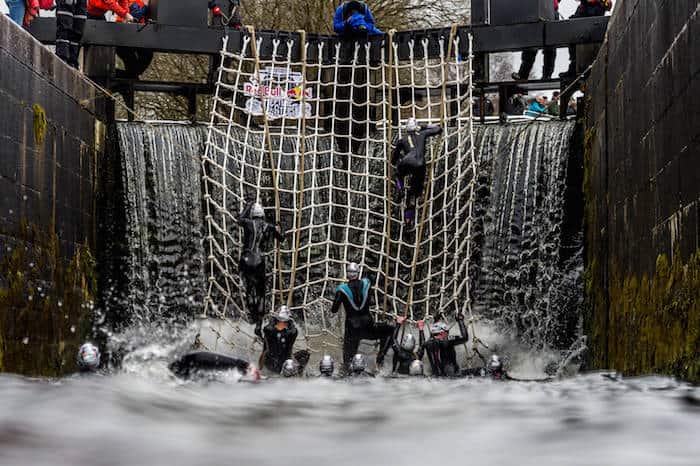 Local swimmer Mark Deans has fought off some serious competition in recent years including Olympic swimmers and triathletes, accomplished Commonwealth Games competitors, and experienced adventure racers to string together 5 successive Red Bull Neptune Steps victories with wins in Glasgow and in Sweden. The Scottish champion swimmer recently smashed the world record for swimming 28.5 miles around Manhattan in what is considered to be one of the greatest challenges in endurance swimming, setting a new time of 6 and a half hours as part of the 20 Bridges marathon swimming event on July 23. Now, the 22 year old is relishing the prospect of defending his Red Bull Neptune Steps title following a nail-biting finale earlier this year. Looking ahead to the event Mark said:
"I'm aiming to continue my unbeaten record, and keep on winning this event for as long as I possibly can. Each year, the competition gets tougher and tougher, but I'm up for the challenge of defending my title for sure. In this sport, there's no other event quite like it"
Red Bull Neptune Steps will take place on Saturday March 10 . Entries open Tuesday 24 Oct, 10am at redbull.co.uk/neptunesteps