Hever Castle Triathlon hailed a success
Elite performances, fundraising feats and 6,000 competitors conquering their own personal Castle Triathlon
For the ninth year in a row Hever Castle Triathlon has brought the Castle Triathlon Series season to an epic finish, with competitors descending on the iconic Kent castle. The third largest triathlon festival in the UK, and the largest children's triathlon in the world saw a range of inspiring triathlon feats, with a strong elite field, superstar junior triathletes including Bailey Matthews, and hundreds of Macmillan Cancer Support fundraisers who helped push the Series fundraising total to nearly £100,000.
The event bucked the trend of a lot of other triathlons, with over 37% of the field being female, including 15 women who were taking part in the triathlon as part of their recovery from breast cancer. This year the event also opened up the stunning and unique swim course for even more people, with it's first swim only events in association with Outdoor Swimmer.
In Castle Triathlon Series fashion, over 20,000 spectators enjoyed the sunshine, music from local bands, a variety of retail and food stalls and, of course, the electric finish line, creating a true celebration of triathlon, bringing the 2017 season to a close. TV cameras lapped up the action with a bespoke TV programme being broadcast on Channel 4 next month.
Goodwin sets yet another Gauntlet course record
Smashing a Castle Triathlon Series course record for the third time this year, George Goodwin once again flew around Hever's tough and undulating half-iron course in 04:25:18, winning with a seven minute lead over Henry Irvine and a 14 minute lead over James Phillips. In the women's race Jo Davies crossed the finish line 11 seconds ahead of Davina Greenwell, whose bike split (03:13:14) was the fastest of the day and won her a set of Wheelscience Performance Race wheels.
Women's Gauntlet Podium
Men's Gauntlet Podium
1. Jo Davies – 05:39:46
2. Davina Greenwell – 05:39:57
3. Alice Jenkins – 05:43:05
1. George Goodwin – 04:25:18
2. Henry Irvine – 04:32:19
3. James Phillips – 04:39:29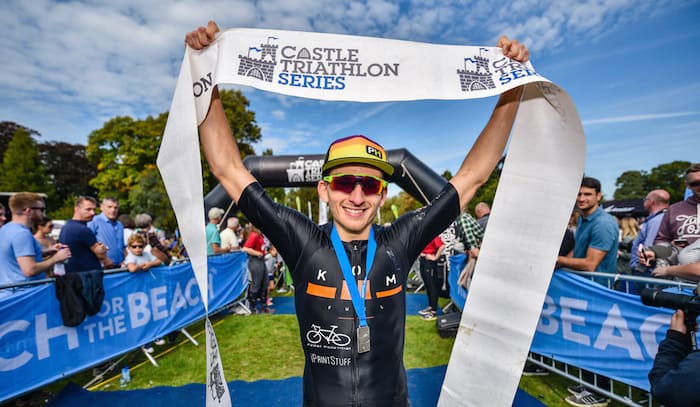 Long-time Elite fans of Castle Triathlon dominate the Olympic Distance Podium
Sunday morning also saw a field of 1300 Olympic distance athletes taking part, with many returning to Hever Castle for another year. The women's podium was taken by Castle Triathlon Series regular, Catherine Jameson taking first place on the podium with an impressive time of 02:21:34, whilst Hannah Drewett, who took first place at Cholmondeley Castle Triathlon, arrived on the finish line just seconds behind her. Calum Johnson won the men's race by 29 seconds, putting Sam Wade in second place and Brett Halliwell in third place. On finishing, Johnson said of Hever Castle Triathlon, "Once you experience this race you get the bug and want to return. It's unique with an atmospheric swim, a very special and beautiful race."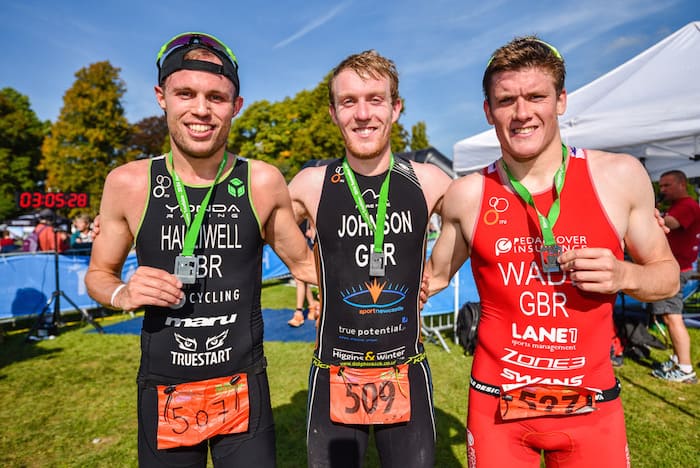 Women's Olympic Podium
Men's Olympic Podium
1. Catherine Jameson – 02:21:34
2. Hannah Drewett – 02:22:00
3. Fenella Langridge – 02:23:26
1. Calum Johnson – 02:02:36
2. Sam Wade – 02:03:05
3. Brett Halliwell – 02:08:27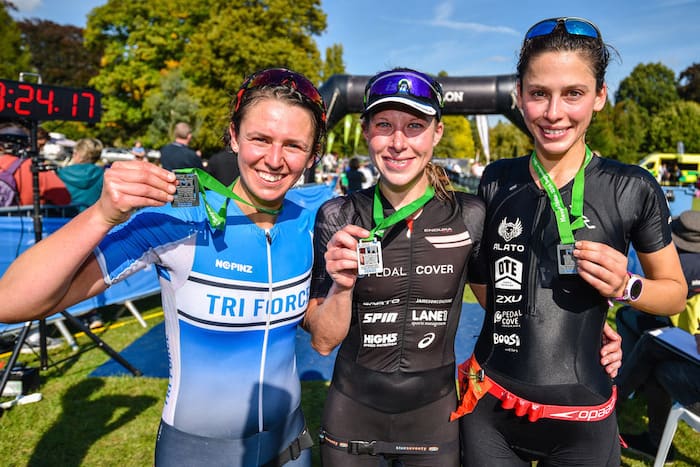 See a list of the full result break down HERE.
Junior triathletes show the adults how it's done
Across the weekend 1,500 junior athletes gave it a 'tri', with many either returning for another year of swim, bike and run or taking part in their first ever triathlon. Joining Race Director Brian Adcock at the race briefing were two Olympians, Will Clarke and Liam Tancock, who were on hand to inspire the children, providing top tips for the race and calming last minute nerves. Commenting on the junior races, Clarke said, "It was great to be at the event on Saturday and see so many people of all abilities and ages getting involved in triathlon. I was buzzing after my first event when I was 12 years old and just wanted more, but these kids have so many more events available to them now and Castle Series Triathlon are doing a brilliant job at providing beautiful, safe and fun settings for them to try to the sport for the first time."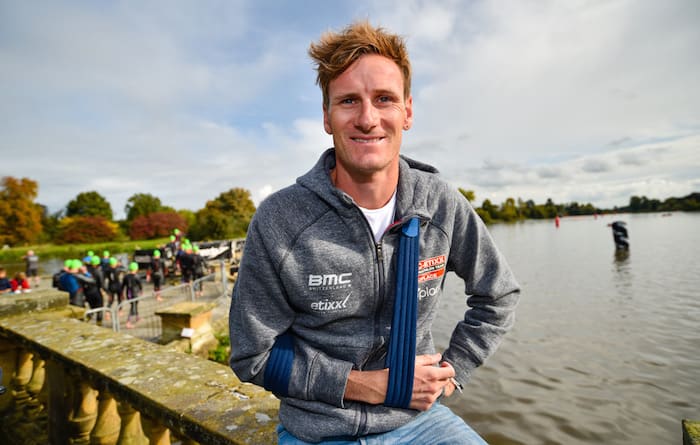 Bailey's Tenth Triathlon Triumph
It was a special weekend for BBC Sports Personality of the Year Winner Bailey Matthews who took part in his tenth race with Castle Triathlon Series, meaning that he is now a Castle Triathlon Loyalty club member, following on from is inspirational first race at Castle Howard Triathlon in 2015. On the finish line an ecstatic Matthews thanked the supportive crowd of fans who have followed his awe-inspiring journey, saying, "This crowd have been insane, it's a fantastic atmosphere, thank you so much."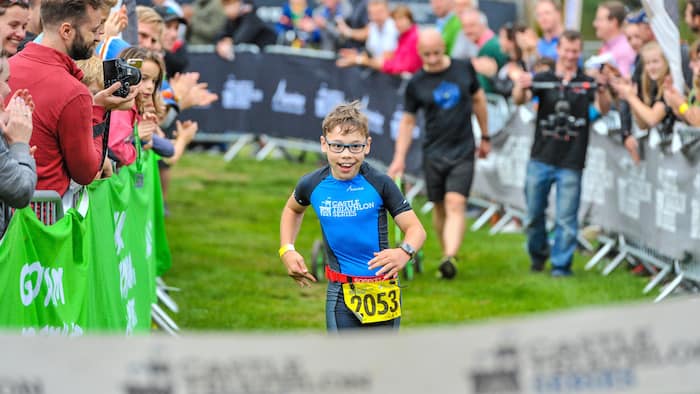 Triathlon for everyone
Hever Castle Triathlon welcome athletes of all ages and abilities, and this year was no exception, with several para-triathletes, including hearing-impaired athletes, experiencing the beautiful and accessible courses at Hever. Stephan and Chloe Couture joined other Super Sprint triathletes on the course, with father Stephan assisting Chloe, who uses a unique and specially designed racing chair to experience the thrill of triathlon. Chloe, who doesn't let her cerebral palsy stop her from enjoying all three triathlon disciplines, will be taking part in all Castle Triathlon Series events next year.
Tri' for Good
2017 has been a record-breaking year for fundraising by Castle Triathlon Series triathletes, with over £100,000 raised for Macmillan Cancer Support and tens of thousands more for local charities. In the Women's Only wave of the Super Sprint on Saturday Zara Bailey took part to raise money for Macmillan Cancer Support in memory of her uncle. Despite being diagnosed with Addison's Disease in 2015, Zara Bailey has completed the entire Castle Triathlon Series this year to fund raise for Macmillan. Joining Zara in the wave were 15 inspirational women from Team Phoenix, a triathlon team put together for women with breast cancer to help them on their journey to recovery.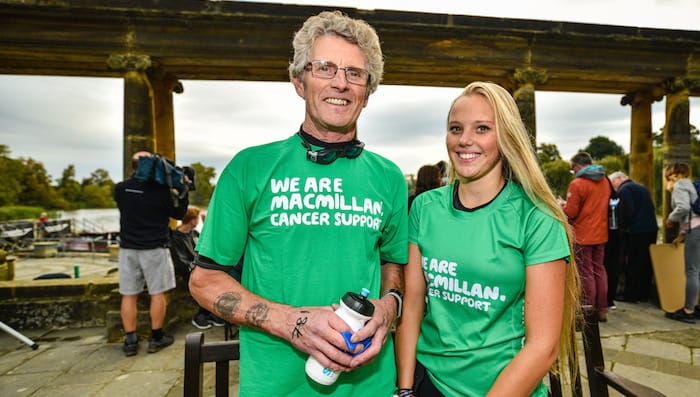 The Tenth Anniversary of the Hever Castle Triathlon will be hosted on the 22nd and 24th September 2018 – sign up now for a massive 30% discount (valid until midnight 29th September).
The Hever Castle Triathlon 2017 will be broadcast in a bespoke programme on Channel 4 on 21st October at 7.30am.