16th​ ​Annual​ ​Nevis​ ​Triathlon​ ​Announces​ ​Main​ ​Sponsor
Nevis​ ​Tourism​ ​Authority​ ​name​ ​nutrition​ ​brand,​ ​Unit​ ​Nutrition​ ​as​ ​main​ ​sponsor
Nevis​ ​Triathlon​ ​will​ ​take​ ​place​ ​11th​ ​November​ ​2017
Following​ ​the​ ​passing​ ​of​ ​hurricanes​ ​Irma,​ ​José,​ ​and​ ​Maria,​ ​the​ ​Nevis​ ​Tourism​ ​Authority is proud to announce that the 16th annual Nevis Triathlon will go ahead on Saturday 11th November,​ ​with​ ​new​ ​nutrition​ ​brand,​ ​Unit​ ​Nutrition,​ ​heading​ ​up​ ​the​ ​list​ ​of​ ​sponsors.
Said to be one of the most beautiful triathlons in the world, the renowned event offers scenic, but challenging courses that encompass the entire island, covering a range of distances​ ​designed​ ​for​ ​triathletes​ ​of​ ​all​ ​abilities.
Greg B. Phillip, CEO of Nevis Tourism Authority said: "In this difficult time, whilst we cannot forget our neighbours, we ​must fly the flag for the Caribbean, and we would like to spread the message that Nevis is open for business. Our goal is to share our beautiful island with the world, and we are delighted to welcome visitors back for the popular Nevis Triathlon, which provides the perfect opportunity for an end-of-season triathlon,​ ​as​ ​well​ ​as​ ​a​ ​Caribbean​ ​holiday."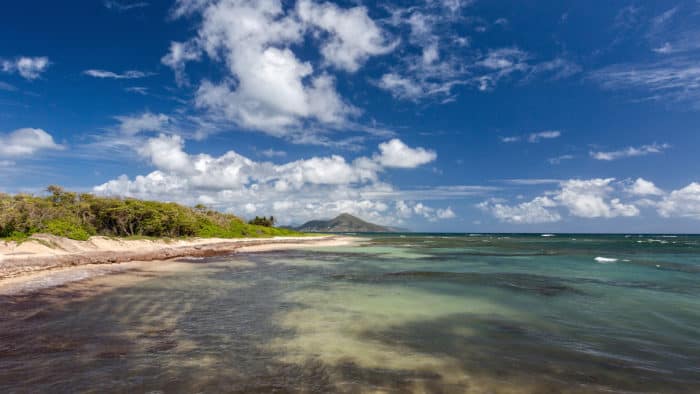 The​ ​Nevis​ ​Triathlon​ ​offers​ ​three​ ​different​ ​heats​ ​making​ ​it​ ​accessible​ ​for​ ​all​ ​capabilities.
With 'Try a Tri' consisting of a 100M swim, 5KM bike, and 2KM run, beginners can partake in their first triathlon experience which is equally as fun but far less intense than the intermediate​ ​Nevis​ ​37​ ​race,​ ​which​ ​covers​ ​a​ ​500M​ ​swim,​ ​31KM​ ​bike​ ​and​ ​a​ ​5KM​ ​run.
Those of a higher calibre can battle it out in the Nevis 73 race, where the fastest male and female will win complimentary accommodation and race entry to either the 2018 Nevis Triathlon​ ​or​ ​any​ ​UK​ ​triathlon​ ​events​ ​in​ ​the​ ​Always​ ​Aim​ ​High​ ​series.
By no means an easy feat, the challenging Nevis 73 consists of a 1000M swim, double circuit​ ​62KM​ ​bike​ ​ride​ ​around​ ​the​ ​island,​ ​and​ ​10KM​ ​run.
Julia Bechtolsheimer, founder and CEO of Unit Nutrition, says of the sponsorship: "In light of recent storms, it is now more important than ever to support the Caribbean. Unit Nutrition is therefore delighted to support Nevis by becoming the main sponsor of the Nevis​ ​Triathlon."
Local craftsman, Marvin J. Chapman, will once again be awarding the top three winners in each​ ​race​ ​a​ ​hand-carved​ ​trophy.
In addition, one lucky athlete will walk away with a state-of-the-art Bkool Smart Go turbo trainer, complete with a premium year's subscription to the simulator software, donated by the turbo trainer and cycling simulator brand​, ​Bkool. The winner will be drawn at random at the​ ​prize​ ​giving​ ​ceremony,​ ​giving​ ​all​ ​athletes​ ​taking​ ​part​ ​in​ ​the​ ​triathlon​ ​the​ ​chance​ ​to​ ​win.
A stunning race experience for both competitors and spectators, visitors are able to view outstanding​ ​vistas​ ​throughout​ ​the​ ​duration​ ​of​ ​all​ ​three​ ​triathlon​ ​distances.
Whilst Nevis is known mainly for its relaxed and unspoiled environment, the triathlon highlights​ ​its​ ​active​ ​side,​ ​which​ ​makes​ ​for​ ​a​ ​truly​ ​unique​ ​island​ ​experience.
With the dreary winter weather rapidly approaching, Nevis provides the perfect escape for those​ ​in​ ​favour​ ​of​ ​some​ ​Caribbean​ ​sun,​ ​sea​ ​and​ ​sports.
For​ ​more​ ​information​ ​about​ ​Nevis,​ ​please​ ​visit:​ ​​http://www.nevisisland.com/
For more information about the Nevis Triathlon, please visit: https://www.booknevis.com/what-to-do/nevis-events/nevis-triathlon