Novotel London Canary Wharf Partners with Pop-Up City Triathlon
Sign up your team of three to compete in the Charity event
Novotel has partnered with the Pop-Up City Triathlon event (24-27 April 2017), which returns to Montgomery Square, Canary Wharf, London again this summer. The support forms part of last month's new opening of the Novotel London Canary Wharf hotel and, like the Pop-Up City Triathlon, is set to become a regular part of the lives of business people and visitors to the City.
The new Novotel London Canary Wharf comes complete with 360 degree stunning views, roof top BŌKAN restaurant, bar and New York style health club. Tapping in to the World's fastest growing sport, Novotel London Canary Wharf will host a winner's party. The winning team members will also all receive complementary Brunch, for them and their family, and the hotel will be helping corporates stay ahead of their banking rivals with free early morning group training runs.
The Pop-Up City Triathlon takes place for the second year and brings together over 300 (100 teams) athletes both new and seasoned, to take part in a static triathlon in the heart of the city. Set within a pop-up environment with swimming in an endless pool for 3 minutes, 4 minutes on a cycle ergometer and 3 minutes running on a treadmill, the large scale staged triathlon challenges teams to cover as much distance as they can over these set times. The event has already attracted the likes of KPMG, Credit Suisse (defending their winning title from last year), and Morgan Stanley. See the leaderboard of teams and distances covered HERE.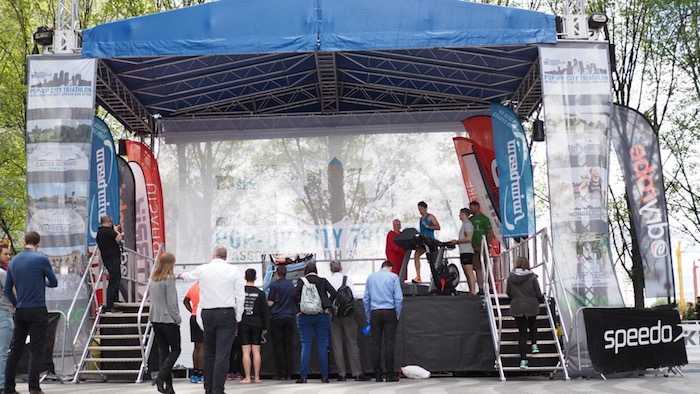 Director of Sales and Marketing for Novotel London Canary Wharf, Louisa Daxer-Robbins explains: "We were impressed with the Pop-Up City Triathlon concept when it launched last year and were keen to be involved with the innovative event. The launch of our new contemporary hotel presented a natural opportunity to partner with the event raising awareness of the venue with the local City audience and triathlete market. We hope to add a creative twist and offering to the event including morning runs and a grand final cocktail evening at BŌKAN."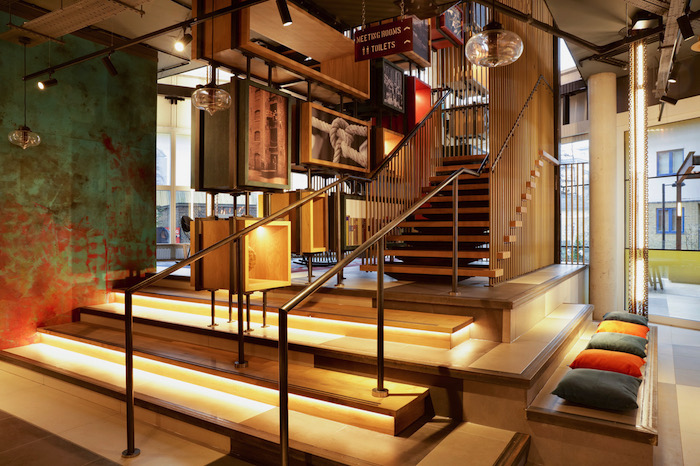 Located in the heart of the Docklands, the stylish and innovative new Novotel glass skyscraper offers 39 storeys with 360°degree stunning views of the London skyline. Hotel guests can immerse themselves in designer style rooms and choose from three contemporary options for food and drink: BŌKAN restaurant, bar and rooftop terrace. Business guests can enjoy the innovative meeting rooms, each with a bespoke style inspired by Docklands heritage, and featuring the latest technology. Add free Wi-Fi, a New York style gym and a pool to the mix, for a hotel that offers all you need and so much more.
Teams of three can sign up to the unique static triathlon event all in support of Macmillan Cancer Support by clicking here. The event at Montgomery Square has slots available for lunchtimes and after work on Monday 24th – Thursday 27th inclusive and a grand final on the Thursday evening. There are prizes for the four runners up and winning team including £1k towards a charity of the winning teams choice.