Six men sign-up for an 11th consecutive Outlaw Triathlon
Another season approaches, and for a small set of athletes, another opportunity to maintain their records of finishing every Outlaw Triathlon.
Three Outlaw super fans already have 22 Outlaw finishes – including all of the Half distance races too – and will be hoping to make that 27 by the end of September 2020.
---
Outlaws Continue Friendly Rivalry to be Last Man Standing
Since the first Outlaw Triathlon took place in 2010, six men have returned every single year to do it again. They've all signed up for the 2020 event, the eleventh edition of the Outlaw, taking place on 26 July.
To mark ten years of remarkable endurance, the six were presented with a special award after Outlaw X in September. Demonstrating even further tenacity, three of the six, David Manning-Ohren, Gary Goacher and Graham Yare have also done every single Half distance event as well – and now they have an additional event to add to their programmes; Outlaw Half Bowood.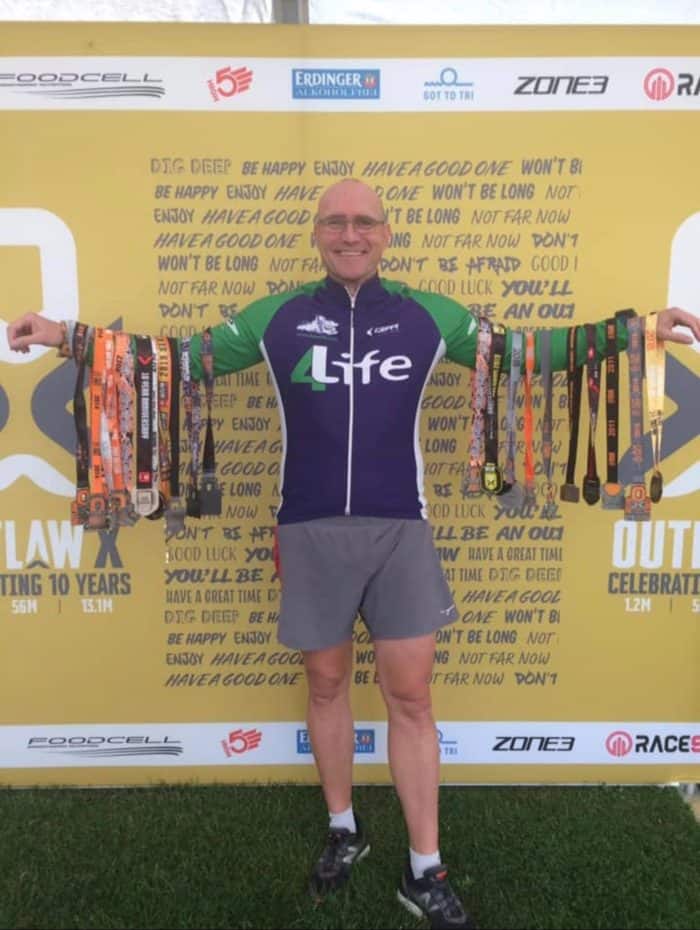 Of the six ultra Outlaws, Chris Dunn is the youngest at 43 and Goacher, 57, is the oldest, but age isn't necessarily the best indicator of who might outlast the others, especially with four of them set to complete all five Outlaw events next year.
The fastest of the six to date is Eugene Grant. He won the event overall in 2013 with a 9hour 27minute performance and got close to that in 2017 in 9hours 32minutes. He turns 50 next year and will undertake all of the Half events on top of the full 'to celebrate'.
Both Swepson and Goacher have fairly recent sub 11hour performances to their name, and Yare hopes to complete his 100th marathon at Outlaw Nottingham. There's no indication that any of them are slowing down!
Simon Ward of TheTriathlonCoach.com said: "Completing a long-distance triathlon is a monumental challenge. To be able to repeat that year-on-year needs a huge lifestyle commitment to staying healthy, avoiding injury and being able to commit to training and competing."
He added: "There have been some years that one of them has had to limp round and although they're all competitive and want to improve their personal best times, sometimes it's just about getting to the finishing line. I wouldn't like to predict who will be the last man standing as they're all now very committed to keeping the run of finishes going!"
Outlaw Triathlon Series 2020:
Outlaw Half Nottingham, 17 May – General entry sold out, charity places available
Outlaw Half Bowood, 7 June – Entries open
Outlaw Half Holkham, 28 June – Entries open
Outlaw Nottingham, 26 July – Entries open
Outlaw X, 27 September – Entries open
Entries for the 2020 Outlaw Triathlon Series are available via outlawtriathlon.com. Outlaw Half Nottingham has sold out, but there are places available via Cancer Research UK and Alzheimers Research UK starting at £50 plus fundraising targets.