Red Bull Quicksand returns to Margate beach for 2019. Chris Hovenden parted with his own hard-earned cash to race in the inaugural event last year in order to find out just how hard a mile can be.
Heart beating so hard all I can hear is the rapid pounding in my head, and gasping for breath, I have just reached the top of the fourth substantial and leg-sapping man-made sand dune … of the first lap on Margate beach and I wonder: "Can I manage to maintain this pace for another 800m…?"
Welcome to Red Bull Quicksand. This year's edition is scheduled for 18 May 2019 and looks to be even more challenging that last year.
I have always been intrigued by Red Bull's adventure races. A race on the same beach that I had the occasional pleasure of running on for pre-season football training 15 plus years ago, and with the tag-line "how hard can a mile be?", was too good to miss.
On reflection, how hard can a mile be? Hard, very hard.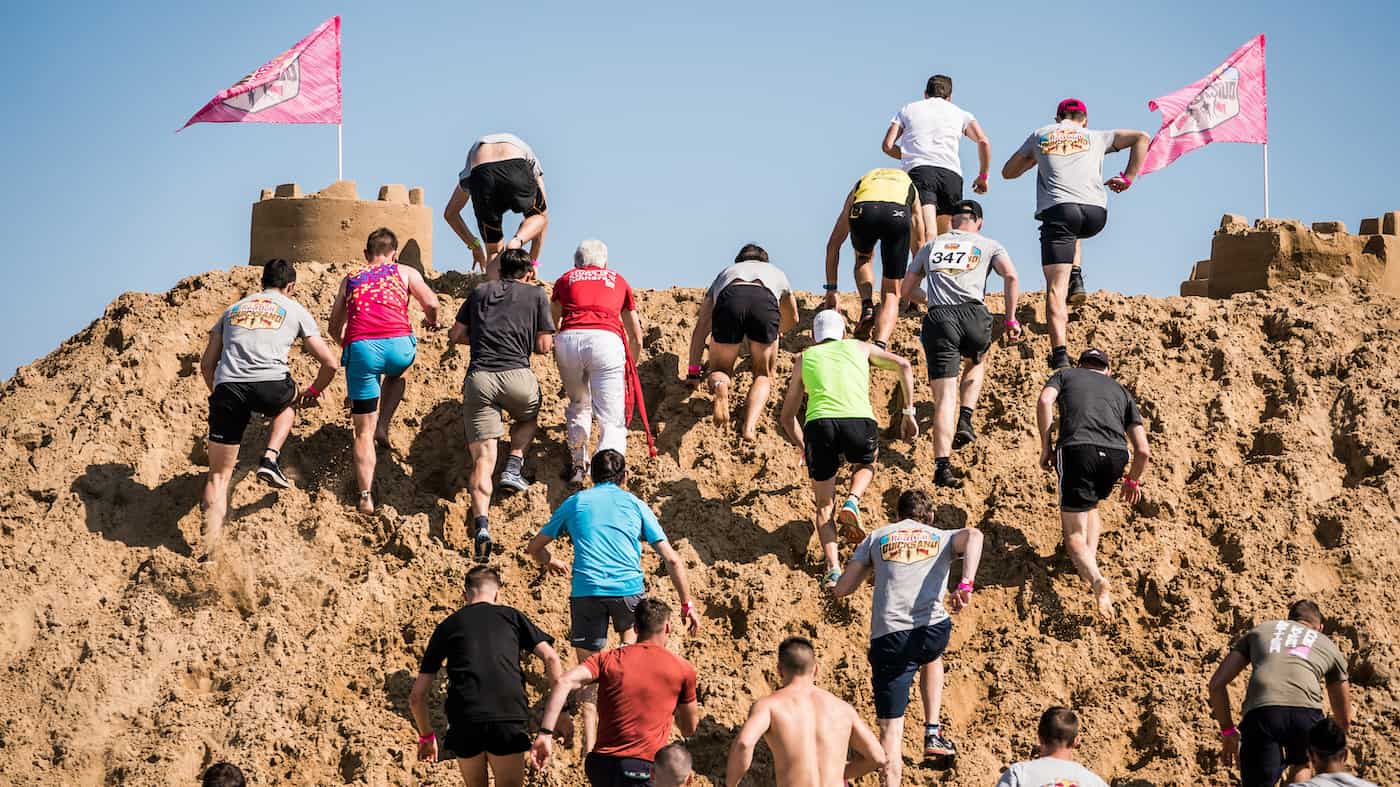 Supposedly, when running on sand you expend 1.6 times more energy compared to running on a road surface. If you'd asked me immediately after completing the mile I'd have been convinced that was an overly conservative statistic.
In fact, I'd say that rather than running hard or easy, you simply just 'go' – it's survival, not a decision to go fast or slow.
The 2018 course included trenches, rollers (undulations), and giant sand castles, in addition to the general difficulty of running through thick sand – and each mile consisted of two laps. Red Bull promises that the 2019 event will have bigger and tougher obstacles.
The 2018 event consisted of male and female fields with participants taking part in opening rounds where the top 50% of each wave progressed to the semi-finals, with the remainder having the 'lucky' opportunity to race in the repechage. In the semi-finals the top 25% made it into the final.
Importantly, depending on what round you got to you received a medal with a different colour ribbon – due to logistical failings on my part (but in my defence a slightly misleading sign was a contributing factor) I expect I was the only person to leave with a 'final' medal without actually racing in the final….
https://www.instagram.com/p/BnYjN3uBm9_/
Last year I spotted several triathletes taking part – including numerous members of Deal Tri.
If you also fancy adding some variety to your training and early season racing, entries for Red Bull Quicksand are now open and cost £30. There will be 750 entries available.
To secure a place, or to find out more information on the event please visit the Quicksand website.