Red Bull Neptune Steps returns to Glasgow in March 2019
Perhaps best described as a 'freezing cold, uphill swimming race and obstacle course', Red Bull Neptune Steps (redbull.co.uk/neptunesteps) returns to Maryhill Locks, Glasgow on Saturday 23rd March 2019.
Entries will be available from Tuesday 20th November – and the 600 places typically sell out very quickly.
After completing his 1782-mile swim around mainland Great Britain, Ross Edgley will be racing over just 420 metres this time. At least we can safely assume his 'base' will be strong. He might need a bit of speed-work too if you are to believe the PR (below) though, if winning Red Bull Neptune Steps really is a goal. Not wishing to doubt a man that has just achieved what he has… but that is not going to happen! I think I'll put that one down to an over-enthusiastic marketing agency 🙂
Here is the full announcement on the 2019 event.
---
Red Bull Neptune Steps is coming back to Glasgow in 2019…
…and Ross Edgley is the first to sign-up
Less than a fortnight after becoming the first person to swim around mainland Great Britain, Ross Edgley has set his sights on another major goal: to win Red Bull Neptune Steps.
Red Bull today announced the UK's toughest open-water adventure race will return to Glasgow for the fifth year in a row on Saturday 23rd March 2019.  Tickets will go on sale on 20th November.
Fresh from his 1782-mile odyssey, the adventurer is the first to sign-up for the open-water swimming and climbing challenge through 420m of icy-cold water and up seven canal lock gates.
A record 600 endurance athletes braved the three-degree swim-climb race in March this year.
Ross, who lugged a tree trunk around the Caribbean for a 100km swim last November and rope-climbed the equivalent height of Mount Everest in just 24 hours back in 2016, is excited to return to Maryhill Locks for the second year in a row.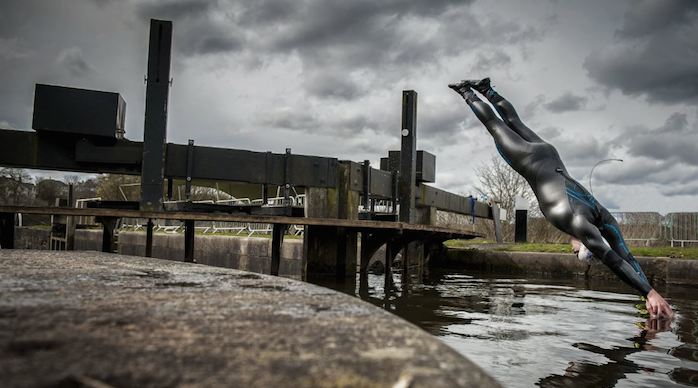 He said: "The Great British Swim was 1,782 miles of swimming, completing 2.3million strokes across 157 days at sea, through dolphins, whales and stunning sunsets. But without doubt the best mile I ever swam was at the very end when 400 swimmers braved the cold, British, winter waters and swam the final mile with me. The atmosphere in the water was indescribable. This is why I love adventure swimming and the only other event I've experienced that comes close is Red Bull Neptune Steps."
Last year, Scottish water polo international Jennifer Davis was victorious in the women's race, claiming her second Red Bull Neptune Steps gold, whilst Welsh international swimmer Dan Jones triumphed in the men's edition in his first ever open-water swim.
Red Bull Neptune Steps will take place on 23rd March 2019 at Maryhill Locks in Glasgow. The race is open to men and women aged 16+.
Entrants can sign-up from Tuesday 20th November at redbull.co.uk/neptunesteps