THE ROAD TO NICE STARTS IN STAFFORDSHIRE
IRONMAN 70.3 STAFFORDSHIRE SELECTED AS ONE OF 20 WOMEN FOR TRI RACES GLOBALLY
In a boost for female athletes across the UK, IRONMAN 70.3 Staffordshire has been selected as one of 20 races globally to receive an additional 25 qualification places, exclusively for women, for the 2019 IRONMAN® 70.3® World Championship in Nice, France.
Women For Tri®, a program of the IRONMAN Foundation®, announced in September that a total of 500 additional women will earn an invitation to race in the 2019 IRONMAN 70.3 World Championship taking place in Nice, France on September 7-8, 2019. Slots will be awarded to top finishing female athletes at 20 select races worldwide. The additional slots will be utilized by Women For Tri, which was launched in 2015 by IRONMAN, to welcome and empower new female triathletes to be a part of the sport's continued growth in high-level competition.
IRONMAN 70.3 Staffordshire has consistently seen some of the highest female participation rates in the UK averaging around 20% each year. The awarding of the additional qualification slots further enhances the opportunities for female athletes to earn a coveted slot to the 2019 IRONMAN World Championship, rewarding athletes for their performance.
Since the 2017 IRONMAN 70.3 World Championship in Chattanooga, Tennessee, the IRONMAN 70.3 World Championship has been run over two days with women and men racing independently on separate days. With next year's IRONMAN 70.3 World Championship hosted in Nice, France the triathlon showpiece will be the closest it has ever been to the UK geographically; only the second time the event will be held in Europe.
IRONMAN 70.3 Staffordshire is the only race across the UK and Ireland to offer qualification to the 2019 IRONMAN 70.3 World Championship in Nice, and with 50 general qualification slots on offer, is a popular choice for athletes looking to punch their ticket to the World Championship. The 25 additional Women For Tri qualification slots further increases the chances for female athletes to qualify and race on the world's biggest stage in 2019.
Following the standard IRONMAN 70.3 World Championship rolldown ceremony at the 20 select races, 25 additional slots will be awarded to the next most qualified women, proportional by age group creating a deeper field of female athletes while maintaining the integrity and prestige of an IRONMAN 70.3 World Championship event. The program was launched in France at the 2018 IRONMAN 70.3 Nice on September 16.
The UK was well represented at the 2018 Isuzu IRONMAN 70.3 World Championship in Nelson Mandela Bay, South Africa in September with Lucy Charles finishing second in the professional field and Erica Fogg winning the women's 40 – 44 age category.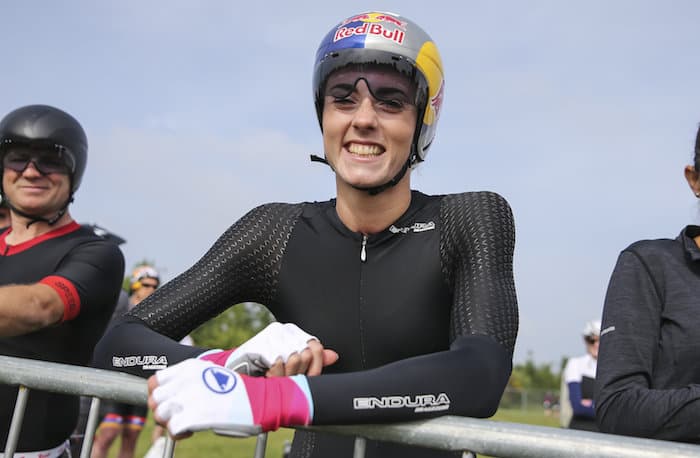 "It is wonderful news that IRONMAN 70.3 Staffordshire has been selected as one of the 20 Women For Tri races globally and a fantastic opportunity for our female athletes to pursue the goal of World Championship qualification. Women For Tri has done amazing work in promoting female participation and through initiatives such as this, actively contribute to the increased female participation in our sport," said Rebecca Sutherland, IRONMAN 70.3 Staffordshire Race Director.
"We have been fortunate in the UK to have had powerful female role models within our sport, the likes of Chrissie Wellington, Leanda Cave, Lucy Gossage and now Lucy Charles to name but a few. The achievements of these women have undoubtedly inspired others to embark on their own triathlon journeys and with the Women For Tri slots available at IRONMAN 70.3 Staffordshire, we look forward to seeing a strong field of female athletes stake their claim to line up alongside the very best in the world next year," she added.
IRONMAN 70.3 Staffordshire is the first race of the UK season taking place on Sunday 9 June 2019. For more information please visit the event website, www.ironman.com/staffordshire70.3