A look at Super League Triathlon's Race Numbers
Race numbers are a unique aspect of Super League Triathlon. Unlike other events that assign numbers only for the duration of a race, Super League Triathlon race numbers serve to identify each athlete across each race throughout the series, much like football and basketball stars are identified by and associated with the numbers they wear on their jerseys.
Each athlete racing Super League Triathlon has picked a race number that holds personal significance for them.
Javier Gomez picked the number 1, painting a giant target on his back at which all his competitors will take aim.
In response, Alistair Brownlee picked 23, which is a famous number familiar to many sports fans; the number has been worn by Michael Jordan and David Beckham, two of the greatest sportsmen in the world who transcended their sports to receive general renown. He added, "It is the date of my birthday [23 April], and it is St. George's Day — I'm a proud Englishman."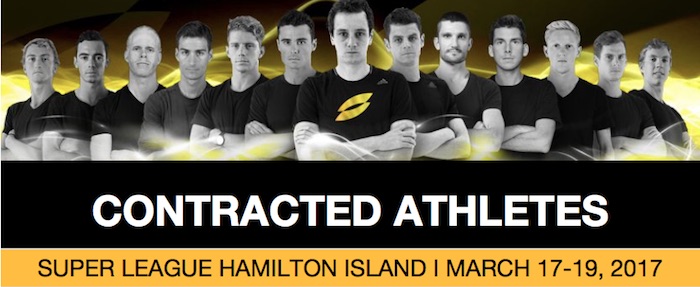 A few athletes chose numbers worn by their favorite players from other sports. Richard Varga picked 12, the number of his favorite ice hockey player, Peter Bondra, who scored the final goal for Slovakia against Russia to win the world championship in 2002.
Jonathan Brownlee made a football connection when he chose the number 5. "[Zinedine] Zidane wore it at Real Madrid, Lucas Radebe wore it at Leeds United, and it was my number for football," he said.
Thirteen is normally considered unlucky, but Terenzo Bozzone draws strength from it. "My birthday is the first day (1) of the third month (March), which is 13," he said. "Also, being a member of the thirteen best triathletes in the world on the Bahrain Endurance 13 team means a lot to me."
Ryan Bailie and Jake Birtwhistle are numbers 39 and 44 respectively because they are the 39th and 44th male to represent Australia at a triathlon world championship event.
Other number choices reveal whimsy. Brent McMahon's number 83 is simply a stylized "B" and "M", his initials.
Siggy Ragnarsson describes his number 57 as seemingly random. He revealed, "I like how it's made up from two prime numbers 5 and 7 as well as being a product of two prime numbers 3 and 19."
Ben Shaw picked 73 for similar reasons. "Seventy-three is the 21st prime number. Its mirror 37 is the 12th. Its mirror, 21, is the product of multiplying 7 and 3, and in binary 73 is a palindrome 1001001, which is the same number backwards." It incidentally was also Super League Triathlon founder Chris McCormack's race number on his test jersey.
Richard Murray had secret agent James Bond on the brain when he picked his number. He said, "Seven is a lucky number for me. 007 would be better."
Dmitry Polyanskiy is number 77, thanks to numerology. "The principal importance of 7 is achievement of the goal. And two sevens are considered a happy number."
His brother Igor also chose another repeating number, saying, "Eleven symbolizes for me two first places — two more chances of a victory!"
Jorik van Egdom's number 21 has personal significance. "That's exactly the number of seconds I finished in front of the runner-up in the U23 World Championships 2016. I am also currently 21 years old."
Eight is considered a lucky number, and Cameron Dye and Alessandro Fabian are numbers 08 and 88 respectively.
"Eight has been my lucky number since playing little league when I was a kid," said Dye. "It was my number for swimming in college, and as my kids know if they are picking a number in my head it will have an 8 in it."
Fabian was born in 1988. He also noted the similarity of the number 8 to the infinity symbol, "Eighty-eight are two infinity symbols on their side."
Whether the athletes chose their numbers due to personal significance, superstition, or a connection to their sports heroes, one thing's for sure: you'll be seeing these numbers again and again.
Super League Hamilton Island will be broadcast live on ​www.superleaguetriathlon.com​ on 17-19 March 2017 from 1700 AEST.