A new event for 2018 is the the SWYD Sprint Triathlon set for June 3rd at the iconic location of Barry Island. Tidy!
We caught up with event organiser Simon Webb from All or Nothing Events (www.allornothingevents.com) to find out more about him and the race.
It has certainly proven a popular edition, with a waiting list for entries now in place…
---
TRI247: So Simon, tell us a little about you and how you got into triathlon?
SW: Ex daft squaddie who got into tri after a Physio told me to give up running. (WTF!). First race was a disaster with a local DNF! It was a sea swim and I just lost the plot on the first can… I knew that I had to pull my finger out as I had entered IRONMAN Wales later that year so decided to just get in the sea every day until I felt confident and comfortable.
I'm lucky living so close to the sea and found a local sea swimming club – Vale Sea Swimming – who helped me tremendously. The first time I swam two miles in the sea I thought I was the man from Atlantis! I regularly chat with people who are scared of sea zombies, shopping trolleys and anything else they think lurks under the waves and get a huge satisfaction from encouraging people to get in the waves.
I also help promote a series of ultra marathons through Run Walk Crawl and I can see the satisfaction on the faces of the athletes have no ambition to run further than about 28-30 miles …. Ever!
TRI247: Are you still racing?
SW: I race long every season and have IRONMAN Barceloa this year. It's flat (lol). I had a nightmare at Bolton last year racing (stupidly) with a bad back. Its funny that your ego gets you to the line and then suddenly leaves you there… just you and you injury (and about 2,000 other people). So you crack on and race. I got around but didn't achieve my aim. I'm not fast. I am a steady age grouper with an ambition to break 12 hours (hence Barca!). I think triathlon in the UK is in a good place and a lot of the barriers have come down making races more inclusive over the past few years.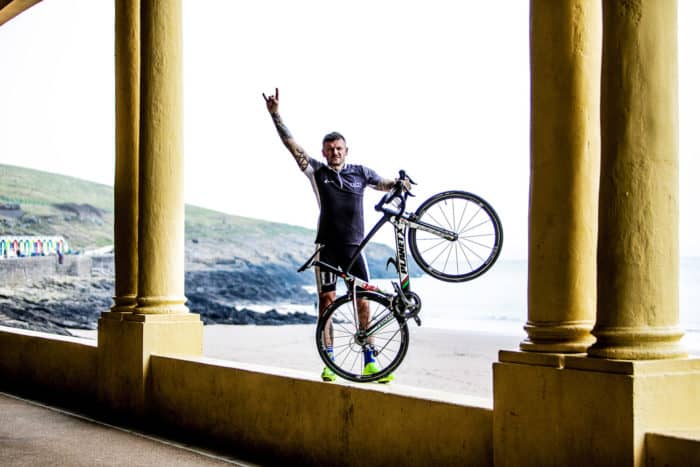 TRI247: How did you come up with the idea of the SWYD triathlon?
SW: I always wanted to put on a tri based on the criteria of, I would only want to put on a race that I wanted to race myself. I knew Pritch felt the same so we sat down over a vegan friendly coffee (him, not me), and hatched plan about 15 months ago. It may seem a long time for a sprint to plan and plot but we wanted it to be a memorable race – open to all but with that special SWYD fizz. I started planning from the eyes of each competitor and then worked the race backwards to hit all of the drivers needed. I sat down early on with some senior bods from the tri community, the national bodies and the council and told them a story… luckily they bought in and we launched the event last September.
TRI247: For those readers that don't know Matt and SWYD (Sleep When You're Dead), can you give us a bit more background?
SW: Where to begin….. a pro skateboarding, MTV body abusing, instantly recognisable (still catches me out when people ask for him for a selfie), committed vegan, hedonistic, serious athlete who is a great ambassador for endurance sport. More importantly, one of the nicest guys you will ever meet!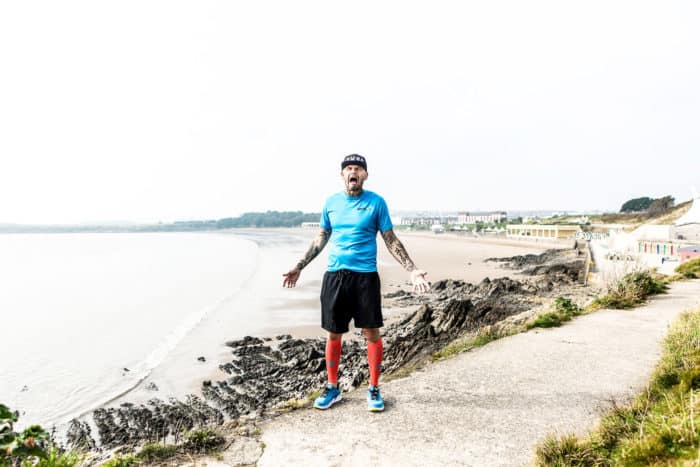 TRI247: So tell us a bit more about the event.
SW: So, it's a sprint. British Tri permitted 750m swim around Whitmore Bay, 20km bike with a couple of ups but essentially flat and the a super flat, fast 5 km finishing along the prom in Barry Island. The swim has potential to be lumpy but we've picked a day that gives us the best tide option.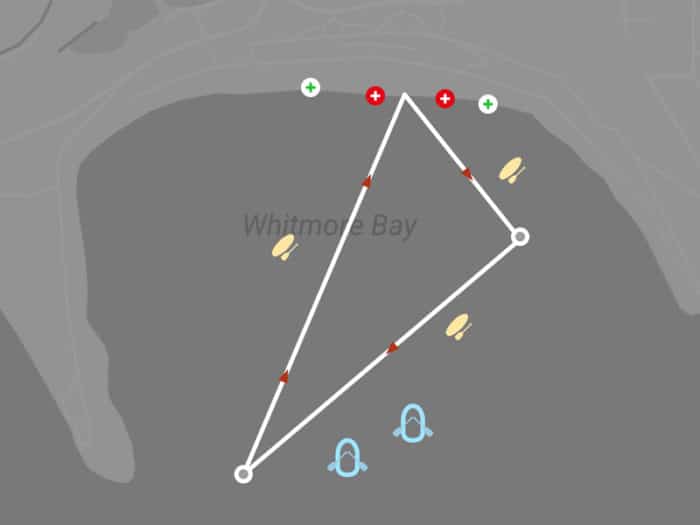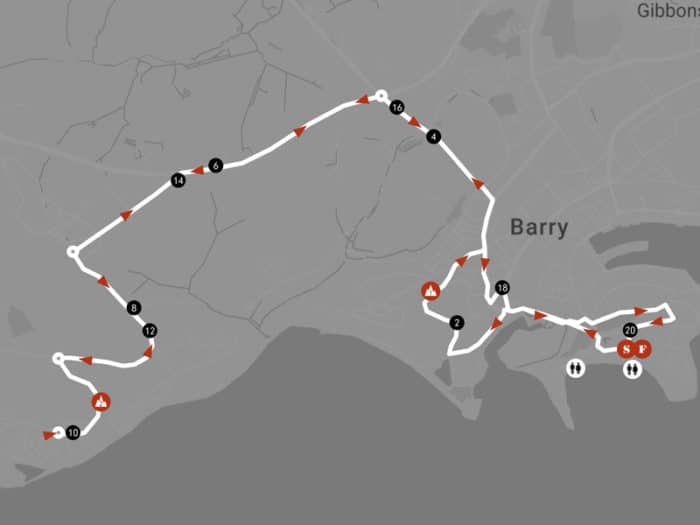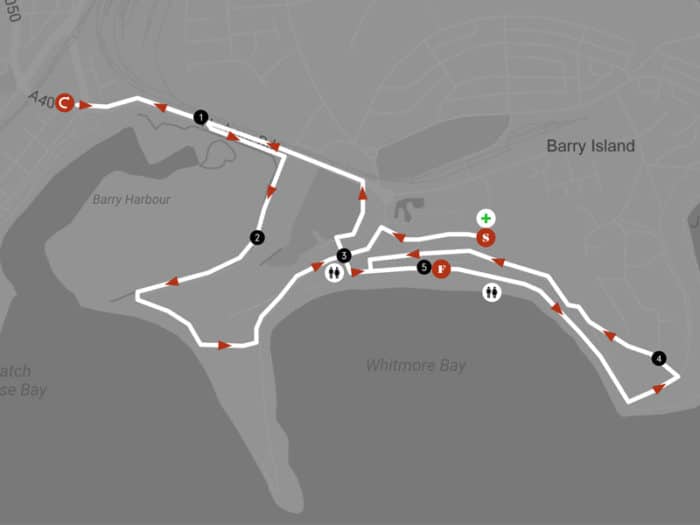 TRI247: You seem to have done well in getting a number of brands involved early on in the event?
SW: We were really lucky to get some awesome partners on board from day one. The guys at Pedalcover do wonders to promote British Tri and cycling and are local so they were happy to help from day one.
Speedo UK are helping us immensely with a great prize swag bag for 1st male and female and in providing the most bad ass swim caps known to man!
Our fist 100 sign ups were given a pair of CEP no show socks as well as a whopping discount code from CEP UK and the second placed male and female will also win a load of compression gear worth a £100 RRP.
The legend that is Magnus Bäckstedt is offering our athletes a £100 discount off a professional bike fit and his experiences as a pro circuit team rider and Kona athlete make this fit stand out about the rest.
Whittle Fit have provided a free 16-week training programme for our racers and this has helped a lot of people on their own personal journey to the start line.
Primal Pantry have kindly sponsored our Goodie bags and will be providing protein paleo bars.
High5 will support with nutrition. Benefit Drinks with beetroot and chocolate in the bags, Brains Beer will be providing a can of Barry Island IPA in the goodie bag so racers can have something to celebrate with. Framed. Display with Pride are providing our first male and female with something rather special instead of apiece of glassware or a trophy!
There will also be lots of other good stuff in the finishers bag from other partners such as Barrybados, Karma Beauty and Ricola sweets. We also have to thank the council, British and Welsh Tri, Swim Wales, Safestyle Security and DH Transport who are supporting us.
TRI247: And I believe its not just the podium athletes that could be coming away with a prize?
SW: Not everyone will get on the podium so we have agreed with our partners to support the average racer. We have created a community prize chest and we are really grateful to our sponsors who have bought into the concept. If we see you do something we think is cool on race day… a big cheesy grin…. Helping someone out (but not an Ali and Johnny help out as that now against the rules!), showing the will to succeed… whatever – if its cool and we see it… you can win something. It so important to show people that anyone can tri. Anyone can achieve and anyone can get involved (although I have had a few random calls telling me the they can't swim and don't have a bike…. can they still enter?). Er, yeah…. Just learn to swim and get a bike!
TRI247: Plans for the future?
SW: World domination… but in a nice way. We have ambition. We're hoping to put on another race this season… maybe a swim-run rather than a tri, but next year we want to push this a bit harder. That said it still has to meet our race criteria… would we race this ourselves? We have just dropped our first promo video on social this week. We are really lucky to be supported by Global Drone Surveys (when they are not zipping off around the world working nothings like the Blue Planet) they film us…. In February… in the sea…..now that was cold!
https://www.facebook.com/siwebb84/videos/878389592343767/
TRI247: And how do people find out more and enter?
SW: Really simple: www.allornothingevents.com hit the big enter now button. [UPDATE – since speaking to Simon, the SWYD Triathlon has sold out – though you can still go on to the waiting list and cross your fingers you will be able to get a place…).
Since conducting the interview Simon has been in touch to tell us about an open water induction session they held at a very sunny Barry Island:
"A GLORIOUS DAY. No better weather could have been booked for the SWYD Sprint Triathlon Sea Swim induction. 53 dedicated, mixed ability swimmers joined us for an enjoyable dip in almost tropical conditions. Well not quite… about 12 degrees.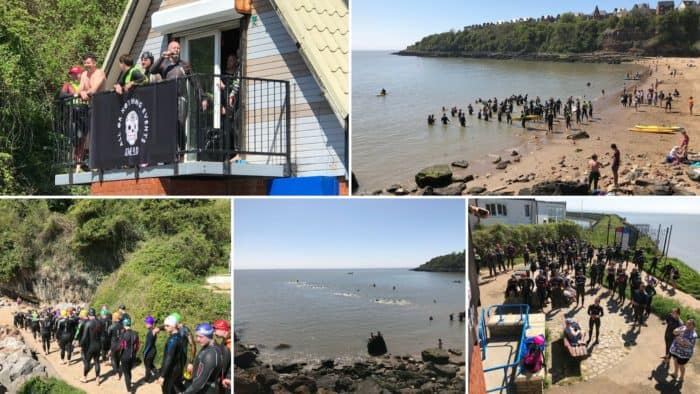 "This event was designed to help first time and less confident swimmers who were new to open water get a feel for the sea. No black lines to follow in Jackson's bay. The session lasted about an hour and we covered some rudimentary sea swimming techniques like sighting, breathing and pack swimming."