125km Capital Ring route added to ULTRA LONDON 2020
We featured the launch on ULTRA LONDON earlier in the year (HERE), a new long distance event from the Great Run Company, which featured 55km and 27.5km distances, for a new urban-ultra based in and around London.
That launch indicated plans to expand in 2020 to a complete circular route of 125km to include both the southern and northern sections of the Capital Ring. After a successful debut in October, that plan is to be realised – along with another two distance options – which will take place on a revised slot in the calendar, over 20/21 June 2020.
Here are the full details for those of you who like to run…long!
---
ULTRA LONDON doubles up in 2020
ULTRA LONDON, London's ultra-marathon will return on 20 & 21 June 2020 and this time it will more than double in size. After a hugely successful inaugural event, ULTRA LONDON will expand in 2020 with a new challenge of completing the entire 125km Capital Ring around London.
ULTRA LONDON brings an urban ultra adventure to the capital's doorstep, with participants challenged to run, jog or walk as they tackle one of 5 distances across the South & North sections of the Capital Ring, a 78-mile public footpath around London. Ranging from the scenic LONDON 27.5 up to epic ULTRA LONDON 125, an entire loop of the capital over two days, the events are accessible to all, whether seasoned ultra-runners, walkers seeking a challenge, or first timers looking to push themselves even further.
The event takes place on a surprisingly green and picturesque route and promises participants a chance to explore London's iconic scenery on a mix of hidden trails, footpaths, parks, disused railway lines and woodland around the capital.
Paul Foster, Chief Executive of The Great Run Company said, "We are delighted to be bringing London's ultra-marathon back to the capital in 2020. Building on the sold out first staging of the event, we are adding 3 new event distances and incorporating the Northern section of the Capital Ring. Our aim is to make ULTRA LONDON inclusive for all with distances suitable for walkers, runners, and those who will do a bit of both to complete their challenge.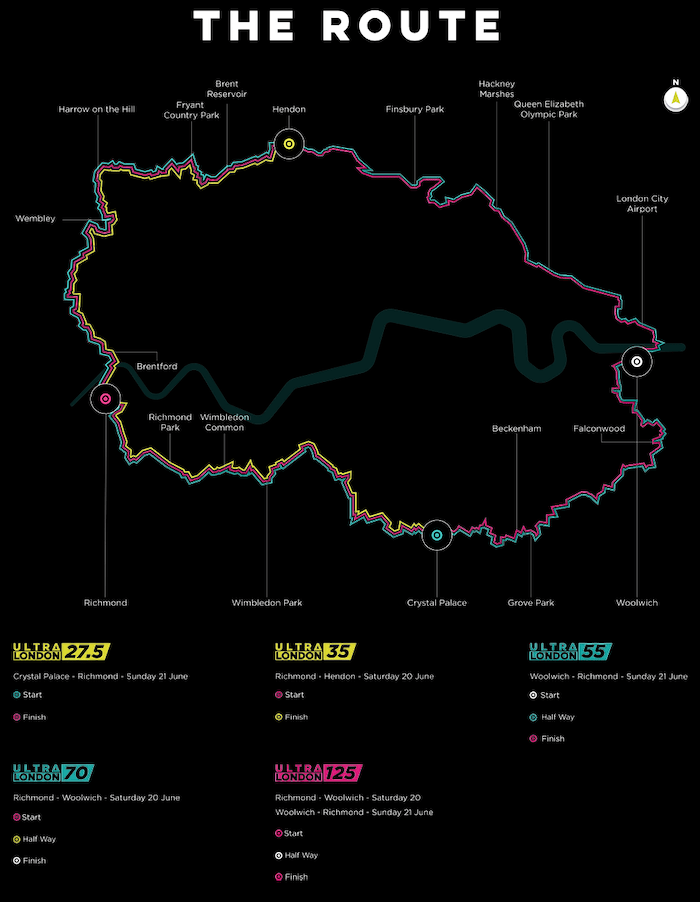 "London is the perfect location, there are stunning views & historic landmarks throughout the multi-terrain route, and excellent transport links aiding friends and family to support participants.
"The challenge of completing a circumnavigation of the capital is compelling and we look forward to developing this concept further."
ULTRA LONDON 2019 challenged participants to complete a 55km ultra-marathon along the entire southern section of the Capital Ring from Woolwich to Richmond (ULTRA LONDON 55), or tackle a shorter 27.5km route from Crystal Palace to Richmond (LONDON 27.5).
For 2020, the event is will expanded to offer the 3 additional distances;
LONDON 35 from Richmond to Hendon (35km) covering half of the full northern section of the London Capital Ring
ULTRA LONDON 70 from Richmond to Woolwich (70km) covering the full northern section of the London Capital Ring
ULTRA LONDON 125 which offers the challenge of completing the whole capital ring over 2 days – the North London section of the route (70km) followed by the southern section (55km) the following day
The ULTRA LONDON event will be take place on Saturday 20 (ULTRA LONDON 125, ULTRA LONDON 70 & LONDON 35) and Sunday 21 June 2020 (ULTRA LONDON 125, ULTRA LONODN 55 & LONDON 27.5). Entries are now open and the event is expected to sell out.
For more information or to become an ULTRA LONDONER, visit ultralondon.co.uk