Sunday 21st June 2020: Vélo Birmingham & Midlands
If a mid-season sportive ride is on your agenda – perhaps as training towards a long-distance triathlon event – entries have be re-opened and route details revealed for the 100-mile Vélo Birmingham & Midlands (www.velobirmingham.com).
Here are are all the details, courtesy of the race organisers.
---
Vélo Birmingham & Midlands' reveal 2020 routes & re-open entries
The Midlands 'gears up' for the third edition of its biggest annual charity fundraising event
Organisers of Vélo Birmingham & Midlands – the flagship event of the Birmingham Cycle Revolution – have today released full details of their 2020 routes and re-opened entries to the general public.
With both routes officially finalised, a limited number of general entries into the previously sold-out 100 mile route have been released along with entries into the 'point-to-point' 45 mile route from Birmingham to Coventry.
In addition to general entries, prospective riders can also ride for one of the event's official charities – Alzheimer's Society, Stroke Association, NSPCC & Queen Elizabeth Hospital Birmingham Charity. Charity entries are available for as little as £20, with minimum fundraising targets. Riders at this year's event are once again expected to raise well over a million pounds for a range of local and national charities.
Firmly established as the UK's second biggest cycling event, Vélo Birmingham & Midlands will take up to 18,000 riders of all abilities on an unforgettable 100 or 45 mile journey through the West Midlands on Sunday June 21, 2020.
Both routes remain largely unchanged from the hugely successful 2019 edition which saw tens of thousands of locals lining the route in support of the riders. Organisers have made some small changes to improve the rider experience and minimise the impact of road closures on local communities.
With a new start and finish in the heart of Birmingham city centre near Centenary Square, the 100 mile route will once again pass through the heart of the Coventry where riders will cycle over the cobbles, while the 45 mile riders will cross the finish line by Coventry Cathedral. Vélo Birmingham & Midlands is the only cycling event in the world that takes in two city centres as part of its route.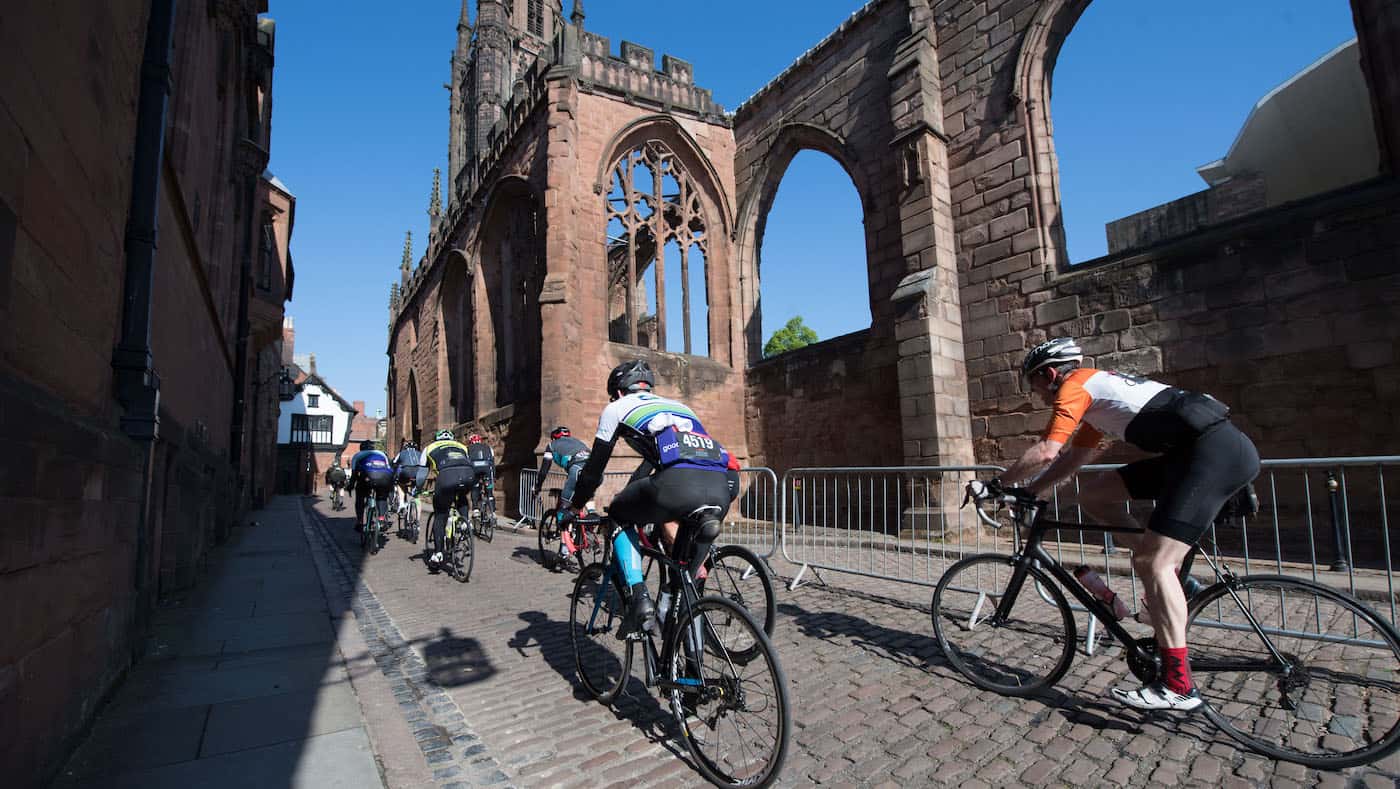 In between these two city centre adventures, the route will traverse through Warwickshire towns and villages such as Hurley and Fillongley, along with Solihull villages; Balsall Common, Berkswell and Cheswick Green, among others.
The stunning National Trust estate of Packwood House is another route highlight, while in Birmingham the Georgian streets of Edgbaston, and picturesque Bartley Green Reservoir also feature on the new route.
It's expected local residents will once again line the streets and cheer on the cyclists in their thousands as local pubs and community halls host street parties and barbecues on the big day. Organisers are advising road users to plan ahead for the event by looking at the detailed road closure maps and information on the event website. Any residents with specific access questions are encouraged to email route@velobirmingham.com or call the event answering machine service on 0121 396 1296.
The route has been agreed in partnership with Birmingham City Council, Coventry City Council, Solihull Metropolitan Borough Council, Warwickshire County Council, Dudley Metropolitan Borough Council and Sandwell Metropolitan Borough Council as well as Emergency Services and transport operators to minimise the impact of the necessary road closures.
View the routes in full and enter the event now at www.velobirmingham.com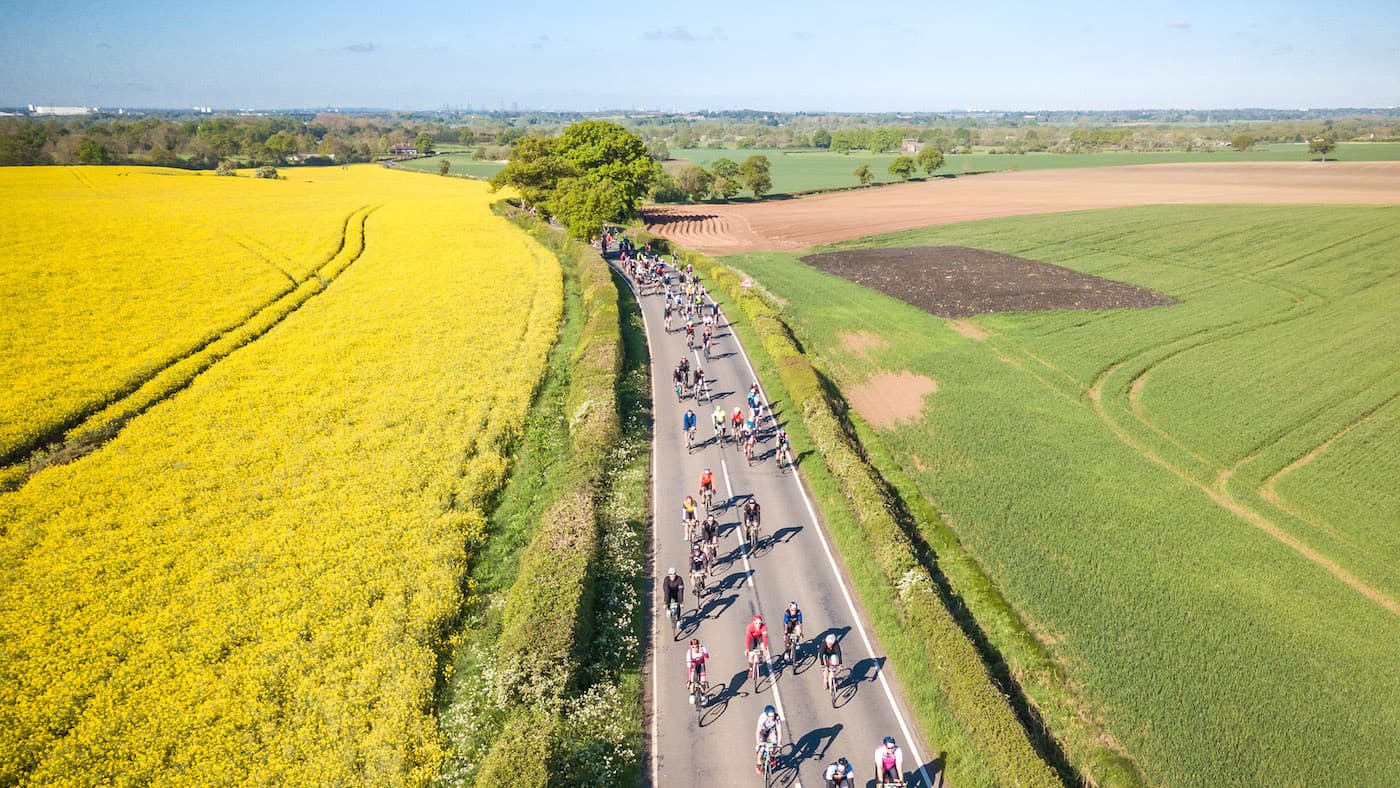 Road closures – plan ahead
To facilitate the safe passage of riders, road closures will be in place at various times during the event day. Businesses and residents based on or near the route are advised to visit www.velobirmingham.com/the-route/road-closures to find out the road closure timings and how best to navigate around them.
From Monday February 10, over 650,000 detailed information leaflets will be distributed to all residential and businesses addresses on and around the route, enabling residents to learn more about the road closures, plan ahead and find details of how to contact the event organisers should they need further assistance. A dedicated team will also be pro-actively engaging with all businesses on and close to the route to raise awareness of the road closures and find solutions to any access issues that arise.
Unrestricted Emergency Services access
Access for Emergency Services will be unaffected throughout the road closures and will always be prioritised during the event. Emergency Service representatives are, and will continue to be, involved throughout the planning of the event as part of the Safety Advisory Group to ensure that all Emergency Service providers can operate as normal on Sunday June 21.
How to take part
In addition to General Entries, riders can secure their place on the start line via one of Vélo Birmingham & Midlands' official charities – Alzheimer's Society, Stroke Association, NSPCC and Queen Elizabeth Hospital Birmingham Charity.
Business 100 corporate challenge
In addition to the charity entries, prospective participants can also secure their place on the start line via the Business 100 entry option and be in with a chance of riding alongside World Cup winning, former England Rugby captain, Martin Johnson CBE.
Supported by the Greater Birmingham Chambers of Commerce and The Birmingham Post, the Vélo Birmingham Business 100 provides the business community with a unique VIP participation experience alongside extensive networking opportunities. Companies are encouraged to visit www.velobirmingham.com/the-ride/business-100/ to secure their team now.
Volunteering opportunities
There are also plenty of volunteering opportunities for those not able to take part but still keen to contribute to the success of one of the West Midlands' biggest sporting events of the year. To register your interest to be a volunteer, please visit: www.velobirmingham.com/info/volunteers/
To find out more, please visit www.velobirmingham.com 
Quotes:
Councillor Ian Ward, Leader of Birmingham City Council, said: "Vélo Birmingham & Midlands is one of the biggest and well supported events in the Midlands' annual sporting calendar and we can't wait to welcome up to 18,000 cyclists of all abilities on Sunday June 21. With the 2022 Commonwealth Games now firmly on the horizon, Vélo Birmingham & Midlands is a fantastic reminder of the region's ability to host world class sporting events with immense support from the general public.
"With both the 100 & 45 miles routes now on sale, I'd encourage anyone thinking of taking part to take the plunge and give it a go. The feeling of cycling on traffic-free, unpolluted roads through the West Midlands will be an experience to savour."
Councillor Joe Tildesley, Cabinet Member for Tourism, Leisure and Sport at Solihull Council, said: "This event is quickly establishing itself an important date in the cycling calendar and is a fantastic opportunity to showcase the region.  Solihull is delighted to be hosting a key section of the route again this year. We have worked closely with event organisers to make some minor tweaks which we hope will help to minimise disruption and improve the route for all those riding on the day. We will be the first port of call for lots of people visiting the region to take part in the event and I hope that they will take the chance to spend some time in Solihull and explore the borough."
Councillor Maria Crompton, Sandwell Council's cabinet member with responsibility for leisure, said: "This is an exciting event that attracts participants from all over the country. We look forward to cheering on cyclists as they pass through Sandwell on the way to the finish line in Birmingham. We also work closely with the organisers of Vélo Birmingham & Midlands to keep disruption to residents, businesses and road users to a minimum."
Councillor Abdul Salam Khan, Deputy Leader of Coventry City Council, said: "Once again, Vélo Birmingham & Midlands looks set to be another fantastic sporting event in Coventry and the rest of the region. Last year, the event proved very popular with Coventry's cyclists and those who came out to watch them. I encourage everyone to take this opportunity to come and support the event and for entrants to explore Coventry and the rest of the region in a different way."
Councillor Karen Shakespeare, cabinet member for environmental, highways and street services at Dudley Council, said: "We're pleased to be able to help host this major cycling event through our borough. It is largely the same route as last year, so only a handful of roads in Halesowen will be affected. We are working closely with the organisers to make sure the event passes safely and residents are not too inconvenienced."
Richard Relton, Chief Executive of event organisers Active Sport, said: "Vélo Birmingham & Midlands continues to go from strength to strength and we are delighted to once again be returning to the Midlands on Sunday June 21. The 2019 route was a huge hit with our riders and I'm delighted that we've managed to keep it largely the same for 2020, with a few small changes which will benefit both riders and the local community. I would like to take this opportunity to thank all of our local authority partners for being so supportive of the event and sharing our vision of how beneficial it can be for the region."
Cllr Izzi Seccombe, Leader of Warwickshire County Council, said: "With the benefits to health and to the environment, the Council has been actively pushing cycling in recent years and the activity has had a real boost with the success of the Women's Tour and the Tour of Britain. The Velo will give more people the chance to get involved, as a spectator or even as a participant.  Again this will be fabulous for cycling in Warwickshire."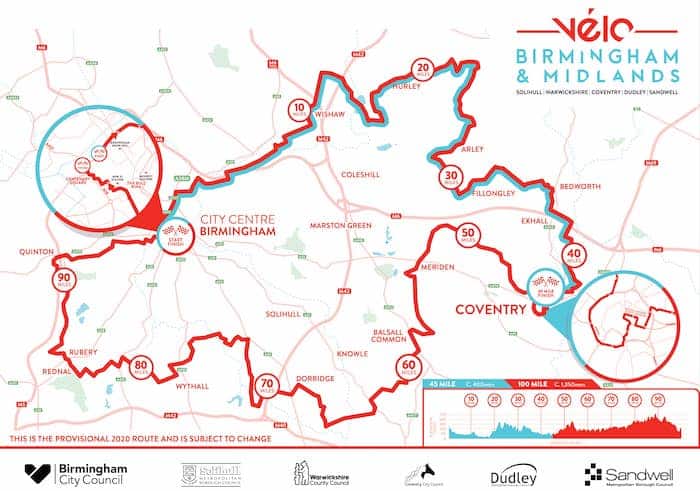 Route overview
0 – 25 Miles
Centenary Square will be the backdrop for the 2020 Vélo Birmingham and Midlands venue, with the start line located on the A4400 outside Birmingham Museum and Art Gallery. Upon crossing the start line, riders will exit the city centre of Birmingham via the A38 and A47, enabling them to get in a group right from the off and find a comfortable pace as they settle into the ride. Riders will pedal through the suburbs of Birmingham towards Warwickshire where they will get their first taste of the stunning countryside that characterises so much of the route.
25 – 50 Miles
Despite the absence of any major climbs, the route is relatively undulating between miles 25-35 as riders pass through beautiful country roads en-route to Bedworth and Coventry. A major highlight of the 2019 route comes around mile 40 when riders pass right through the heart of Coventry City Centre – the official 2021 'City of Culture'. Cycling on cobbled roads in front of thousands of supporters will be a truly unique experience and is certain to make every rider feel like a true pro!
50 -75 Miles
At around mile 51 riders will pass through the historic town of Meriden – once regarded as the geographical centre of England – where they will pass the National Cyclists' Memorial which was built to remember cyclists who died in World War One. From here, riders will continue to enjoy a mix of rural country roads and quaint towns and villages lined with enthusiastic supporters. Keep an eye out for Packwood House, a beautiful, timber-framed Tudor manor house and gardens owned by the National Trust since 1941.
75-100 Miles:
This is the final push as riders make their way back through the suburbs of Dudley and Sandwell and Birmingham. Riders will head back to Birmingham City Centre via the Ridgacre Road which will enable them to pick up the pace towards the finish! Upon crossing the finish line in the heart of Birmingham, riders will be directed back to the Event Village which is located in the iconic and newly redeveloped Centenary Square. Here, riders will receive their hard-earned medal before celebrating their amazing achievement with family and friends.