Looking for a fresh challenge? Give the Viridian Daventry Triathlon a go!
Have you been inspired by the racing exploits of the Brownlee brothers? Have you ever thought about giving triathlon a go, but a bit unsure about what to expect or whether it's for you? Well there's still time to get involved, so why not sign up for this year's Viridian Daventry Sprint Triathlon.
Taking place on the 17 September and based out of Daventry Leisure Centre, the event is perfect for those new to the sport and more experienced triathletes looking for a racing challenge. Now in its sixth year, the race is known for providing a well-run and safe experience and has become an eagerly awaited fixture on the local sporting calendar.
Organised this year in support of the Local Air Ambulance and Genetic Disorders UK, the event involves a 400m pool swim, 20km cycle through rolling Northamptonshire countryside and a 5km run around Daventry Country Park. With age-group prizes and every finisher grabbing themselves a t-shirt, medal and goody bag – why not give it a 'Tri?'
If you still need some convincing, we've spoken to Tom Welch, a competitor who's taken part in every Daventry Triathlon since its launch in 2011, about why it's the challenge for you:
What got you interested in Triathlon?
At first I wanted a new challenge to test myself. Having never attempted a triathlon it was a great adventure. I enjoyed the training and seeing my fitness progress and I found that not only could I go further (and faster) each week I also became more energised in all aspects of my life.
I also worked out that there was only one person that I had to compete against. Every time I trained I tried to beat that person. Each time I went to the swimming pool I would always race against that person. Always pushing making the training fun yet challenging. That person is me.
 Why do you keep coming back to the Viridian Daventry Triathlon?
The Viridian Daventry Triathlon is run by an awesome team of people from the Rugby Triathlon Club. They are so welcoming and patient. The whole experience from registration to finish line is fantastic. A great atmosphere and well marshalled.
I love Daventry and this great event brings people together. It is very warming to support the local triathlon. There is also an entrant's T shirt and finisher's medal (which looks AMAZING). However, that feeling of gritting your teeth up Welton Road, just one last push, turning the corner and running down Lodge Road across the finish line cannot be bought it has to be earnt! It is a huge achievement and something to be very proud of.
 What advice would you give anyone thinking about trying Triathlon for the first time?
If this is your first triathlon – just go for it! Train for it so that on the day you can enjoy the day. Take each discipline separately. Two things to remember though: Smile for the camera at the finish line and don't forget to take your cycle helmet off for the run!
 Can you sum up your experience of the Viridian Daventry Triathlon in five words?
Friendly, camaraderie, accomplishment, fun, challenge.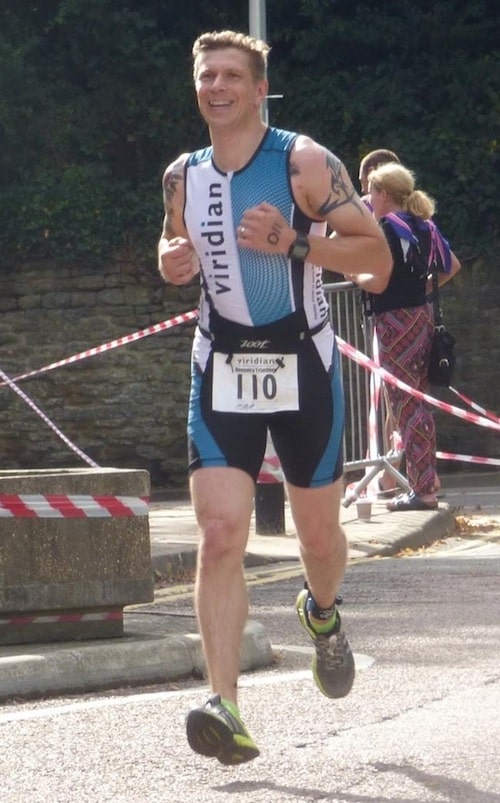 If you want to find out more about the Viridian Daventry Sprint Triathlon then please visit the Rugby Triathlon Club race page: http://www.rugbytriathlon.org.uk/racing-series-2017