Another wonderful weekend at the Woburn Abbey Triathlon
Thousands tackle sporting challenges for charity
Over two thousand triathletes descended on the picturesque venue of Woburn Abbey in Bedfordshire on Saturday 8th and Sunday 9th September, for a weekend of sporting challenge, family fun and charity fundraising. A record number of participants took part, completing triathlon distances from SuperSprint to Middle Distance, as well as junior events and the kids Scootathlon.
Saturday morning began with the 220 Triathlon WoBurner participants taking on the challenge of 1900m swim, 90km bike, 21.1km run – a tough but picturesque course that included a swim in the larger lake in front of the Abbey, and an undulating cycle route through some scenic British countryside. A new run route offered the chance for triathletes to access a normally private section of the Park and experience the beautiful 'Evergreen' area of the grounds.
Richard Bull finished in 4:33:19, followed by last year's winner Piers Vallance in 4:43:58 and Thomas Joly De Lotbiniere in 4:47:37. The first woman was Rebecca Geekie in 5:36:05.
Olympic and Sprint triathletes also raced on the Saturday and Sunday, completing a 1500m swim, 44km bike, and 10.5km run. The fastest Olympic time over the two days came from Charlie Holt who completed the course in 2:06:20, whilst Matthew Valentine topped the podium in the Sprint with a time of 1:10:10. Female winners were Elizabeth Longinotti (2:39:23) and Bridget King (1:21:14).
Sunday was a busy day for families, with Junior triathletes aged between 9-16 taking to the course bright and early. Many were completing their very first triathlon, supported by huge crowds of friends and family cheering them over the finish line.
In the 9-12 category, George Mahon finished in a speedy 14:48, with Melissa Eve Cooper coming first out of the girls in 15:22. The 13-15 age category saw Adam Hunt take the top spot in 27:28, with Madeline Grace Cooper leading the ladies over the line in 28:54.
Those who fancied trying out multisport at an even younger age had the opportunity to complete the Scootathlon, for four to eight-year olds. Involving a scoot, cycle and run over a small area in front of Woburn Abbey, this was a fantastic chance for youngsters to get involved in the day and enjoy being active, with many having siblings and parents taking part in the longer distances.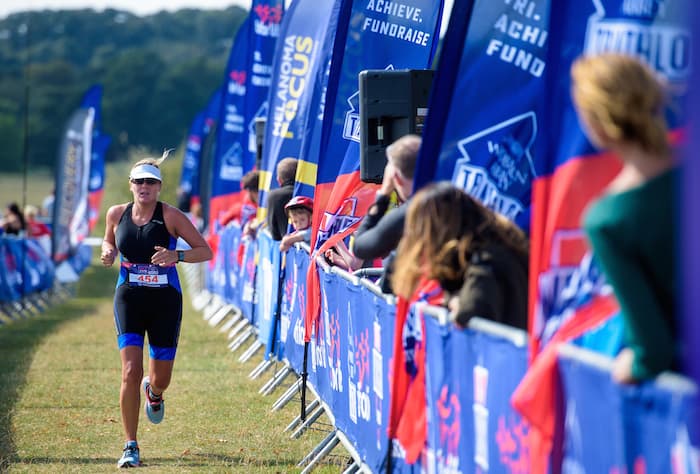 The final waves of the day included the Supersprint with many great performances from the participants; newcomers and experienced alike. Luke Harris (36:32) was the male winner, with Robyn Vere Nicoll (38:01) grabbing the title for the females.
Official Sports Nutrition Partner of the Woburn Abbey Triathlon – Optimum Nutrition – were on hand to ensure that triathletes were maximising their recovery with an Optimum Nutrition Gold Standard 100% Protein Shake, and guidance from Optimum Nutrition ambassador, Mind & Body Coach, Kim Ingleby in the Recovery Zone.
"The Woburn Abbey Triathlon continues to go from strength to strength, with yet another record-breaking year in terms of participants, and a fantastic atmosphere over the weekend," says Nick Rusling, CEO Human Race. "We are delighted to be a part of such a great event, which combines getting active with fundraising for charity. It's an event that makes a difference to so many people, both through sporting achievement and the funds raised for worthy causes."
The Woburn Abbey Triathlon is organised by registered charity tri for life and delivery partner Human Race events, and since its inception has raised over £2.4 million for its charity partners. This year athletes young and old raised money for tri for life, who donate all profits from the event to Great Ormond Street Hospital and Melanoma Focus.
"It's great to see the Woburn Abbey Triathlon becoming one of the 'must-do' events in the calendar with distances for everyone, whether beginner or advanced," says Marcus Anselm, tri for life trustee. "Each year we are looking to develop the event experience for our participants, with 2018 offering a drummer band out on the route, and a DJ at the finish line, as well as the exciting new run course on the Saturday. With entries for 2019 now open, we're looking forward to creating another fantastic weekend next year!"
Entries for the 2019 Woburn Abbey Triathlon are now open – head to www.humanrace.co.uk/woburn-abbey-triathlon to sign up.