Jonny Brownlee celebrates one month to go until triathlon spectacular with city landmark takeover
Olympic silver medallist Jonny Brownlee has today unveiled triathlon inspired artwork which transforms the Town Hall, as the city counts down to the Columbia Threadneedle World Triathlon Leeds taking place on 10 and 11 June.
In less than a month's time, the world's best triathletes will arrive in Leeds to take on the best of Britain in the fourth leg of the ITU World Triathlon Series. Triathlon's Rio Olympic heroes Alistair Brownlee, Jonny Brownlee and Vicky Holland adorn the city's most iconic landmarks and are urging sport fans across the country to come out in their thousands to watch the elite action on Sunday 11 June.
In 2016, the Columbia Threadneedle World Triathlon Leeds hosted in excess of 80,000 passionate spectators across the weekend. The event, which starts in Roundhay Park, will see triathlete's race through the streets of Leeds before heading to the blue carpet finish in Millennium Square. A small number of Millennium Square grandstand tickets remain, and fans need to act quickly to avoid missing out on the best seats in the city.
Tickets are priced at £30 for adults and £20 for under 18's) (plus booking fee) and can be purchased online here. With the women's race starting at 13:06 and the men's at 15:45, ticket holders can expect well over four hours of live triathlon action.
Olympic silver medallist and runner-up in 2016, Jonny Brownlee can't wait to get racing, commenting: "The Town Hall and rest of the city look amazing today and I can't wait to get out there and race. After Yokohama everything is now focussed on being the best I can be in front of a home crowd. Last year, it was a wall of noise with the streets packed full of fans. As an athlete you can't ask for more and I hope even more fans from across the country are inspired to travel to Leeds and cheer us on."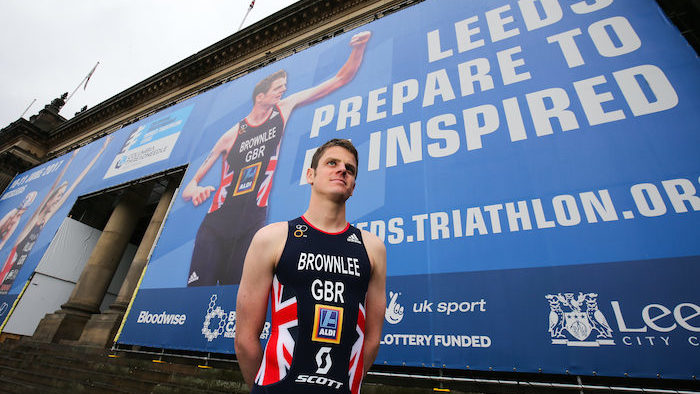 Leader of Leeds City Council Councillor Judith Blake, said:
"With just one month to go before the second Columbia Threadneedle World Triathlon event to be held in Leeds, there is a real buzz of anticipation in the city.
"We are of course extremely proud that Leeds is both a home and a base to so many wonderful triathletes. It is fantastic therefore to see iconic Leeds Town Hall adorned with an array of triathlon inspired artwork, which features of course our very own Brownlee brothers.
"The atmosphere at last year's event was simply sensational, and both athletes and spectators can once again be guaranteed of a very warm Yorkshire welcome next month."
Rupert Pybus, Global Head of Brand and Marketing at Columbia Threadneedle Investments said: "We can't wait to see Leeds full of amateur and professional triathletes achieving success, as well as enthusiastic supporters, for what will be a great weekend of triathlon sport next month."
Opportunities are still available for athletes of all abilities to warm up the course on Sunday morning, with sprint and standard distance events offering a unique 'point to point' course. Entries start from £79 and be purchased via the event website, but hurry the closing date for entries is 17 May 2017: http://leeds.triathlon.org/enter_now
The 2017 Columbia Threadneedle World Triathlon Leeds is supported by the National Lottery and organised by British Triathlon, in partnership with Leeds City Council, UK Sport and the ITU. For more information and to enter, please visit http://leeds.triathlon.org.