Missing your regular 'Club 10' Time Trial? Try this instead…
There have been – and will continue to be – no shortage of virtual and online event offerings and challenges available to athletes, while we continue to be in a position where the usual real-world options are off-limits due to the global pandemic.
Smart Trainer sales have never been higher, while more people than ever have been riding on virtual platforms such as Zwift, Trainer Road, Rouvy, The Sufferfest, RGT Cycling and many more offerings in the market.
Despite its full schedule of organised events, groups rides, workouts, challenges, road races and more, there are still relatively few pure Time Trial options on Zwift. Given that, four weeks ago – with support from Zwift – we added the TRI247 Manic Monday Time Trial. Despite nothing more than a few social media posts, it has proven very popular and we've used those weeks to fix a couple of small configuration issues. If you are missing your 'Club 10' TT, then give this a try!
It's you against the clock (check out the unique Heads Up Display (HUD)) with timing checkpoints along the way. Ride it however you want – a 100% blast, a sweetspot effort within a longer ride or whatever best fits your own training week.
Some course (flat), same time (7:10pm UK time), same distance (17.6km) every week, you can join on the link below or through the Zwift Companion app.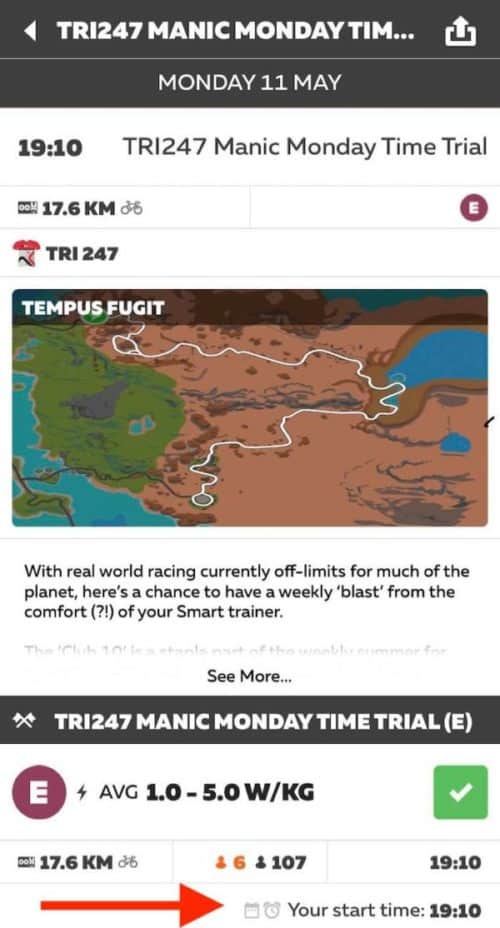 When you sign up for a TT event, you'll get an individual start time (equal to or after the event's start time). Make sure to log in and join the event before that time, and your avatar will line up on one of the conveyor belts in the starting pen. These belts will move riders up and release them in staggered starts. Start pedalling before the countdown hits zero. When it's time for your row to leave the pen, your avatar will speed up to 20 miles per hour for a rolling start. Cross the line and it's go time!