Seven-strong ashmei Triathlon team boasts international athletes from around the globe
For 2017 ashmei is proud to announce a seven-strong triathlon team, which includes international level athletes from across the globe. The team is led by GB Age Group International Louise Croxson, who has been with the brand since 2015:
"I started endurance sports in my late twenties as a way to get fit and healthy. Triathlon was a natural progression after realising marathons weren't for me. Over the years my hobby has turned into a passion with growing commitment and determination to drive myself to be the best I can be. This year I will be taking some time off full time work as an accountant to concentrate on my training for the age group National Championships in Leeds and the World Championships in Rotterdam later in the season.
The support and belief in me from ashmei as an athlete has both strengthened my confidence and improved my wardrobe. The brand's marriage of style and performance are key attributes I endeavour to possess. I have met some aspiring athletes through the ambassador programme and have been lucky enough to travel to some amazing places with them."
Denmark's Jesper Nybo Riis, is son of 1996 Tour de France winner Bjarne Riis:
"I'm very aware of how I personally approach the world of sport, probably as a result of my dad once being one of the best bike riders in the world. But also because I have had chance to mix with many top calibre athletes.
I see sport as a personal development – education, you could say. With triathlon I am working towards becoming a professional, which I am hopeful of achieving within the next two years. This has meant that I have had to shift my focus – and preparing for and competing in triathlon events now takes priority over work."
Ili How, based in Taipei, is new to the ashmei triathlon team. A passionate triathlete, she is currently the anchor of FOX Sports Taiwan.
"I enjoy watching sports, talking about sports, and being outdoors for sports events. I've been involved in triathlon for six years, and so far I've finished 10 half-ironman-distance races, including the 2016 IRONMAN World Championship on the Sunshine Coast. My next one will be the upcoming Championship of Challenge Family. Afterwards, I will turn my attention to the full distance IRONMAN.
I was introduced to ashmei two years ago. It was not only its simplicity that caught my attention, but the comfort ashmei has to offer. I do appreciate the fact that ashmei takes good care of the details. Now my ashmei cycling kit has become my training motivation, even in bad weather."
Nigel Gaskin, now a GB Age Group Aquathlon and Triathlon International, originally comes from a swimming background:
"I was introduced to swimming at the age of five and started competing at the age of eight. After six years out of the water, I returned to the sport again and have managed to race at a high level. I am currently a holder of World, European and GB Masters swimming records and in June 2015 I was selected to represent Team GB, for the first time, racing in the (ETU) European Aquathlon Championships in Cologne, Germany. I have since represented Team GB on two further occasions both in aquathlon and triathlon events. I have qualified and raced in two World 70.3 Ironman Championships and now hold a Gold AWA Ironman status (top 1% in my AG in the world).
I joined ashmei as an ambassador in 2016, not only has the company provided excellent clothing, help and support, but it has also given me a once in a lifetime opportunity to represent the brand. Here's just a few things I've got to look forward to this year – representing Team GB at Olympic distance ETU Triathlon Championships, Austria; Ironman 70.3 Wimbleball, Edinburgh and Weymouth – where I have my eyes on qualifying for the 2018 World 70.3 championships.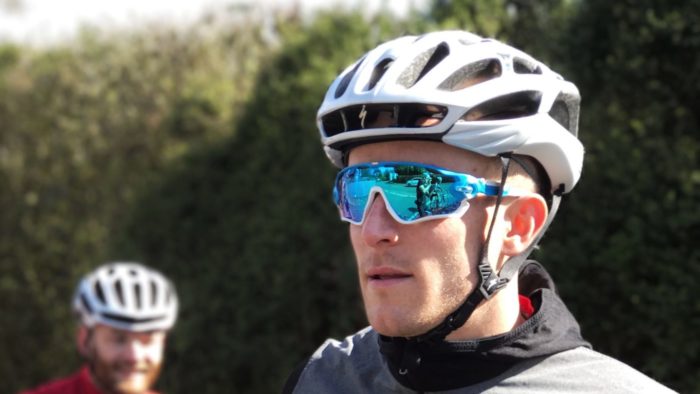 Paul Cowling is both an athlete as well as an event organiser – with the Rutland Marathon and SwimRutland events under his aegis:
"I race Ironman because there's nothing tougher in triathlon. My focus for several years has been the Ironman World Championships in Kona, Hawaii. I'm motivated by the harshness of the conditions, the calibre of my opponents and the potential for achievement. I love big days and big occasions. It is what I thrive on. I work for months, years, for one shot at the prize.
I swim, bike and run almost every day and I've adjusted my whole lifestyle to accommodate my obsession. This season I will race in Kona as well as the new Marathon Des Sables in Peru at the end of November plus the 70.3 Staffordshire as a warm up race."
Another exciting new addition to the tri team this season is local to ashmei athlete Gemma Elliott-Wetton:
"Having completed my first Olympic distance triathlon as a challenge for charity in 2013, I have been on quite a journey. I began to realise my strengths lie within sprint distance triathlon, and that I have a real love for competing and a burning desire to be faster.
Having qualified last year, I will be going to the Age Group European Championships in sprint distance triathlon and duathlon this year. I am very excited to be travelling to race and competing at this level for the first time. I will also be competing in the British Championships and aiming to qualify for the Age Group World Championships in sprint triathlon.
I was thrilled to be selected as an ashmei ambassador, joining up with a brand that clearly puts the athlete at the centre of what they do.  I am at an exciting and busy time with my competing and looking forward to continuing my journey with the support of the brand."
Tom Baker is a UK-based cross country triathlete and PT, enjoying his second year with the brand:
"I first jumped into the wonderful world of triathlon in 2013 and soon gravitated towards cross triathlon and the different challenges it brings. My roots have always been off-road. I love the freedom and tranquillity that can be found off the beaten track, whilst still pushing yourself to be the best 'you' possible. I use ashmei products for this as they allow me to not have to think about what I'm wearing and focus on the task at hand.
2017 will see a lot of racing for me and I'll be at plenty of UK triathlons and duathlons as well as my A races at Xterra Belgium and Switzerland. After a decent winter's training I'm ready to race hard."