Bkool are delighted to announce a partnership with the most exciting race series in Triathlon, Challenge Family. From this month, the bike legs of several of Challenge Family's world renowned races will be filmed and uploaded on to the Bkool Simulator for competitors and fans to ride on their Bkool Smart bike or turbo trainer.
Using the GPX data from the races, Bkool will upload the courses to their simulator subscription service with the full set of Challenge Family races to be included on the simulator by December 2019. This exciting partnership will give triathletes training for a Challenge Family event the opportunity to practice the actual route profiles and perfect their technique on iconic climbs and descents.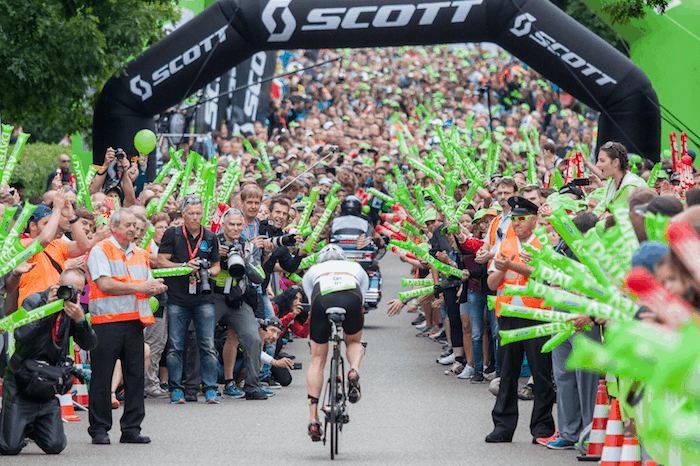 Commenting on the partnership, Luke Gold, Marketing at Bkool says:
"We're extremely excited to work with Challenge Family. With an incredible roster of races and elite lineups to rival the World Championships, Challenge are fast becoming the most exciting race organiser in all of Triathlon. We hope that this partnership will add an extra dimension to both the Bkool simulator and the Challenge Family races, allowing competitors and fans to practice their favourite races all year long."
The Bkool and Challenge Family partnership will see the the following exciting races added to the simulator :
Challenge Roth – Experience one of the hottest races on the calendar; Sebastian Kienle blew away the opposition in 2018 with a rapid bike time which set him up to winning by astonishing seven minutes! Get to grips with the key climb on the course by riding the route on the simulator.
Challenge Geraardsbergen – Prepare to ride one of the most iconic climbs in cycling the Muur Van Geraardsbergen. Preparation will be crucial for tackling the fearsome Muur, with gradients of up to 19.8%.
Challenge Madrid  – The home of Bkool, Madrid will host a race for the climbers. The course features three of the capitals hardest climbs, learn to pace yourself on the simulator and get your race strategy nailed.
Challenge Taiwan – Don't just prepare for the soaring Carp mountains but enjoy the spectacular views of the Pacific Ocean coastline as you get yourself dialled in for this event on the simulator.
Challenge Davos Festival – One of the hardest bike courses on the calendar. Make sure you are prepared to be taken to elevation. The Ospiz Fluelapass will be critical as it takes you up to 2383m of elevation. Be prepared for multiple hours uphill!
Zibi Szlufcik, CEO at Challenge Family, commented on the partnership:
"Partnering with Bkool is a fantastic opportunity for both our competitors and fans. As well as giving Bkool users a competitive edge in our races through practicing the routes, it will also open up the full Challenge Family portfolio allowing users to trial a race before purchasing entry."
All Challenge Family competitors will also be offered a 10% discount on all Bkool products to make sure they have the edge on their competitors during the bike leg of the course.