HUUB enter the cycling market: Team Sponsorship and Apparel
Rarely a brand to stand still, HUUB (www.huubdesign.com) have made a significant play towards the cycling market, with the announcement of the HUUB Wattbike Test Team (www.huubwattbike.com). In addition to that, they have added a range of cycling specific kit to their product line, alongside their triathlon wetsuit origins.
The news was announced last week (the team are currently competing today – successfully – at the UCI Track World Cup on Paris), but arriving with us right in the middle of our 2018 Kona coverage, we are still playing catch up.
https://www.instagram.com/p/BpHdXw3BFsv/
It's an interesting move and the links are not completely new, with former Age-Group triathlete and multiple National Time Trial Champion, Dan Bigham, already a consultant and part of the design team for several HUUB products over the past 12/18 months, utilising his expertise in all things aerodynamics.
Here is the full 'team' announcement from the Derby-based brand.
---
HUUB sponsor the team disrupting the cycling world
HUUB have announced sponsorship of an innovative Derby-based track cycling team which are currently among the fastest in the world. HUUB Wattbike Test Team, as they are now known, started life as Team KGF – a group of cycling enthusiasts who shared a passion for the engineering and science behind elite performance sport.
Since relocating collectively to Derby from their homes across the UK specifically to train at the Derby Arena velodrome, they have made an indelible mark on the sport in what has been hailed a 'David and Goliath' story.
As amateur riders, Dan Bigham, Charlie Tanfield, Jacob Tipper and Jonny Wale pooled their money and continued their jobs or university studies to compete at national and international competitions where they were soon taking on the world's top team and individual pursuit riders.
After a string of podium places, including gold at the national championships in Manchester – beating the British Cycling team pursuit riders, they went onto win gold in the UCI world cup in Belarus last November in 3:56 – just five seconds off the world record.
Now, with the new UCI track season just weeks away and this vital sponsorship under their belts, the HUUB Wattbike team have their sights set on more medals and smashing world records with the new line up of Dan, Jacob, and Jonny who have been joined by John Archibald and Harry Tanfield.
They are gearing up for a six-month international season which will see them competing against some of the world's top national teams such as Australia, New Zealand and British Cycling as well as feeder teams who also have the Tokyo 2020 Olympics in their sights.
This season, the team will have the added benefit of drag-reducing cycling kit which has been produced specifically for them by HUUB using a patented performance-enhancing design developed in partnership with computational fluid design experts, TotalSim.
HUUB founder and owner Dean Jackson explained that his support for the team was another example of Derby businesses and organisations coming together to make great things happen.
"Derby as a whole should be very proud of this team. They epitomise the city's credentials in innovation, technology and sheer determination and are definitely one to watch.
"These guys are the 'Cool Runnings' of the cycling world. Having been originally ignored by the cycling establishment, they have taken the sport by storm by taking a fresh, maverick-style approach to team and individual pursuit and time trial.
"They have already achieved a great deal with the support of a number of businesses and organisations including Derby City Council with access to the velodrome, Derbyshire Institute of Sport, the University of Derby, Derby College, Bowmer & Kirkland, Century Mobile and Invictus Communications.
"Our support includes making the patented cycling suits that they helped to design which are scientifically proven to help in their quest.
"We have also recently been joined by co-sponsors Wattbike, based in Nottingham, and are delighted to be working with the guys to help them achieve their goal of being the fastest in the world."
Team manager and rider Dan Bigham, a former Mercedes F1 engineer with seven national team and individual pursuit titles, has been hailed by cycling hero Chris Boardman as 'the first person to look at the demands of the event rather than the history'.
Bigham's innovative approach to equipment, training and strategy has turned the sport on its head.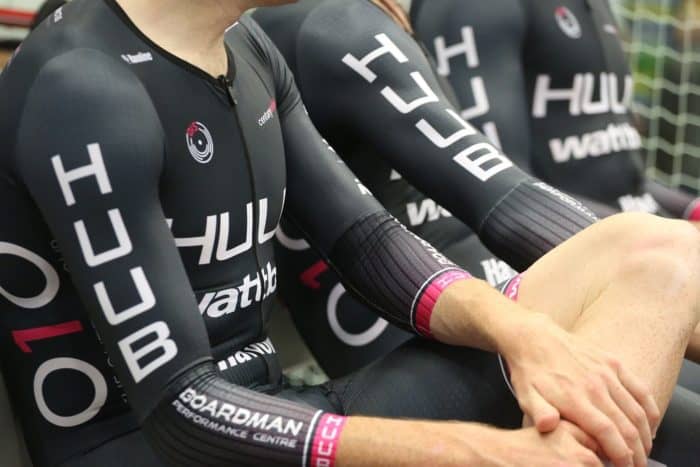 This includes developing the team pursuit system that is based on the strengths of the individual members – rather than the traditional approach of fitting riders to an agreed system.
He said: "We only have 18 months' experience at this level and, although we are pleased with what we have achieved so far, we know we can go faster.
"Our budget is around £30,000, and we're competing against teams such as British Cycling who have a £34 million four-year budget which really puts this into perspective. It just shows what can be achieved by working with like-minded people.
"We have adopted Derby as our home. The initial draw was the velodrome which has produced the biggest proportion of medal winners in the UK. That is down to the coaching staff and the access available to elite athletes.
"We have since had so much support from organisations and businesses and, moving forwards, HUUB – like the City of Derby – is the perfect match as we share their ethos of research, science and reality and of course engineering innovation.
"With this support in place, we are really looking forward to the coming season and to taking on the biggest and currently the best national teams in the world."