Theragun Continues Unrivalled Endurance Space Dominance with IRONMAN Partnership
Theragun, the preeminent name in percussive massage therapy, has unveiled a collaboration with leading triathlon race series, IRONMAN.
The tie up, which makes Theragun the official percussive therapy device of the IRONMAN U.S. Series, covers the 2019 IRONMAN and IRONMAN 70.3 event series.
Coupled with onsite brand education opportunities at races, Theragun will host key activation and recovery stations at IRONMAN race transition stations, to alleviate muscle cramps and stimulate muscle recovery to enhance triathlon athlete performance. The 2019 IRONMAN Triathlon World Championship will take place in Kona, Hawaii on Saturday, October 12, 2019.
Amongst those benefiting from using the Theragun on race day is Lucy Charles-Barclay, an English professional triathlete and the fastest growing star within the highly competitive sports category. A two-time runner-up at the IRONMAN World Championships in Kona, Charles-Barclay aligns with and complements Theragun's unmatched pursuit of athlete performance and recovery.
"During my years as a swimmer or now as a professional triathlete, some of my key learnings for success have been about preparing and recovering the body for what I put it through," shared Lucy Charles-Barclay. "Using Theragun for some time now has helped me to be the best I can be in terms of both training and racing. I use it at home and when traveling as an essential part of my preparation, recovery and ongoing maintenance. Whether it's loosening up my arms and legs before and after I ride or swim or keeping joint pain at bay after a long run, my Theragun has proven to be convenient, easy to use and most importantly effective; it gets me results."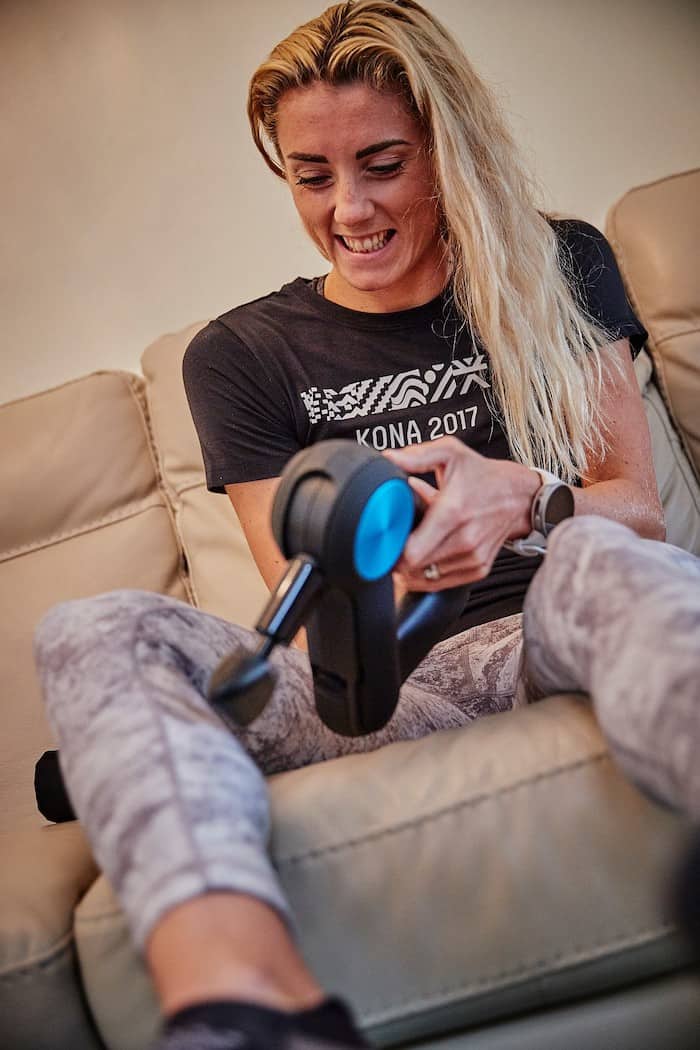 Since her 2014 debut in triathlon, Charles-Barclay has become a top-ranked female triathlete and IRONMAN Champion. Previous accolades include: 1st Place in the 2019 and 2018 IRONMAN African Championship, 1st place in the 209, 2018 and 2017 Challenge Championship, 1st place at the 2017 IRONMAN Lanzarote, 2nd place in 2017 and 2018 IRONMAN World Championships, 2nd place in the 2018 IRONMAN 70.3 World Championship and 2nd place in the 2017 IRONMAN European Championship.
As a Theragun brand ambassador, Charles-Barclay joins a suite of professional athletes that tout the myriad of performance and recovery benefits Theragun offers, including CrossFit champion Mat Fraser, fellow IRONMAN Champion Ben Hoffman, and NBA Lakers trainer Gunnar Peterson, among others.
"We are very excited to be the official Percussive Therapy partner of IRONMAN as well as having a world-class triathlete Lucy Charles-Barclay as a Theragun Athlete," shared Theragun founder, Dr. Jason S. Wersland. "Theragun is quickly becoming a staple for endurance athletes around the world. They turn to the Theragun to warm-up, stay loose and recover – it's an essential part of their training and race day routine. We support our triathletes by continually educating that community on how to use the Theragun to prevent injury, maximize endurance, and recover faster and more efficiently."
Theragun's unique family of premium devices are designed for everyday and everyone's needs, athletes and individuals alike.
Theragun was founded by chiropractor Dr. Jason Wersland in 2008 and officially launched in 2016. The brand's flagship device, the G3PRO, and newly launched G3 and liv devices, are all available for purchase at www.theragun.com.
For more information on Theragun's latest product offerings and to stay up to date on company news, download the Theragun app and follow the brand on social media via Instagram, Facebook, and Twitter.