Triathlon Scotland is delighted to announce that Stirling based family company, You Can Sport, have signed a three-year deal to become the headline sponsor of the Triathlon Scotland Rankings Series.
The Ranking Series is a showcase for Triathlon Scotland's fantastic permitted events, and the You Can Sport commitment to healthier, happier lifestyles through sport is an excellent compliment to the popular series.
Triathlon Scotland and You Can Sport will work hand in hand to promote the benefits of taking part in swim-bike-run through the You Can Sport Ranking Series until 2021, and together they will launch an additional ranking series called the You Can Sport Corporate Cup which will be aimed at improving workplace health and fitness.
Speaking of the partnership, You Can Sport Co-Founder and Director Craig Coull said:
"It is great to work with Triathlon Scotland, a dynamic and forward-looking organisation with a passion for developing the sport.
"You Can Sport linking up with the Ranking Series fits perfectly into our ethos of creating healthier, happier lifestyles through sport.  It is an exciting opportunity to help further evolve triathlon and to reward the efforts of those taking part in the series."
The Ranking Series is an important membership benefit and is loved by Triathlon Scotland members across Scotland.  Points collected can eventually lead to an overall or age group prize, and club members can take part together too, with individual club member points accumulated throughout the year.  There are two prize categories, large club (150+ members) and small club (1-149 members) in both adult and youth rankings.
Events and Marketing Manager Gemma Simpson explained:
"The Ranking Series is designed to reward members who enjoy taking part in our permitted events. We are delighted that many of our affiliated clubs make the Ranking Series their club focus for the year and we always have fantastic support from parents who encourage their children to take part in the aquathlon and triathlon Ranking Series events."
To mark the new partnership, the Rankings Series will be expanded to include a new You Can Sport Corporate Cup challenge.  The Corporate Cup will be used as a tool to engage with business leaders who want to create a healthier and happier workforce through sport.
Craig explained:
"One of the first projects You Can Sport was involved in was working with Scottish Sea Farms to create a family activity day for all the staff to enjoy.  A triathlon event was the focus for this day, and over three years the event and group training has helped employees to enjoy swim-bike-run as an individual challenge, or as part of a team.
"We know from feedback that being involved in regular physical activity has had a profound impact, with colleagues reporting there is now healthier foods, more activity and happier relationships amongst colleagues at work.
"Our plan now is to work with Triathlon Scotland to identify a number of events for the Corporate Cup and groups of people currently taking part in the sport who are involved in business to create corporate ambassadors who will help us on our mission to generate individual and team participants, and eventually winners at the end of each year."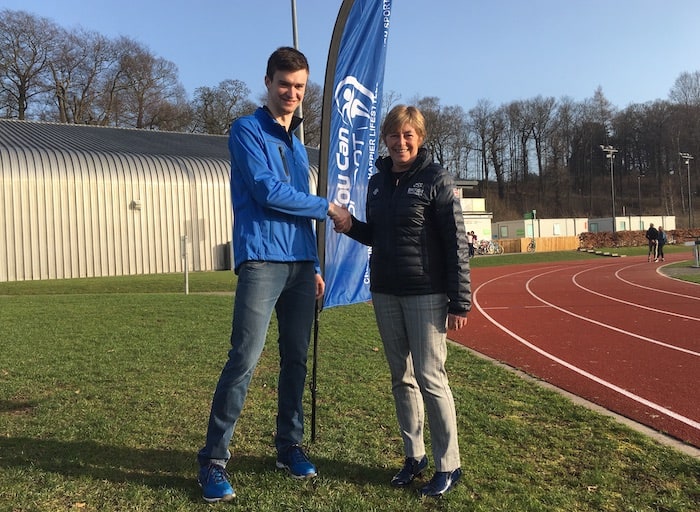 More details will shortly be announced about the new Corporate Cup; how to earn points and how to help people from your business community to get involved.
Chief Executive Officer Jane Moncrieff said:
"Over the past four years Triathlon Scotland has been working hard to introduce new people to our fantastic sport.  We noticed the positive impact that You Can Sport were having on one workplace, and so we want to see how far we can take that by working in partnership to develop the new You Can Sport Corporate Cup.
"We urge all Triathlon Scotland members who work in business organisations, large or small, to help us to share the fantastic health benefits of swim-bike-run activity, and how training and taking part in events really brings people together.  We will ensure there is a variety of fantastic Corporate Cup events to choose from, and You Can Sport will be there to offer more formal support and advice to organisations keen to offer triathlon training sessions with staff."
The 2019 You Can Sport Ranking Series events for members and for clubs is available to view now.  You can also download the Rankings guide, by visiting our ranking series page HERE.
To find out more about You Can Sport, visit their website HERE.