American triathlete Noel Mulkey is eager to overcome a persistent ankle injury to contend at in the M25-29 category at IRONMAN France Nice in June.
We caught up with Noel in an in-depth interview this week to find out how triathlon has transformed his life – and how he is now inspiring others from a mental health perspective.
The 27-year-old initially injured his ankle in Las Vegas at the end of February before recently reaggravating the injury in training in Mallorca.
The plan had been to compete at Anfi Challenge Mogán-Gran Canaria this weekend before travelling home to take part in the age-group only IRONMAN Tulsa – where he hoped to 'break the tape' on a course just two miles from his home.
Race to recovery
"I did the injury in Las Vegas initially," explained the Tusla native.
"I was going to do the Rock and Roll half marathon on February 26 and then the day before it I rolled my ankle really bad, fell down the stairs – not even training, just walking – that was five weeks ago.
"It was doing great, I was healing, I was staying off of it – I took a complete five weeks off running.
"Then, in Spain, I stepped off a curb and re-rolled it – it wasn't horrible but I re-rolled the same ankle which is what they say don't do – I'm an idiot, I should be wearing a brace, I was walking to the pool."
Mulkey remains on the startlist in Gran Canaria, but his full participation is still in the balance.
"I am on the startlist, for sure will do the swim and bike and then I'll do my best – I'll make a game-time decision."
Mulkey will return to Europe in June and take part in IRONMAN France Nice in an area knows well.
"I think I will be all healed by Nice, I don't see this injury lasting longer than two months.
"I have done the 70.3 World Championships in Nice, it's a beautiful spot so I know quite a bit about Nice.
"I'm ready to get this season started. I'm pretty familiar with the area, I've climbed the main climb on the bike course, I love the water there, it's beautiful, we have a great place to stay – so everything is looking good."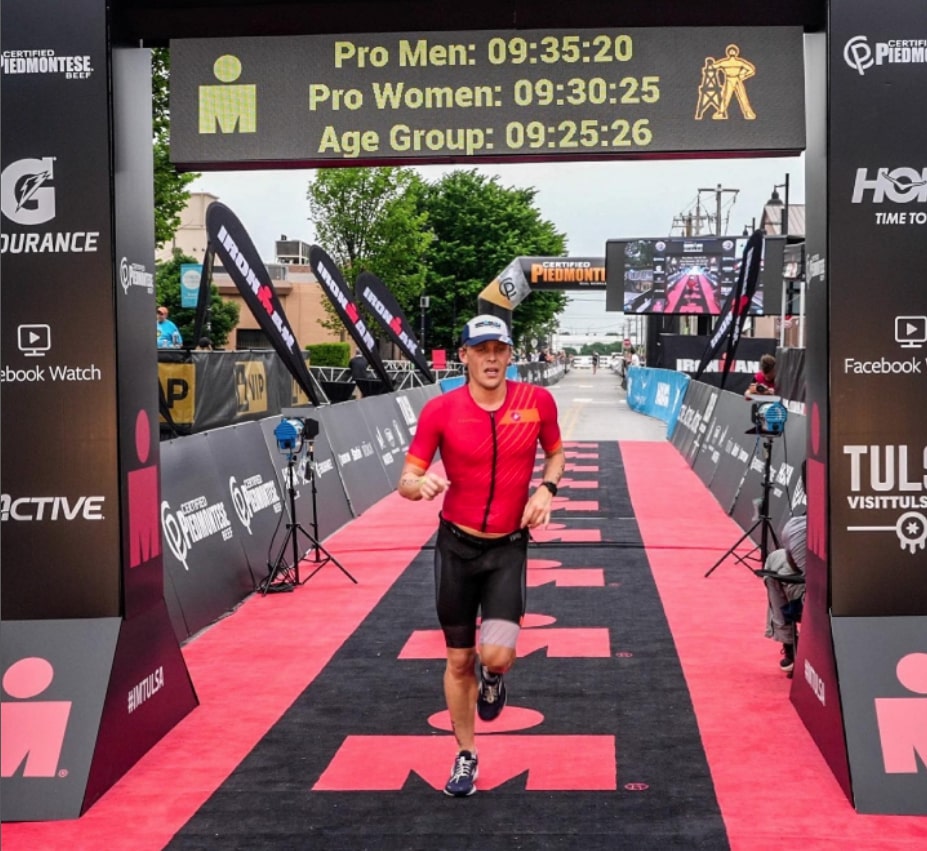 Breaking the tape in Tulsa
Another event the American had circled on his calendar was IRONMAN Tusla – a race in his own town that would have given him a unique opportunity:
"IRONMAN Tulsa doesn't have a pro race this year, so that means an age grouper is going to get to break the tape – which is a big deal – first overall gets to come down the finish chute and break the tape," explained Mulkey, who battled a drugs addiction before becoming a high-profile triathlete.
"So I have been planning on winning that – I want to be that person as it is my hometown, I live two miles from the run course and I was planning on winning that for the last year."
"With the injury I don't even know if I will be able to complete it – I am for sure going to do the swim and the bike and once again start the run."
"So now IRONMAN Nice is the target because I am qualified for the IRONMAN World Championship in Kona already – it was going to be Gran Canaria, then Tulsa and then Nice – but I kind of need to get this thing healed so I can get back to it."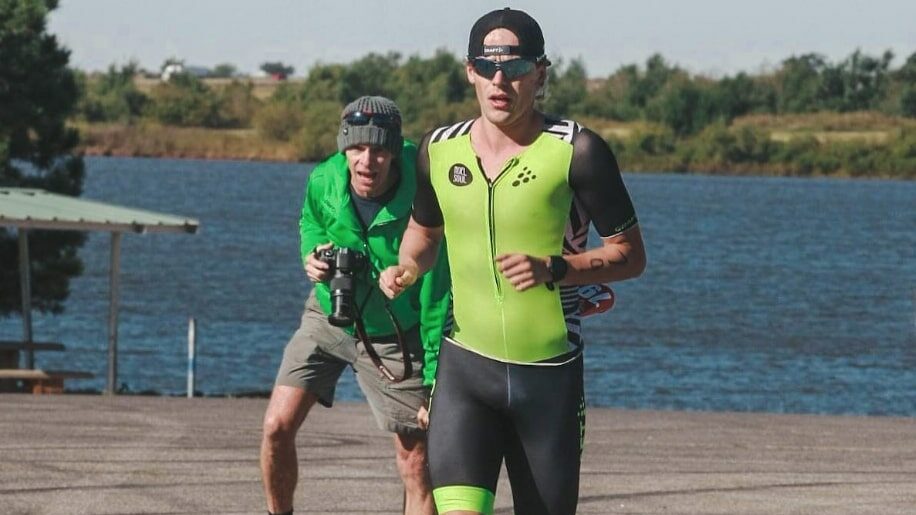 Family ties
Mulkey comes from a family of gifted athletes. His mother is a former age group qualifier for the IRONMAN World Championships and his father is a competitive ultra-runner.
"My mum qualified for IRONMAN World Championships in Kona – she did a 70.3 – at the time I think they didn't really have any full IRONMANs before Kona, like that was the only one – so there were a couple of 70.3s around and she did Louisiana, won it and got the chance to go."
Unfortunately, she couldn't afford to make the trip to Hawaii – but she continues to compete to this day.
"She did IRONMAN Tusla last year and made it to mile 17 of the run, only because she had a flat tyre and was on the side of the road for an hour. She was a really good triathlete, both parents were."
Going Pro
"My year after IRONMAN Nice is laid out – I want to do Kona, that's the thing, that is 100% my goal in 2022," concluded Mulkey.
"I do want to go professional, I do want to get the Pro Card, but it will kind of just happen.
"I actually qualified last year for a Pro Card, I didn't pursue it because I wouldn't have been able to do Kona as an age grouper, because if you get it you have to qualify for the professional race.
"I don't think I can do that yet," he joked.
"But that is my goal. If it happens, it happens, I am not in a rush at all to get it – I do want to race professionally at some point though – I think I am capable of being in the mix. I can swim with them, I can bike with them, my running is just not as far along as it needs to be.
"This year I am taking it just one race at a time."
You can join Noel at IRONMAN France Nice, with places still available via this link.