That was a good day. Bank Holiday Monday's Eton Dorney ITU Paratriathlon World Cup was the first of three major international events in a two week period for British Triathlon, with the Accenture World Triathlon Mixed Relay Nottingham and the AJ Bell World Triathlon Leeds coming up fast next week.
You Editor will be at all three events as part of the on-site commentary teams, which yesterday I had the pleasure of working alongside 2009 World Champion and Rio 2016 Paralympian, Clare Cunningham.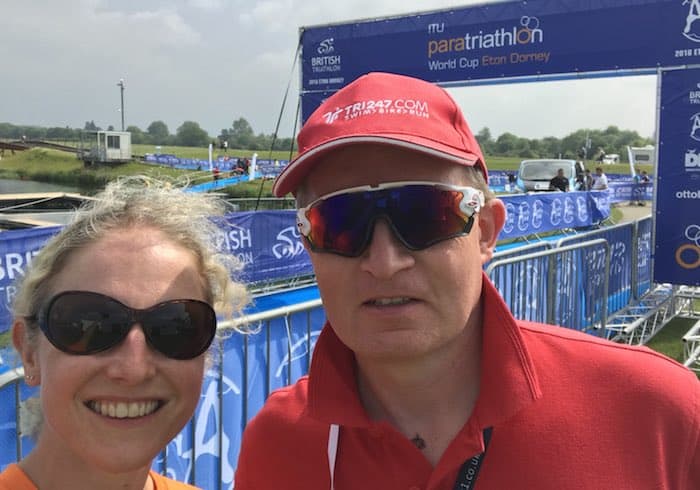 The World Cup event was an addition to and development of the Artic One Tri and Para Tri Festival, an event that has been held at the venue for several years now. Arctic One (http://arctic1.co.uk) is a charity which aims to give opportunities to both able bodied and disabled people to enable them to "Get Involved" in Sport. To put their role into perspective, around 75% of the current British Elite Paratriathlon team have at some point received a grant or other assistance during their sporting career from Arctic One. Rio 2016 Paralympic Gold medallist, Andy Lewis, was actually introduced to the sport by Arctic One as recently as 2014.
The charity are not only involved with Elite sport however – with open races through the day yesterday over three distances (Sprint, Super Sprint, 'Super Duper' Sprint), open to absolutely everyone. You will struggle to find a more inclusive / barrier-free event, and yesterday we saw athletes of all ages / abilities / sizes and more, all enjoying their day in a relaxed and fun environment. They have another day of racing coming up at the same venue on 28th July which is worthy of your support. Details HERE.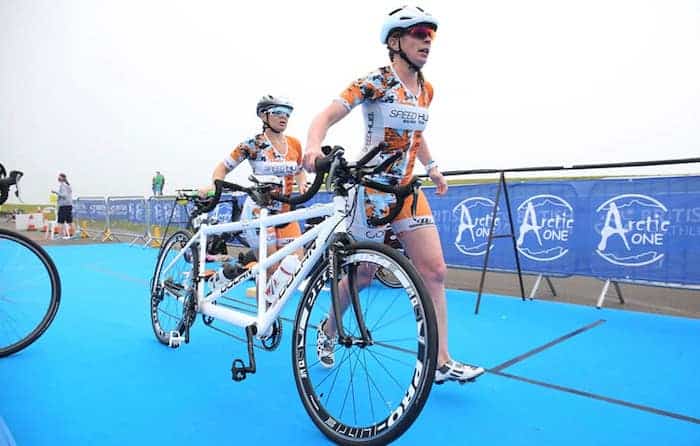 As you would expect, a full-strength British team was present for the World Cup event, but it was also great to see such a wide representation of athletes – and not just from Europe either, with Australia, Japan and South Africa just a few of the nations represented. We also saw Paralympic Gold medallist, Martin Schulz (GER) and Bronze medallist, Melissa Stockwell (USA), win their categories in very competitive races.
A new experience too for Elite athletes Mark Buckingham and Hannah Drewett, who stepped in to guide Dave Ellis and Alison Patrick respectively, to success.
Here is the full report on events courtesy of British Triathlon
---
Golden day at Eton Dorney for British Paratriathletes
Britain's elite paratriathletes won nine gold medals as Eton Dorney hosted an ITU World Cup event for the first time. International athletes were welcomed to West London, where temperatures topped 25 degrees at the London 2012 Olympic rowing venue.
Gold medal winning performances were achieved by Commonwealth Champions, Joe Townsend and Jade Jones, and Paralympic champions, Andy Lewis and Martin Shultz (GER) also won their respective categories. It was a big day for some emerging athletes, including Britain's Hannah Moore who won PTS4 gold just a year after trying her first paratriathlon and there was an opportunity to trial some new guides for the visually impaired atheltes.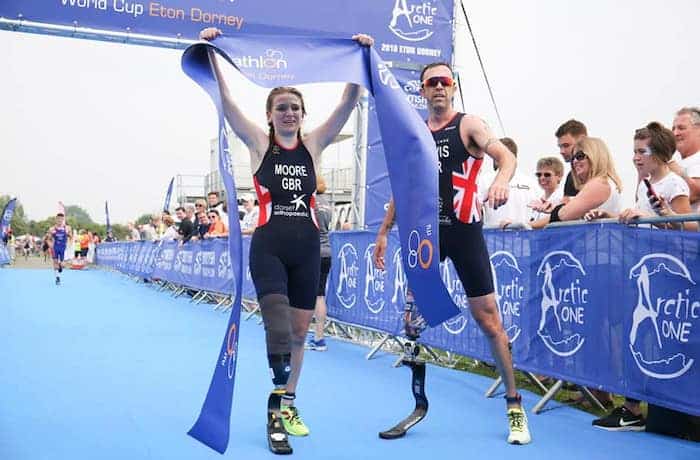 After winning the PTWC race, Townsend said: "The sport just keeps moving on; you can see the fields are stacked and it's close, hard racing. With a lot of guys coming across from different sports to paratriathlon, it means I've got to keep on pushing the boundaries and training hard."
He added: "To have my family here today and see me come across the finish line, and for me to see smiles on their faces too is phenomenal."
Also in the PTWC category, there was gold for Jade Jones-Hall, who has been working through her Law degree finals and couldn't apply much power on the bike after a mechanical issue meant she had to cover the whole 20km flat course in her easiest gear. However, she showed her absolute class to claim the win from team mate Lizzie Tench.
Paralympic Champion, Andy Lewis, enjoyed every moment of racing at home. He claimed PTS2 gold ahead of Maurits Morsink (NED) having missed some training this year due to injury. He said: "My little boy and my little girl are here today, and hearing them today has really helped me, because I found that tough today, and probably one of the toughest races I've done ever, just because I've not raced for a long time."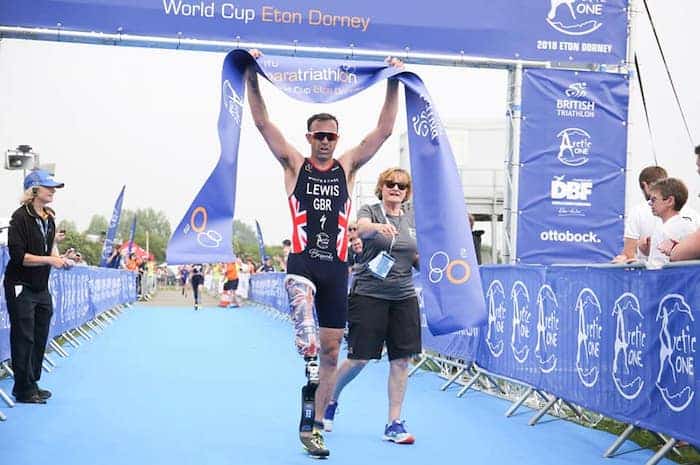 In the visually impaired category (PTVI) there was a valuable opportunity to trial some new guides. Paralympic silver medal winner, Alison Patrick won gold with Hannah Drewitt whilst world champion, Dave Ellis was a winner with Mark Buckingham.
Patrick said: "I haven't raced since the European's last year so it's good to back out there. Me and Hannah have only worked together this week, but she did really well."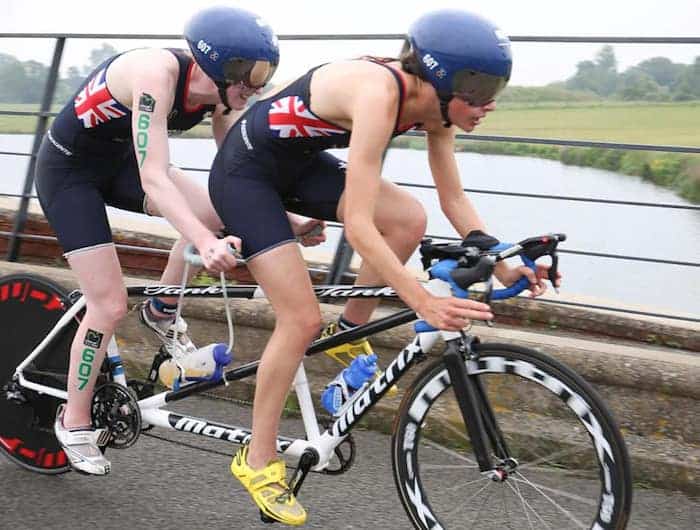 Ellis said: "Mark's just got so much experience, I felt really comfortable on the bike with him.
Buckingham, who guided at short notice after Carl Shaw broke his collarbone, added: "It was a good race. There's still a bit of learning to be done though; my shoes came off the pedals as we were mounting the bike and my saddle came loose. It's nothing we can't work on for next time, though!"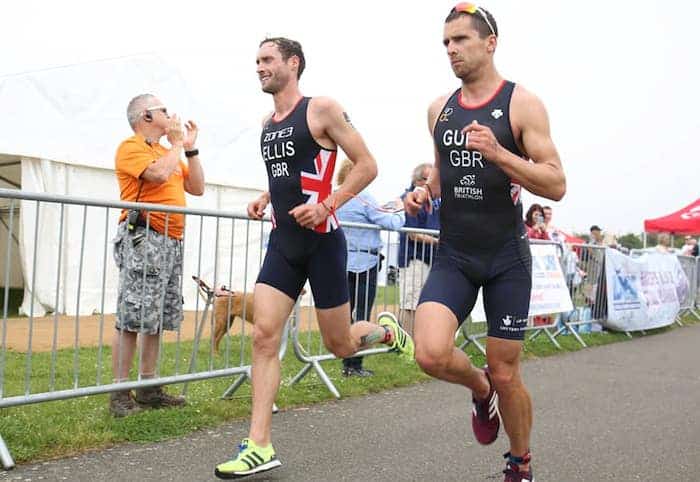 Britain's other golds came from Paralympians Lauren Steadman and Ryan Taylor as well as Steve Crowley. George Peasgood had another fine race to claim silver behind superstar Marin Shultz.
British gold medals:
PTWC: Jade Jones, Joe Townsend
PTS2: Andy Lewis
PTS3: Ryan Taylor
PTS4: Hannah Moore, Steve Crowley
PTS5: Lauren Steadman
PTVI: Alison Patrick, Dave Ellis
Full results available via https://www.triathlon.org/results/result/2018_eton_dorney_itu_paratriathlon_world_cup.