Four golds for dominant GB paratriathletes in Italy
Great Britain's paratriathletes continued their success against the best in the world at the ITU World Paratriathlon Series. They achieved an impressive medal haul in Iseo, northern Italy as the team won four gold, four silver and two bronze medals, including victories for Lauren Steadman, George Peasgood, Alison Patrick and Dave Ellis.
As temperatures hit 36 degrees, Paralympic silver medallist, Lauren Steadman, won her second ITU World Paratriathlon Series (WPS) event of the year. She continues to set the standard as she convincingly won the women's PTS5 category. After exiting the swim first, Steadman produced an outstanding bike split to extend her lead and sealed her victory on the run.
Steadman commented: "I'm really pleased to win another WPS in a good field. The weather was extremely hot but as a team we prepared ourselves properly. My racing is reflective of my training and I hope to continue bettering myself throughout the rest of the season."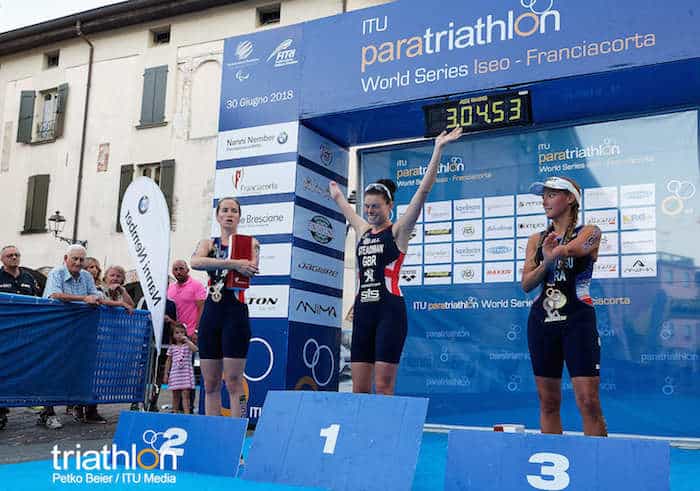 Claire Cashmore, a Paralympic gold medallist in swimming, showed further development in her transition to triathlon by finishing second behind Steadman. The medal was her first at this level and she finished ahead of Paralympic bronze medallist, Gwladys Lemoussu of France.
In the men's PTS5 category, George Peasgood also won his second WPS of the year, with a gun to tape victory over the Paralympic silver medallist and current World Champion, Stefan Daniel from Canada. In a field that included some of the sport's fastest runners, Peasgood again held on for victory.
He said: "Coming off the bike I thought I would be hunted down by the quick runners, but it all came down to the last lap where I managed to hold off Stefan for the first time. To execute another great performance in the heat is such a bonus."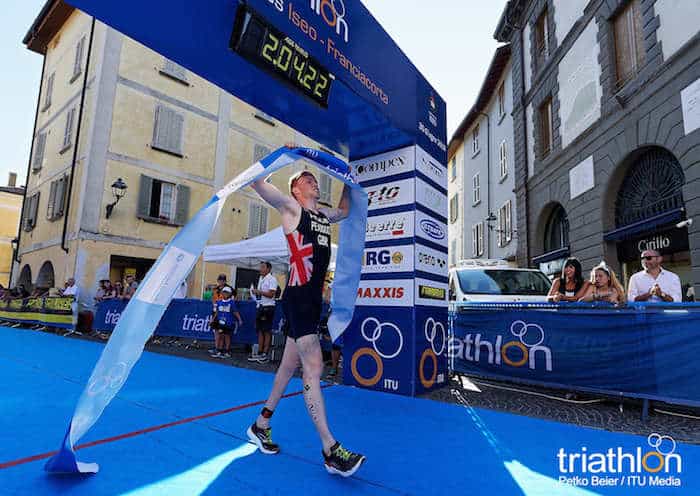 Great Britain was the top nation in the PTVI category, winning both the male and female races. Paralympic silver medallist, Alison Patrick, and guide Nicole Walters produced a strong run to win gold. This was Patrick's first WPS event in over a year due to injury, commenting: "It's good to be back racing on the big stage. Nicole did a great job guiding. I'm really pleased to put a good race together in the heat."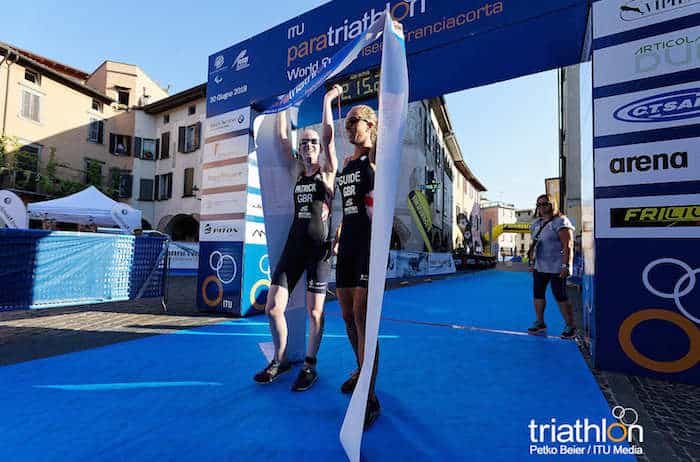 World Champion Dave Ellis, guided again by Mark Buckingham, continued his winning streak in the men's PTVI category. They established more than a two-minute lead during the 750m lake swim and were the class act of the field. Buckingham now heads to Denmark for the ITU Duathlon World Championships on Thursday.
Paralympic Champion, Andy Lewis, won silver in the men's PTS2 category, as did Ryan Taylor in the men's PTS3 category.  Fran Brown returned to racing after elbow surgery to win silver in the women's PTS2 category, which included the three Paralympic medallists from the USA.
Commonwealth Games Champion, Joe Townsend, continued his run of great form, winning bronze in the men's PTWC category, in a world class field, which included all of the Paralympic medallists from Rio. There was also a bronze medal for Hannah Moore, who made her WPS debut in the women's PTS4 category.
GB Medals; 2018 Iseo – Franciacorta ITU World Paratriathlon Series; Saturday 30 June; 750m swim, 20km bike, 5km run:
GOLD
Lauren Steadman, PTS5
George Peasgood, PTS5
Alison Patrick, PTVI
Dave Ellis, PTVI
SILVER
Fran Brown, PTS2
Andy Lewis, PTS2
Ryan Taylor, PTS3
Claire Cashmore, PTS5
BRONZE
Joe Townsend, PTWC
Hannah Moore, PTS4