If you've been to a gym, it's almost a certainty you have seen the distinctive Wattbike Pro and Wattbike Trainer with their red, black, and white colourways.
The two original Wattbikes launched in 2008, and although the Pro and Trainer remain in Wattbike's stable of indoor bikes, if you are interested in an interactive home trainer the Atom is likely the Wattbike option for you.
The Wattbike Atom has quite a different look to that of its elder siblings. Its hyena-like side profile, the predominantly black body with red decals, along with sweeping aluminium legs/supports and the blade-like seatpost (obviously not an aero advantage indoors, but it looks aggressive), give the Wattbike Atom a futuristic appearance befitting of a modern indoor trainer.
The first iteration of the Wattbike Atom was released in 2017 with the tagline 'The world's smartest indoor bike'. Since then the world, and the world of home trainers, has changed immensely. Keeping up with the competition, and seeking improvements, the second generation Wattbike Atom (the 'Wattbike Atom (Next Generation)') arrived in mid-2020.
The Wattbike Atom (Next Generation) weighs 40kg, comes with 170mm cranks, has a Q-factor of 160mm (the distance from the outside of one crank to the outside of the other), and due to its level of adjustability can be used by riders from 5 foot tall to up to 6 foot 5.
Impressively, it offers a power and resistance range of zero to 2,500 watts (there won't be many people needing that amount of resistance), can replicate gradients of up to 25%, and it claims it provides a power accuracy of +/- 1%. To put that in perspective, if the Wattbike says you are putting out 200 watts, it means your actual output could be between 198 and 202 watts.
Indoor cycling: The pros and cons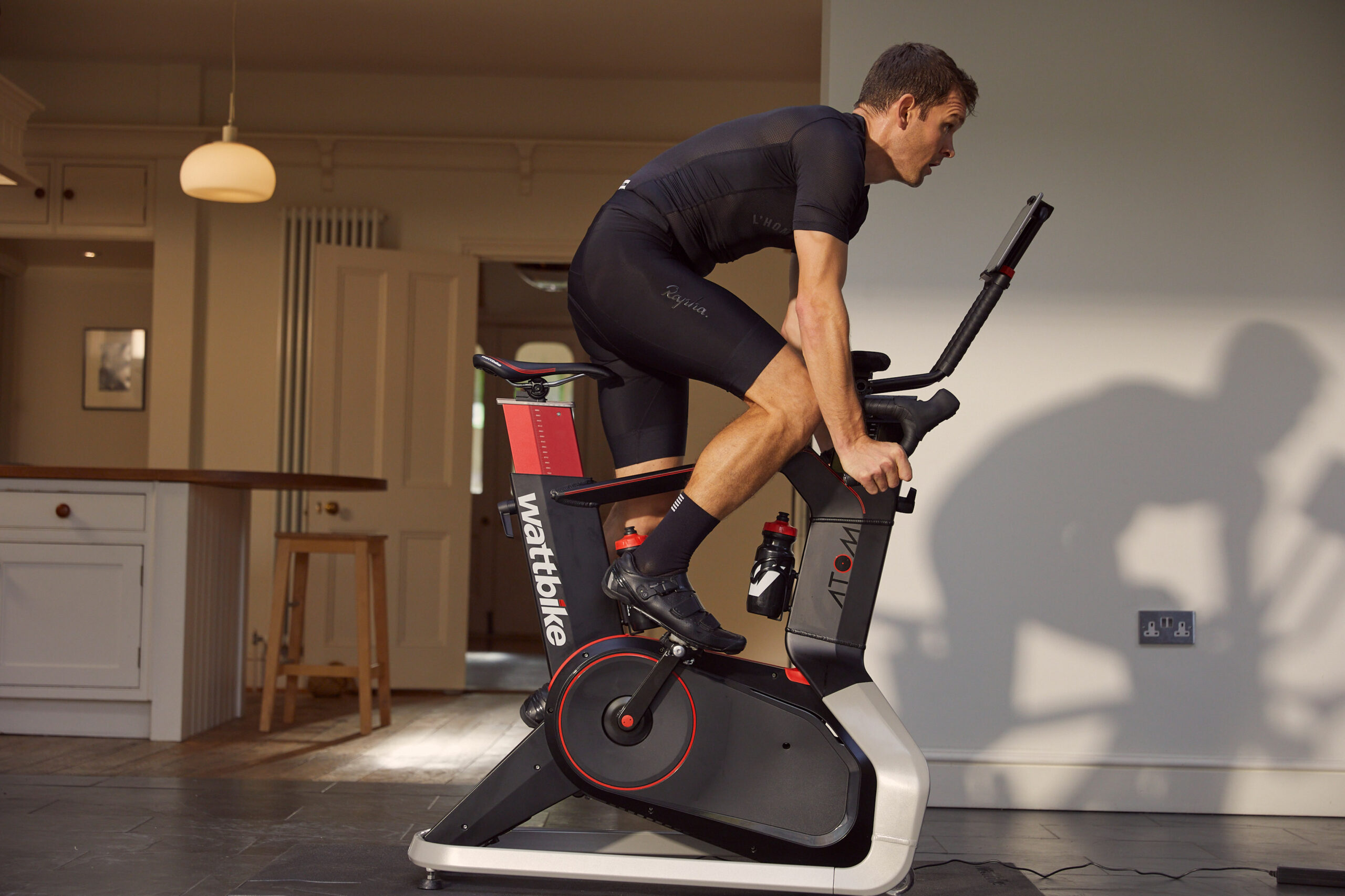 Riding on the turbo or a stationary bike in the late 90s and early 2000s probably meant (if you were lucky) listening to the radio or a CD, relying on feel or a heart rate monitor to judge effort, and the room becoming increasingly hot as the session progressed (which was not only unpleasant, but the increased temperature could affect your heart rate and perceived effort).
For some, the idea of training indoors remains unattractive, and riding means cycling outside, whatever the weather. However, the advent of technology has undoubtedly made indoor riding far more efficient and enjoyable, and the pandemic caused indoor cycling's popularity to soar.
The controlled environment of an indoor trainer, which provides accurate power data, can allow you to carry out specific and tailored training sessions without having to be concerned with questionable road surfaces and conditions or other road users. You can focus simply on the goals of your session.
The lack of distractions (such as traffic lights) and no downhill or technical sections where you freewheel or soft pedal (unless racing or training on an online platform), means the session is more time-efficient due to the constant pedalling on the indoor trainer. For example, 60 minutes riding indoors could equate to closer to 75 minutes on the road.
Also, the ability to connect the Wattbike Atom (Next Generation) with platforms such as Zwift and TrainerRoad, or using the free Wattbike Hub, make sessions interactive and varied and can help trigger your competitive side, meaning time flies when you are putting the power down.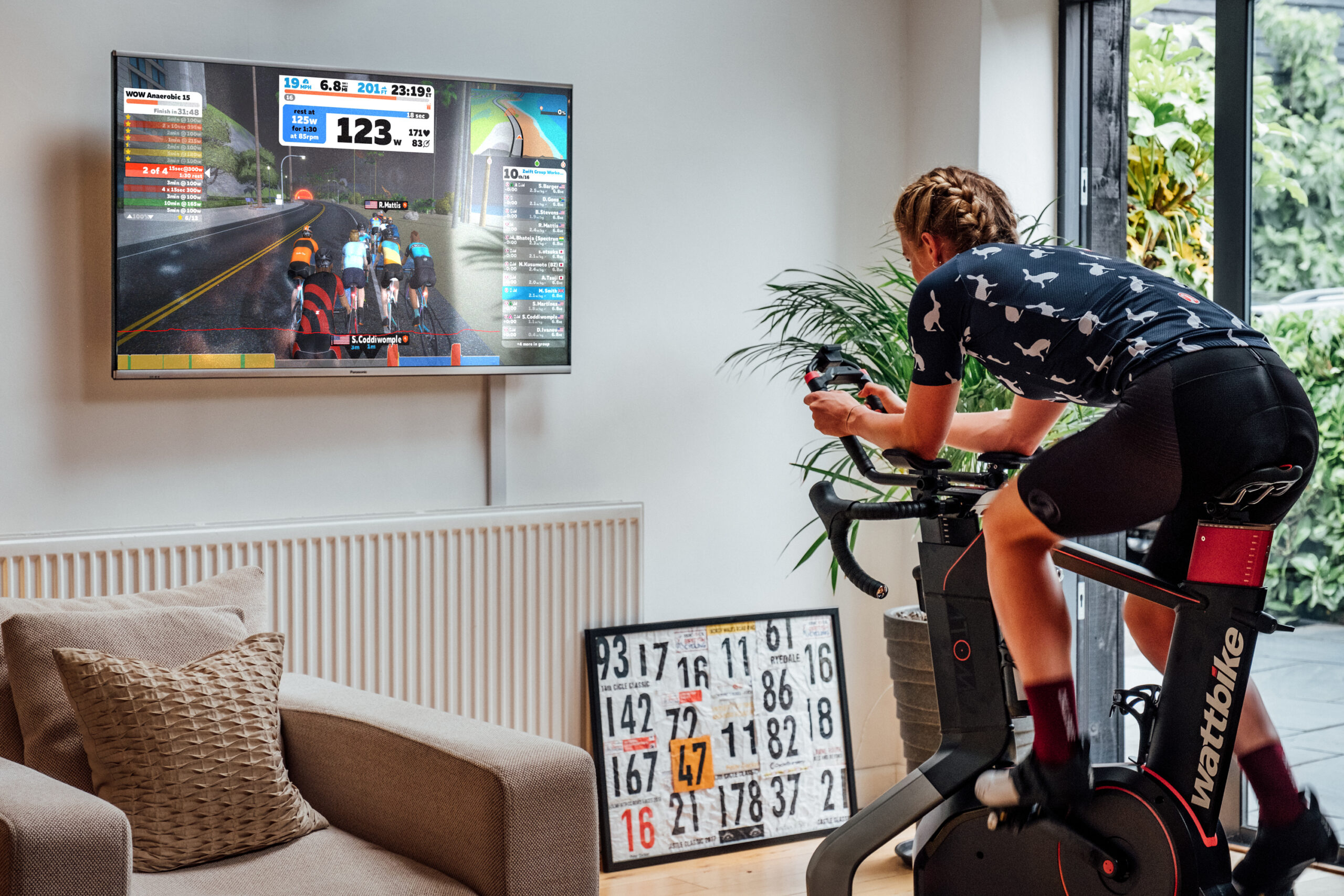 In short, indoor training can be a great way to improve your fitness and make time-efficient gains.
However, on the assumption that the purpose of your indoor training is to improve fitness and increase speed in the real-world, it's important to ensure your indoor cycling prowess translates to the road and on raceday.
If you're looking to race in triathlon or cycling, indoor riding cannot completely replace cycling outdoors. It is important to ensure your position on your indoor trainer closely matches that of your bike for real-world riding – subtle differences can cause injury when switching between bikes and/or mean your performance level does not crossover.
Most importantly, you need to be comfortable riding on the road, around other cyclists and with traffic. Good bike handling is fundamental for confident cycling and for riding as fast as possible.
Wattbike Atom: How it works
To use the Wattbike Atom you will need to have it connected to a power source, and you will need a tablet or screen to display your training data (the Wattbike Atom doesn't have its own screen, but it does have a mount for your display).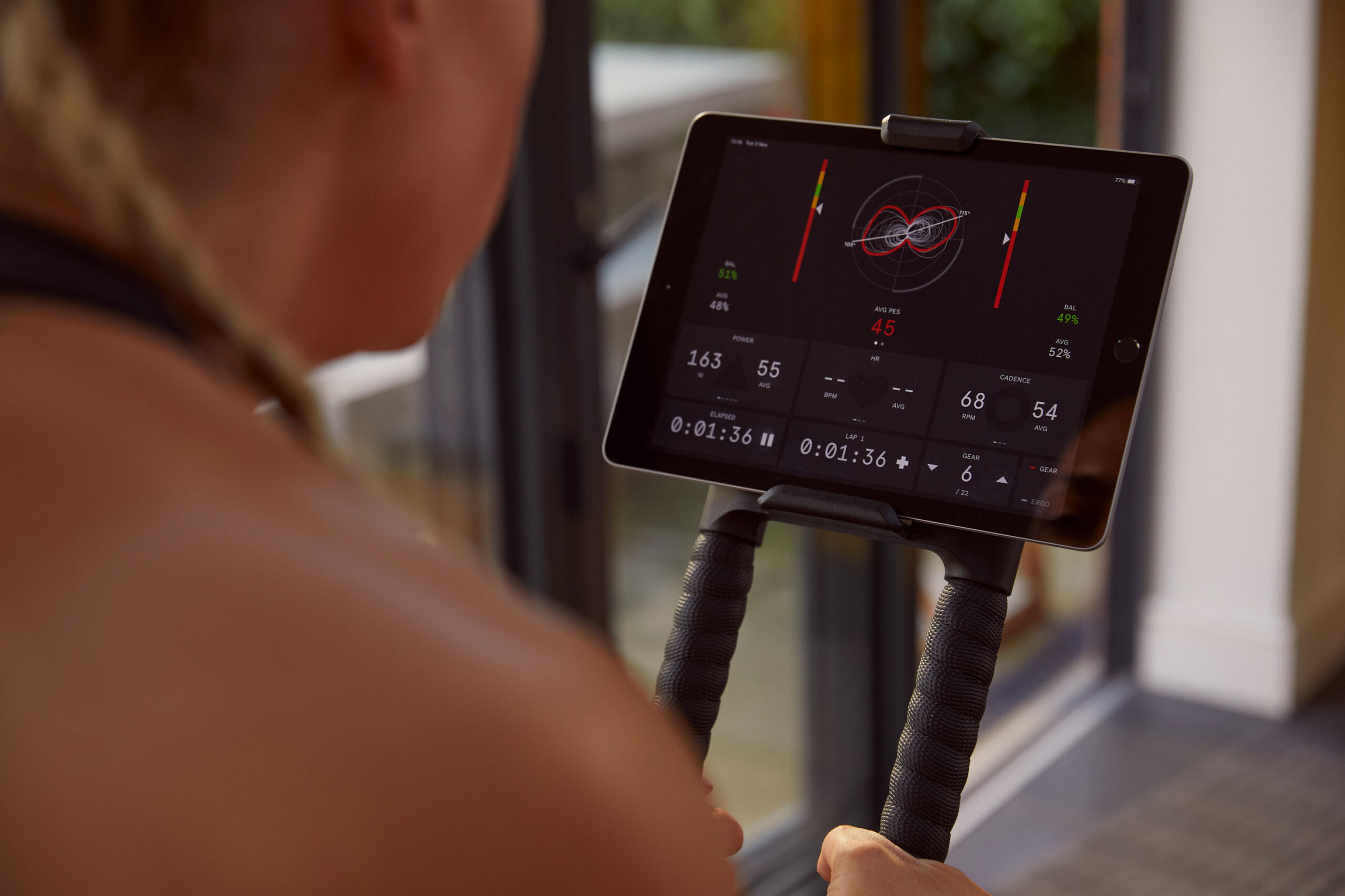 Reflecting its status as a 'smart' bike, the Wattbike Atom connects to apps (such as the Wattbike Hub, Zwift, and TrainerRoad etc.), and transmits data, using ANT+ and Bluetooth Smart. You need to connect to an app to use the Atom.
Unlike the Wattbike Pro and Trainer which both use air resistance, the Wattbike Atom (Next Generation) is built around an electromagnetic resistance system, meaning the higher the current that flows through the magnets the greater the resistance and the power needed to turn the pedals.
The Wattbike Atom (Next Generation) has two modes – manual and ergo.
In manual mode you click through the Wattbike Atom's 22 gears (by using the shifters on the hoods) and select your desired resistance and cadence – the speed of shifting between gears has improved compared to the original Atom.
In contrast, when using the ergo mode your target power and resistance is pre-set (auto-adjusting as required during the session) and is maintained irrespective of your cadence. Ergo mode is often a difficult function for smart bikes to master due to the challenge in dealing with surges in power when a rider's cadence fluctuates.
One of the main attractions of the Wattbike Atom is its adjustability, which means you can change the bike's setup so that multiple family members can train on the Atom, rather than each person needing to use their own individual bike. Some users of the first generation Atom experienced the seatpost slipping when regularly changing the height of the saddle; the Next Generation though has an updated seatpost designed to resolve this issue.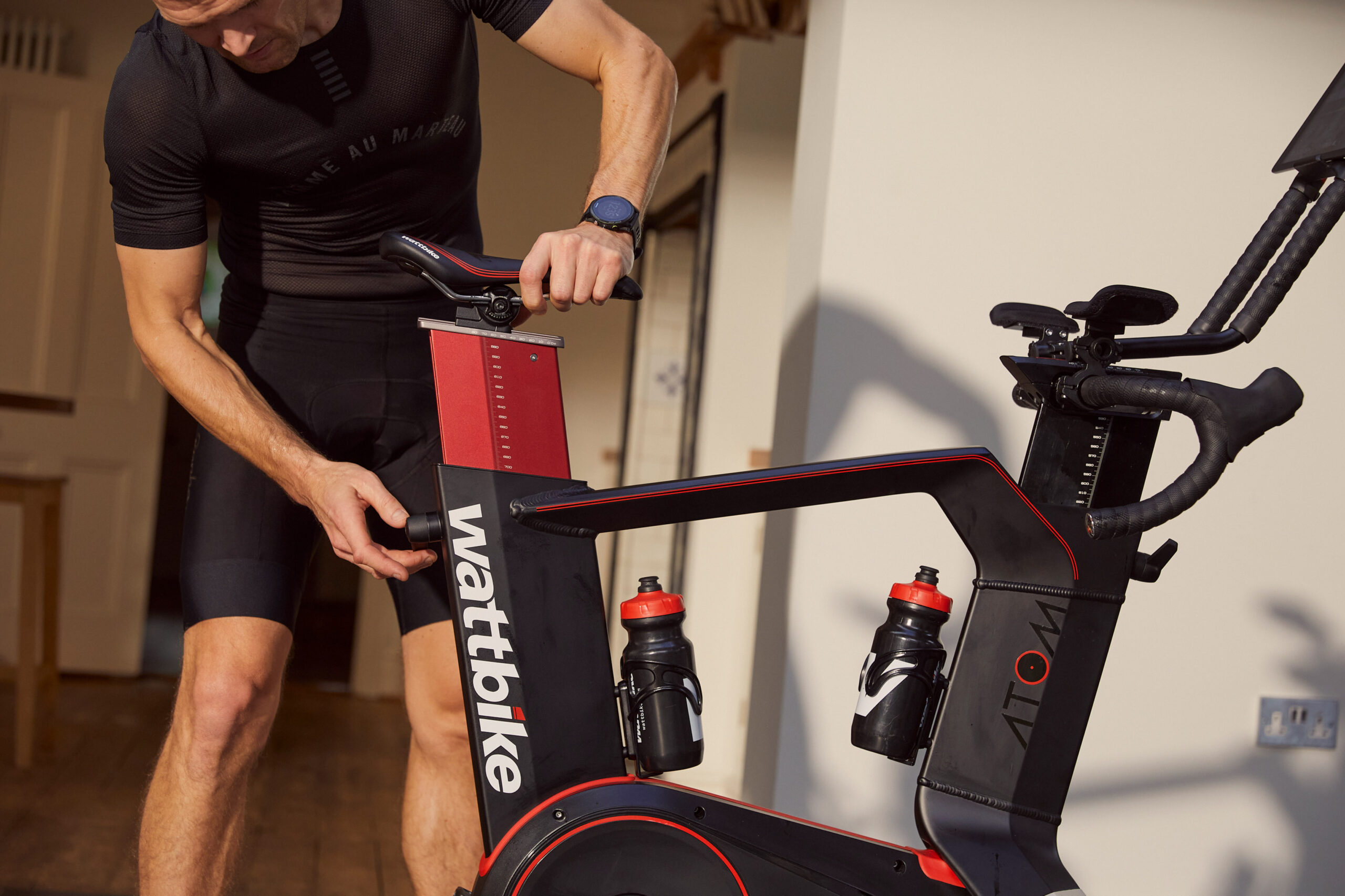 The Wattbike Atom (Next Generation) is a substantial piece of kit, which isn't a bad thing. It offers a very sturdy and durable chassis which feels secure and provides confidence when stamping on the pedals and grabbing the bars firmly. Also, the futuristic shape of the Atom (it isn't intended to look like a road bike) with its footprint of 124 x 50cm means it is not as long as a normal bike or a bike connected to a turbo.
Using the Wattbike Atom rather than a bike and turbo combination means you don't have to worry about damaging your bike's frame or your top-end groupset being eroded due to sweat. However, obviously, unlike a turbo and bike set-up, the Wattbike Atom is less likely to be an item you put away when not in use.
Wattbike 101: Tips and hints to using the Atom
When you receive your Wattbike Atom, it's crucial to get your riding position dialled in. You can adjust: the seat height and fore/aft position of the saddle; the height of the bars; and the position of the bars.
Saddles are very subjective. On a stationary bike, where there is less natural movement compared to out on the road, a comfortable saddle is even more important. You may want to swap out the standard Wattbike saddle.
The Wattbike Atom comes equipped with flat pedals and classic toe-straps. From a performance perspective, swapping to clipless pedals is advantageous.
It is important to look after the Atom's power switch. It sounds obvious, but avoid tripping or standing on the power cable. Also, to avoid the risk of damaging the power switch some people turn the Wattbike Atom off at the plug socket rather than using the Atom's switch.
The Wattbike Atom has two bottle cages. Check they suit your needs, for example: are they easy to reach, do your bottles fit, do you need more than two bottles for your session? You should also consider your nutrition needs during and after your session, in light of your indoor session potentially being more demanding and intense than a ride outside.
Riding indoors is a sweaty business. You will want at least one fan, quite possibly two. Also, you want to cover your Wattbike Atom with a towel, and ideally a sweat catcher. Importantly, give it a wipe down after each use.
You need to consider your available power sources. You may quickly find that you need a few plug sockets. For example, the Wattbike needs to be plugged in, you might need your tablet to be charging, also another screen (if watching a movie), and your fan/s.
How much does it cost, and how do you pay?
The Wattbike Atom (Next Generation) costs £1,999.00 and has a two-year guarantee. However, it is available from just £50 per month, with 0% APR and zero deposit.
Delivery is free, and the Atom can be dispatched within 1-2 working days (during the height of demand in 2020 delivery times were far greater).
There is also a 30-day full product refund.
Which app? Wattbike Hub and alternatives
The Wattbike Atom (Next Generation) is truly a 'smart' bike and was built to connect to interactive apps. In addition to Wattbike's own free Hub, the Wattbike Atom can connect to various third-party apps via either ANT+ or Bluetooth Smart – such as Zwift, FulGaz, TrainerRoad, and Rouvy.
The Wattbike Hub is a free training and analysis platform. It offers a range of activities and training options, and displays your real-time performance across numerous metrics, to enable you to track and monitor your fitness gains. For example, it offers more than 100 sessions (including training plans, performance tests, and challenges), shows your cadence and power output, connects to a heart rate monitor, and monitors your pedal efficiency by displaying your PES (Wattbike's unique pedalling performance effectiveness score).
The variation in workout options should give you enough options to find a session which suits your performance goals and to fit sessions around your busy life.
Wattbike and Zwift?
Zwift is one of the most popular online cycling platforms and is enjoyed by many Wattbike Atom users – a group of Wattbikers set up the Atom Racing Team specifically for fellow Wattbike Atom owners to meet and ride on Zwift.
The Wattbike Atom (Next Generation) connects to the virtual world of Zwift to show your speed, power and cadence stats when riding on your own or with others. In addition, Wattbike recommends you simultaneously pair with the Wattbike Hub to obtain another 37 metrics which are not available on Zwift to further analyse your performance.
A criticism of the first generation Atom was that the speed of changing gear was not as reactive as in the real world, which could hinder your chances in a Zwift race when responding to attacks or sprinting to victory. However, the speed that you can change gear has been improved for the latest version of the Wattbike Atom allowing Wattbikers to be even more competitive when it comes to making the breaks and sprints for the line.
FAQs:
Is the Wattbike Atom worth it?
Wattbike is one of the main players when it comes to indoor cycling and the latest edition of the Wattbike Atom is said to be 'the most realistic indoor cycling experience'.

In short, the Wattbike Atom (Next Generation) may be an appealing option in a competitive market if you are looking for: a dedicated indoor bike (rather than installing your road bike on a turbo) that is easy to set-up, easily adjustable, provides accurate power data along with many other performance metrics, can be paired with third-party devices (such as heart rate monitors), and want to use on-line platforms such as Zwift and Rouvy.

However, despite costing £2,000 you will need your own tablet or monitor, are likely to want to change the standard saddle and pedals, and it must be plugged in to work.

Having said the above, the price tag of the Wattbike Atom (Next Generation) is comparable, if not better, than its competition. For example, the Peloton bike costs £1,345 (down from £1,550); Wahoo KICKR Bike is £3,199.99; Tacx Neo Bike Smart £2,299.99; and Stages SB20 Smart Bike £1,799 (down from £2,249).
Is Wattbike the same as a spin bike?
The Wattbike Atom (Next Generation) is not a spin bike, although it can be used to follow online spin classes (such as on the Peloton app).

If you are used to riding a spin bike it is likely to take a couple of rides to adapt to the feel of the Atom. For example, it may take some time to master riding out of the saddle.

The main cause of the difference in ride-feel of the Wattbike Atom and a spin bike is that a spin bike has a fixed-wheel-like style where the turning of the flywheel keeps the pedals moving even if you are not putting pressure on the pedals (never suddenly stop pedalling on a spin bike), whereas, the Wattbike Atom rides more like a classic geared road bike, meaning any dead-spots in your pedalling style are noticeable.
Is Wattbike good for weight loss?
The Wattbike Atom (Next Generation), along with the training and fitness programmes available on the Wattbike Hub and other third-party platforms, can be a useful tool to improve your fitness.

Having a high-quality indoor bike which provides clear metrics and the ability to track your progress is likely to be advantageous. First, not having to travel to your local gym gives one less excuse not to train; also, being able to objectively confirm your improved performances may act as just the encouragement you need for consistent training.

Combining exercise and training on the Wattbike Atom with a healthy and well-balanced diet could help you lose weight. However, lighter is not always better, fitter, or healthier.