How do Pro athletes use Zwift to prepare for long distance triathlon racing?
Over the last couple of months, I've been building a series of articles on the market-leading indoor training platform, Zwift (www.zwift.com).
The aim is to build a library to both introduce the platform for those who are new to it, but also to highlight the varied ways in which it can potentially be used for your own cycling and / or triathlon goals. The first two articles can be found below:
For the next feature, I wanted to dig a bit deeper into exactly how do high-performing athletes actually use Zwift for their own training?
To that end, I've spoken at length to two well-known British long-distance specialists.
The Athletes
First up is Ruth Astle. Ruth was a member of the Specialized Zwift Academy Triathlon Team through the 2019 season, a year in which she was the first female Age-Group athlete at both Challenge Roth and the IRONMAN World Championship in Kona. While you might rightly expect a member of that team to be a Zwift advocate, Ruth was a Zwift rider well before her team selection – and continues to use the platform long after her time on the team has ended, having made her Pro debut in December at IRONMAN Western Australia.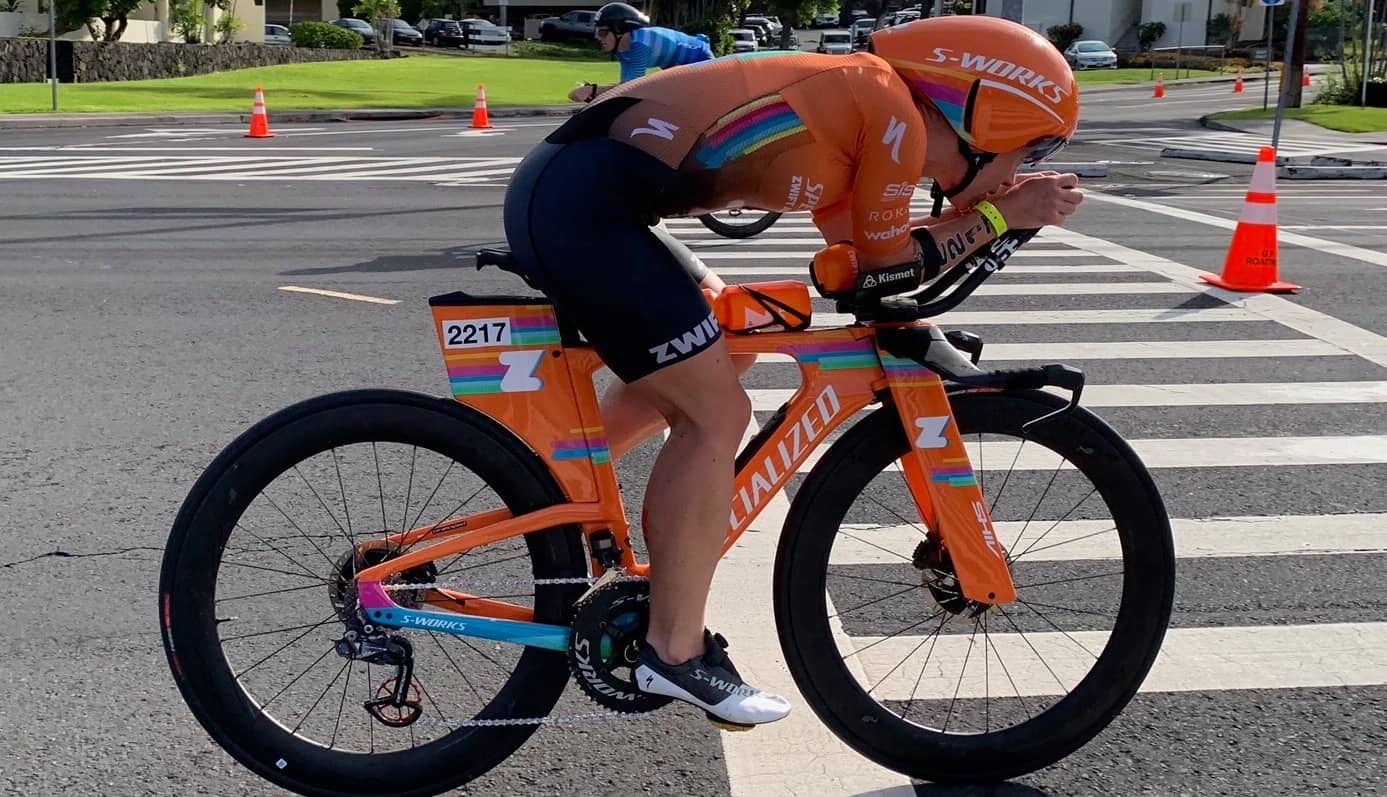 The second athlete I spoke to was Philip Graves, who burst onto the triathlon scene in 2009, when he became the youngest professional winner of an IRONMAN event at IRONMAN UK in Bolton. He's also made IRONMAN Wales a particular goal in recent years, finishing second in Tenby in 2016, 2017 and 2018!
Phil's Zwift experience with Zwift is actually far less extensive in terms of time than Ruth. Describing himself as 'late to the party', he first experienced the platform when racing in a Zwift event locally, as part of the UCI World Road Championships which were held in his native Yorkshire. Since then, he has found he has very quickly become a convert to the world of Watopia!
https://www.instagram.com/p/B2zwMR9BKA6/
So, how do both Ruth and Phil integrate Zwift into their training plans? What I found was that while there were some similarities, there were also differences too in terms of both training and the motivational aspects of using the virtual environment of Zwift. Let's get their thoughts across a number of topics.
Interval Training
It will come as no surprise to find that indoor training is the primary choice for interval training for Ruth. She values the ability to focus on the details and the efforts required and prescribed, rather than being distracted by traffic, junctions, road conditions and weather. Zwift is an ideal resource for those elements of a training plan.
Ruth told me, "I'll usually do two, harder interval type sessions in a week. They will be fairly standard, usually around 90 minutes in total and probably have a fairly long warm/up of around 30 minutes, then the main block of effort(s) and a warm down. Exactly what intervals / length / effort etc will vary depending on the time of year, what phase of training I'm in and whether a race is coming up. So, those intervals could be anything from 20 second 'microburst' (high intensity) reps, through to 10 minute 'sweetspot' efforts."
Ruth also confirmed that, almost always, she does those structured sessions using ERG Mode on her trainer (a Wahoo KICKR in her case). ERG Mode will allow the software (Zwift), to control your output, so you will always hit your target wattage… proved you keep riding: "I just find it helps me focus on the effort required in what are typically harder sessions anyway. However, if the the reps are particularly short – for example those 20 second microbursts – then I'll switch ERG mode off, as the power shifts will be changing significantly, frequently."
Surprisingly perhaps, Phil's approach was slightly different in this area. "I don't typically use the 'workouts' function within Zwift, but I will do intervals – of various length and intensity – as part of other rides that I do." That makes more sense, when we get to what motivates his particular approach to Zwift riding below.
Riding Long?
While she has done long sessions on Zwift (more on that below), Ruth definitely feels that having a balanced approach to the types of training you do – indoor vs. outdoor, solo vs. group – is a key factor for her:
"For long rides, I would still choose to ride outside and with a group where possible. Where Zwift helps me – living in London – is that it's not a great place to ride, straight out of the door. As it might take 45 minutes of stop/start riding to get out of central London towards a more enjoyable environment (and the on the return), I'd say that for me, anything up to about three hours I would choose to do on Zwift because the training benefit and return is much more efficient.
"I still think it is important to ride outside regularly though – if you stay indoors too long, you can lose that feel for the bike plus handling skills like cornering and descending. There's a balance to be achieved between the two."
Last year, after winning her Age-Group at Challenge Roth and before going on to being the first Age-Group athlete overall at the IRONMAN World Championship, Ruth was involved in a bike crash which resulted in a broken collarbone. Those much preferred long rides outside were going to be off the schedule for a while… so what did she do?
"Well, I learned that I can do five hours on Zwift if I really have to!"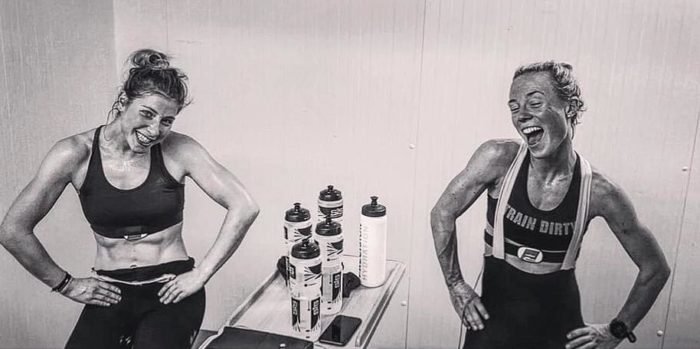 To make those (enforced) longer sessions pass by more easily – and she did three rides in the 4/5 hour range during her recovery – Ruth made use of some of the Event options within Zwift, "I set my ride up so that I would join in to a couple of Zwift races and a Zwift Group Ride during that period… that probably made it tougher (!), but it also broke up that long period of time, while static, into mentally more stimulating blocks. There are different options available, so don't be afraid to mix it up to help you."
In his short time as a Zwift rider, Phil has also found that his ability to tolerate indoor training as significantly improved.
"Before Zwift, I would say I would probably do a maximum of 75 minutes on a turbo… mentally, I just couldn't cope with any more! Now, doing four or even five hours if I need to is far more palatable. You can ride for that time, with no breaks in terms of free-wheeling etc, and that has the ability to make your training over the winter months far more productive."
Like Ruth, Phil has also used some of the Event options in Zwift to help those longer rides pass by:
"There are quite a few long Audax style group rides which you can join to suit, and typically that means you'll always have people around you which can act as motivation to stay with… or overtake (!)… depending on what keeps you involved."
While, from a British perspective, we typically think of indoor training as (primarily) a winter / adverse weather activity, Phil has used it recently from another reason. "I've been based in Dubai quite a bit recently both before and after Christmas, and it can at times be too hot to ride outside. Also, to get to the cycling-specific and safe roads, you have to drive out of the city, so Zwift can be time efficient in that regard."
From Virtual to Physical
Another tip that Ruth learned from that injury-enforced 'isolation' from her typical weekend rides with training partners, was to adapt. 'Being quite a social person, sometimes I'd have friends come over and ride on Zwift with me. So, while the software may be virtual, there was still that real life physical link as we would be riding side-by-side… and could talk! That was a definite boost during that rehab period."
Build the best team and the hard work is FUN!

Thanks @iamspecialized @ScienceinSport @rokasports @wahoofitness @GoZwiftTri for providing the best kit, and thanks to all the training buddies who keep me motivated! #rideon pic.twitter.com/vTSKBx9o6F

— Ruth Astle (@Rastle50) September 16, 2019
That's something I can relate to myself, as my own training set up at home has two Smart trainers next to each other, which my wife and I both use regularly together while riding on Zwift. Having someone else there will often provide the motivation to continue, when perhaps it would be easy to stop on your own.
A factor that Phil mentioned as important was how riding on Zwift 'feels', relative to regular riding outdoors; "It does feel realistic, how your speed and the effort changes with the terrain and power, even things like how your bike/avatar looks on the screen relative to the surroundings… that realism helps make it more immersive."
I can certainly relate to some of those thoughts too. When I ride on Zwift with my wife, I can typically hold pace with or pull away on the flatter roads (higher absolute power), but – just as with riding outside – when we hit the climbs, I'm quickly dropped like a stone as my power to (too much!) weight ratio kicks in, and I see her cycling off into the (virtual) distance.
Technique is important… get aero!
While building aerobic capacity and increasing sustainable power is important for success and progression in long distance racing, technique is also important, especially in regards to aerodynamics. Is that something that, within the Zwift environment, Ruth considers?
"That's definitely important. Just today for example I did an aero drills session. That involved four minute intervals, slightly above Ironman race pace, but the real focus was around thinking about head position and practicing maintaining that optimum position for when you are racing. I'm quite fortunate that the testing we have done has shown that my shoulder position ('shrug') has very little impact on my aerodynamics, but for lots of others, it can have a big impact. Riding indoors, and doing specific drills sessions to make that position comfortable and natural for when you race, is an important one not to overlook."
https://www.instagram.com/p/B8UPivFhxbo/
What I did find interesting was that by contrast, Phil chooses to do his specific aero / drills type work outside, rather than on the turbo. That is probably explained by their sporting backgrounds, as Phil has been racing bikes since he was in his teens and would probably count his time trial races alone in the 100's, and so for him, his position has been refined and is very natural.
Without such an extensive cycling history and with far more recent (and significant) adjustments to her position through bike fitting and wind tunnel testing, the indoor drills work well for Ruth. Once again, choosing what works for you is an important consideration.
https://www.instagram.com/p/B7ofx2mBzVY/
Psychology and Motivation…
One thing I hadn't really considered before when talking to Ruth came up when talking about 'where' she rides on Zwift (refer to Part Two, for more around the Zwift map options). I was interested to know if Ruth had any particular favourite Zwift maps or routes she uses – or if she ever tries to ride a route with a similar profile to an upcoming race?
"Generally speaking I'll choose Watopia – I think that's my favourite, the graphics and the variety within it are great. I might start with a hilly route and [Ed. ever the competitive athlete…!], try and get some jerseys there before changing… but I don't particularly try and match a Zwift route profile to a race profile.
"One thing I do find myself doing though, is if the session you are doing is at a solid effort and you are riding in race/aero mode, I do find myself choosing to ride on the flat desert roads within Watopia [Ed. the Fuego Flats expansion]. Physically, it might make absolutely no difference (for example, in Workout mode), but there's definitely a psychological benefit of working hard and then seeing the kilometres also tick along at a good speed as well. Feeling fast makes you feel good!".
Motivation was a key thing for Phil too, though where that motivation comes from was a completely different matter. "I'm something of a 'millennial' in the sense that I was brought up playing computer games, where you are trying to beat your score or progress to the next level or whatever in a game. Within Zwift, there are lots of different goals / unlocks / achievements you can do – for example completing different routes on the various maps – and that is something that really appeals to me!
I recently did the full Prudential Ride London route on Zwift (which involves 11 laps around Box Hill…), and for me, ticking that box provides a bigger sense of achievement than doing the same five hours on the road."
By contrast to Phil, if you delivered me a free Xbox / Playstation or similar, it would likely sit in a corner gathering dust (!), and yet for my own far more modest sporting goals, I still enjoy using Zwift regularly, despite having no particular interest in the 'gaming' aspects of it.
Easy and safe
One area that Phil has changed is his choice of training is for easy, recovery-type riding.
"If I'm tired – for example I've done a tough run set in the morning – and I just want to do an easy, one hour spin, then I find that works better on Zwift. It's much easier to manage that effort (e.g. keep in under 200 watts), than if I ride outside, as traffic and hills can make it more challenging to ensure that you do just stick to your easy/recovery objective.
"It also provides a way of not needing to take chances any more. If it's icy outside, really, why chance it? One fall could put you out for months when you have a good alternative not to have to take that risk, thanks to the modern smart trainers and tools like Zwift."
General advice?
I asked Ruth for any tips that she would give to athletes on integrating Zwift cycling training into a balanced triathlon training plan:
"As with most things, trying to give some tips will very much depend on what stage you are with your training, fitness, experience etc. When I was getting back to fitness, jumping in and doing some of the Zwift Academy sessions for example was ideal – well structured and you work at your own level.
"There are also lots of excellent training plans within Zwift if you are not sure where to start. I know a lot of my club for example are following things like the 12 Week FTP Builder plan. If you don't have the benefit of a coach, something like that will give you a structure and keep you progressing, but also help stop you trying to do too much, too soon. It's easy to be motivated and think I'll just do a bit more /  a bit harder… but steady progression is usually the way forward."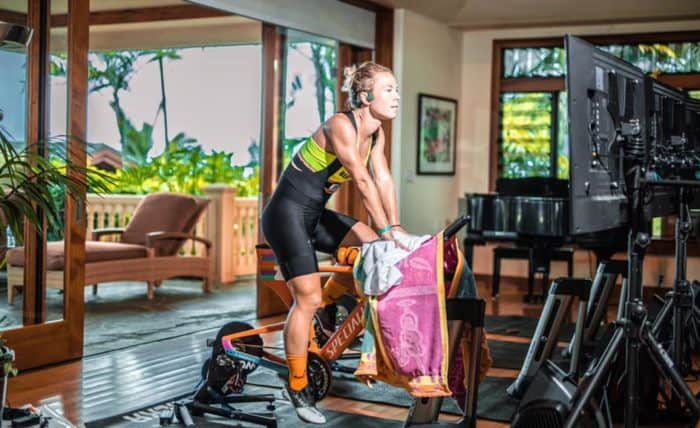 Phil's advice was to keep things varied… and don't be scared to race!
"I would certainly suggest doing as many of the routes as you can and get to know the areas and terrain. That can be useful because if you want to do a decent intensity ride on a relatively flat course, then randomly finding yourself of the Road to Sky route [Ed. that includes Zwift's replica of the Alpe d'Huez climb], slogging away at 6km/h is probably not what you want to be doing!
"I would also suggest that you throw yourself in and try some Zwift racing. There are lots of options every hour, different distances and groups to suit all. While you might do some training using structured intervals, in a race situation, you can't typically choose exactly what intensity you will race at, so training in a Zwift race scenario is actually a race-specific approach to training."
Summary
I found my chats with both athletes very interesting. Both are high performing athletes, both are significant users of the Zwift platform and while there were several similarities, there were also some clear differences in approach too.
Neither athletes does (or recommends) a 'do everything on Zwift' approach. For them, it's a tool to use as part of their overall training plan, not a replacement for riding outside!
Both value and consider the time efficiency and safety aspects of indoor training and factor that in – if it's not safe to ride outside or the training return will be significantly impacted by environment or the need to travel, they would rather spend their time more efficiently. If that's important for them as full-time athletes, it should certainly be a consideration for Age-Group athletes.
Using some of the options within Zwift – Group Rides / Races / Workouts and being flexible, helps both athletes get through longer sessions that might otherwise be more mentally challenging.
By contrast, some of the different approaches – both in terms of specific training and motivation/psychology, included:
The 'gaming' aspect of Zwift provides a big motivation for Phil… but aside from picking up a few virtual jerseys (!), did not appear to be a key factor for Ruth
For Ruth, her motivation comes from different sources – executing the specific sessions set by her coach, sharing the experience with training partners
Zwift is a technique tool for Ruth for aerodynamics, while Phil finds it much easier to do his aero positioning work outside on the road.
I would also say that Ruth is more structured in her approach (using the workout tool, ERG mode etc), while Phil targets similar training benefits by using Zwift races and integrating intervals in different ways.
There really is no one-size-fits-all. Two athletes, with two different backgrounds and different approaches to both training and motivation, have found a way to use the features of Zwift in a way that keeps them engaged and their training fresh and interesting.