Zwift's biggest community event is back, starting 4th January 2021
A huge success in its first two editions, the Tour de Zwift (www.zwift.com/tdz) returns to the market-leading indoor training platform for five weeks, beginning on 4th January.
As early-season motivation to get you onto the bike and exploring many of the varied maps and routes on Zwift, I can highly recommend this, having done many of the stages myself in 2019 and 2020. Given that this COVID-impacted year has been far from kind to my waistline (I suspect I'm not alone in this regard…), I shall be using the Tour de Zwift myself in the New Year!
You can ride, run (or both), and you can think of the stages as giant (virtual) sportives. Ride (or run) as hard or easy as you want, train with friends or, in my case, race (and lose) to your wife. The simple of act of ticking off each of the stages during the five-week period, is an excellent motivator. There are plenty of options for each stage (Longer / Standard / Shorter), so it is easy to include the Tour de Zwift into any more specific training plans you may have.
If you've never tried Zwift, January – and the Tour de Zwift – provides an ideal opportunity to trial if it fits your own personal indoor training needs.
TRI247 Zwift Guides:
---
TOUR DE ZWIFT: THE BIG TOUR TO EXPLORE IT ALL RETURNS IN 2021
Travel through Zwift's worlds with this 8 stage tour of discovery
Zwift, the global online training platform, has today announced the return of the Tour de Zwift for 2021. The popular stage event returns with eight stages for both cycling and running, starting on 4 January.
The Tour de Zwift is an inclusive stage event that allows Zwifters of all abilities to explore eight of Zwift's worlds, discover different routes and join a variety of events. There will be group rides, runs, special guest events as well as Rookie Rides and Runs.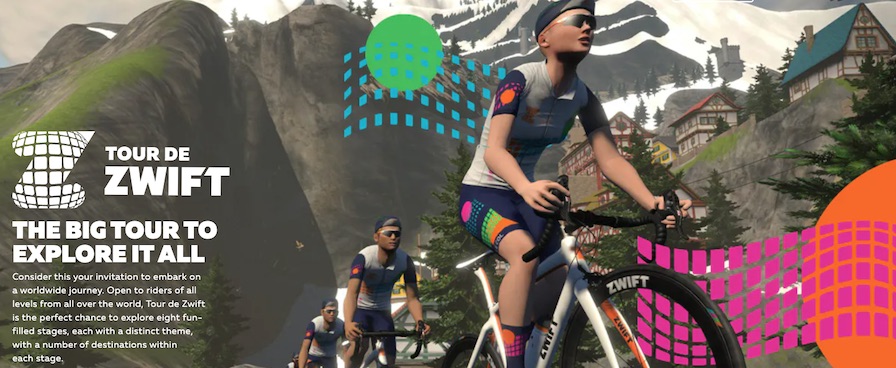 Rookie Rides and Runs are ideal for those discovering Zwift for the first time. The events will be led by some of the most knowledgeable Zwifters who will help impart their knowledge and ensure participants will have a great time learning the how-to's of a group event. The rides will be kept between 1.2 w/kg to 2.0 w/kg in order to encourage everyone to stay together. Runs will also be kept at a social pace and designed for those newer to group events.
Performance apparel brand Le Col has partnered with Zwift and will be the Official Clothing Partner of the Tour de Zwift. Le Col has designed the official kits of the 2021 Tour de Zwift. Both the limited edition cycling kit and running tech tee, identical to the in-game designs, will be available to purchase from Le Col's site today. Participants of the 2021 Tour de Zwift will unlock a $65 USD//£50 to spend at lecol.cc. In addition, all stage finishers will be entered into a prize draw with the opportunity to win a Colnago C64, courtesy of Le Col.
Each stage will feature a different theme and there will be different length routes for runs and rides to pick between depending on which event category is selected. Ride past London's famous monuments during a flat and fast ride. Spot the Sloth on the Jungle Circuit. Admire the sunflowers while pedalling along the undulating hills of RGV in France. Test your legs and count the hairpins while ascending to the snowy peak of Alpe du Zwift. With 852km of roads available to discover during the Tour de Zwift, there is something for everyone.
The Tour de Zwift takes place between 4th January and 20th February.
More information, including details of how to take part in each stage can be found at https://www.zwift.com/tdz.